Devon and Cornwall Police 
The western boundary of England, Devon and Cornwall is popular with tourists and attracts a huge surge of visitor traffic every year. Overall car crime for the region is above the national average, with 140 offences per 10,000 registered vehicles. However, it's worth noting that the crime average is somewhat inflated, with a combination of a low number of registered vehicles and a couple of high crime areas.
The largest crime hotspots in Devon and Cornwall are found in Plymouth, with the town centre being the worst area with 240 offences per 10,000 cars. The town's southern district also suffered with significant car crime, with 208 comparable offences taking place between 2011-2012.
Criminal damage accounts for roughly half of all incidents, while theft from a motor vehicle makes up 35 per cent of all reported crimes. However, despite Plymouth's crime hotspots, Devon and Cornwall on a whole is generally safe.
The rural district of PL18 in Cornwall saw just three cases of car crime per 10,000 vehicles in 2011-2012, making it the safest place in the whole of England and Wales, while Beaworthy in west Devon also ranked highly with just five comparable incidents. 
See also: Top 10 Cars Stolen to order / Top 10 Most Stolen Cars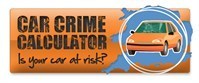 Crimes by type
Offence type
Offences per 10,000
registered vehicles
Criminal Damage
75
Theft from
49
Theft of
12
Interfering with
4
Total
140
Crimes by postcode
Postcode District
Offences per 10,000
registered vehicles
PL4
240
PL1
208
EX1
141
EX4
109
PL5
104
TQ1
98
TQ2
92
PL23
92
TR18
90
EX7
88
TQ8
82
PL31
78
TQ4
68
TR11
68
TR7
67
PL14
66
PL3
65
PL22
65
TQ11
63
TR15
60
EX34
60
EX35
59
PL7
58
TQ3
58
PL2
57
PL25
57
PL24
55
EX8
54
EX2
53
EX32
52
PL6
49
TR27
48
PL28
48
PL11
47
PL12
46
TR10
43
TQ6
42
PL8
42
DT7
41
EX14
41
TQ12
40
TQ13
40
EX23
39
TR1
38
PL21
36
EX5
35
EX12
34
TQ14
33
EX11
33
TR26
32
TR14
32
PL26
32
EX16
31
PL13
31
TR16
30
TQ5
30
TR6
30
EX6
30
TR2
30
PL27
29
TR20
29
TR8
28
EX24
28
EX22
28
TQ7
27
EX19
27
PL19
27
PL35
27
PL9
27
PL15
26
EX3
26
EX9
26
TR3
25
PL20
24
EX20
24
EX13
24
EX31
24
TQ10
23
EX36
23
PL10
23
EX15
22
TQ9
22
TR9
22
PL32
22
TR12
20
TR13
20
PL17
20
TR4
20
EX38
20
EX39
19
TR5
18
EX18
18
PL16
17
TR19
15
EX10
15
EX33
15
EX17
13
PL30
13
PL29
12
EX37
12
TR21
12
PL34
8
EX21
5
PL18
3