Gwent Police 
Gwent is relatively sparse when it comes to population and registered cars, with the majority of the population limited to Cwmbran, Newport and the surrounding villages.
Gwent's average crime rate of 310 offences per 10,000 cars is actually one of the highest in England and Wales, but it's important to consider that this figure is artificially bloated due to a low number of vehicles and a couple of high crime areas.
The worst area for crime is in Tredegar, with its NP22 postcode recording 190 crimes per 10,000 cars. Newport also registered significant of car crime, with its Beachwood Park area experiencing 173 comparable offences. Other areas showing increased criminality included the town centre, with vehicles parked in the area surrounding St Woolos Hospital being particularly vulnerable.
The region's safest districts are limited to the rural areas, with Usk and Caldicot recording just 43 and 46 respective car crimes per 10,000 registered vehicles.
Overall, criminal damage and theft from a motor vehicle and is split between 36 and 31 per cent of all crimes, while 16 per cent of cars are recorded as stolen.
Gwent Police has recently launched a 'Capture Cars' scheme to catch vehicle criminals in the act, as they try to break in, steal items left behind or damage vehicles. The police will park cars fitted with surveillance technology that will record crimes taking place and alert nearby officers. It's hoped this initiative will assist in capturing criminals and deterring others. 
See also: Top 10 Cars Stolen to order / Top 10 Most Stolen Cars / Crime homepage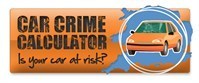 Crimes by type
Offence type
Offences per 10,000
registered vehicles
Criminal Damage
110
Theft from
97
Other
53
Theft of
49
Total
310
Crimes by postcode
Postcode District
Offences per 10,000
registered vehicles
NP22
190
NP24
174
NP19
173
NP20
169
NP13
147
NP23
141
CF81
126
NP18
122
NP12
100
NP7
99
NP4
95
NP10
94
CF83
90
NP11
90
CF82
84
NP44
84
CF46
77
NP25
50
NP16
49
NP26
46
NP15
43