South Wales Police 
The average statistics for car crime in south Wales portray it as one of the worst districts in the country; however, like much of Wales, the numbers are distorted due to a combination of a low concentration of car ownership and couple of high crime areas.
The worst area for car crime in south wales by some margin is east Cardiff, with 859 offences recorded per 10,000 cars. Our crime map shows high car crime off Newport Road and around Moorland Park, while Cardiff city centre also shows a number of hotspots, with 600 incidents recorded between 2011-2012.
Central Swansea reported 375 comparative offences, which makes its city centre 37 per cent safer for cars in comparison to Cardiff.
The safest area for car crime in South Wales is the postcode SA9, with 33 offences per 10,000 cars, which encompasses much of the Brecon Beacons National Park. The safest town was Cowbridge, which recorded just 37 comparative car crimes.
Although South Wales Police didn't supply any data on make or model of the vehicles involved in the region's car crime, we were able to ascertain that criminal damage accounts for 40 per cent of all offences, while theft from a vehicle made up 47 per cent of all incidents. 
See also: Top 10 Cars Stolen to order / Top 10 Most Stolen Cars / Crime homepage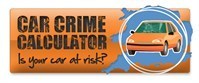 Crimes by type
Offence type
Offences per 10,000
registered vehicles
Theft from
125
Criminal Damage
105
Theft of
34
Total
265
Crimes by postcode
Postcode District
Offences per 10,000
registered vehicles
CF24
859
CF10
600
SA1
375
CF11
308
CF47
282
CF23
257
CF3
233
CF34
201
CF48
182
SA5
181
CF5
181
SA12
164
CF14
161
CF37
150
SA6
150
SA2
142
CF63
139
SA13
130
CF33
129
CF40
128
CF15
110
CF44
109
SA11
109
CF32
106
SA7
99
CF43
99
CF62
92
CF31
92
CF72
88
CF39
87
SA3
87
SA8
85
SA10
82
CF42
80
CF45
80
CF46
77
CF35
68
SA4
67
CF41
64
CF64
61
CF38
57
CF36
48
CF61
41
CF71
37
SA9
33