West Midlands Police
One of the biggest metropolitan counties in the country, West Midlands is home to Birmingham, Coventry and Wolverhampton.
Crime hotspots in the West Midlands include Birmingham's City centre, with 1800 offences, and Birmingham west, with 1131 crimes per 10,000 cars. In fact, as illustrated by our crime map, the West Midlands has a large number of crime areas, which encompass Birmingham, Dudley and Wolverhampton. Central Coventry also rates badly, with its city centre recording 434 offences.
In contrast, Solihull was the safest town in the West Midlands with its B93 postcode recording eight offences. It's worth noting that Solihull is split between West Mercia and West Midlands Police, hence the fact it has appeared twice in our regional ratings. 
A lack of detailed data means we are unable to display the crime rates by manufacturer for the West Midlands Police area.
See also: Top 10 Cars Stolen to order / Top 10 Most Stolen Cars / Crime homepage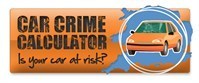 Crimes by postcode
Postcode District
Offences per 10,000
registered vehicles
B40
15294
B4
1800
B3
1131
B5
900
B18
574
B2
566
B10
482
B19
478
B7
468
B15
464
WV1
454
CV1
434
B12
427
WV2
414
B9
405
B16
402
B21
368
B70
348
B6
308
B66
301
B29
290
B27
260
WS1
259
B23
257
B11
254
B37
252
WS2
246
DY4
244
WS10
244
B20
243
CV2
229
B17
226
B25
225
B8
217
WV14
215
B13
210
B67
209
B33
206
B71
205
B31
203
B69
202
B45
202
B65
202
DY5
200
CV6
198
B34
192
DY1
184
B30
182
B44
180
B68
172
WV13
172
B14
171
B24
170
B32
166
B36
165
B42
164
CV5
163
B35
161
B28
156
B90
156
CV7
152
B43
147
WS3
146
B38
143
DY2
140
WV3
139
WS4
139
B72
138
B73
135
CV3
134
WV10
133
B91
123
B92
122
WS8
119
B76
114
WV4
112
WV12
112
B64
108
DY9
108
WV11
104
B62
100
WV6
99
WS5
94
WS9
92
DY3
91
DY6
84
B63
81
B75
78
B74
77
DY8
72
WV9
70
B1
62
CV4
60
B94
32
B26
9
B93
8