Derbyshire Constabulary
Covering much of the east midlands, Derbyshire has a number of large towns and cities, with Derby and Chesterfield accounting the largest areas of population. The county is also home to the Peak District National Park, which attracts thousands of visitors every year.
Metropolitan areas account for mainstay of vehicle crime, with Derby City centre being the worst for criminal activity, with 244 offences per 10,000 registered vehicles. Worksop comes second in the list, with 207 comparable crimes, while third goes to the south of Derby with 162 incidents.
The safest parts of Derbyshire are around the Park District National Park, with Bakewell boasting the lowest number of offences, recording just 30 car crimes in 2011-2012.
Criminal damage accounts for 42 per cent of all reported incidents, while theft of a motor vehicle makes up just one in ten car crimes. Rural vehicles like 4x4s dominate the statistics, as farmers and rural workers travel into the towns and cities to carry out errands. Mitsubishi tops the rankings, with 278 reported offences, while Land Rover also fared badly with 241 crimes. The least targeted manufacturer was Jaguar, with just 71 recorded offences.
Derbyshire Constabulary has recently launched a car crime campaign to educate visitors to be vigilant when parking in the county's towns and cities. Postcards with crime prevention advice will also be placed on car windscreens telling people what they can do to make their cars secure, such as ensuring the windows are shut and that it is not parked in a secluded area.
Police will also be monitoring car parks and increasing high-visibility and plain clothes patrols to catch offenders.
Sergeant Andy Wordsworth of Derbyshire Constabulary said: "Thieves are opportunists and will only target a car if they think there is something to gain. Simple things such as taking valuables with you or putting them out of sight and rubbing sat nav marks off the windscreen."
See also: Top 10 Cars Stolen to order / Top 10 Most Stolen Cars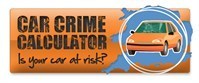 Crimes by type
Offence type
Offences per 10,000
registered vehicles
Criminal Damage
71
Theft from
65
Theft of
19
Other
8
Interfering with
5
Total
168
Crimes by postcode
Postcode District
Offences per 10,000
registered vehicles
DE1
244
S80
207
DE23
162
S44
158
DE24
148
DE22
138
S33
123
NG10
108
SK17
102
DE21
100
NG20
89
DE5
88
DE65
83
DE7
83
DE75
82
S21
79
DE72
77
S32
76
DE73
73
SK23
71
DE12
69
S43
69
DE55
69
DE11
62
S41
61
S40
60
SK13
58
DE3
52
DE56
49
S18
49
SK22
43
DE4
41
DE6
35
S45
34
S42
30
DE45
30