Greater Manchester Police 
Greater Manchester Police are not just limited to the city that bears its name; the force also covers Bolton, Rochdale and Stockport, along with a number of surrounding suburbs and villages.
The city of Manchester has one of the highest rates of car crime per 10,000 registered vehicles in the country, with three out of every 10 vehicles subjected to some form of attack. The worst district by postcode is M2, with a staggering 3180 car crimes, which makes it the worst district in the country. Shopping areas, the national exhibition centre (GMEX) and hotel districts show the most crime, with theft from a motor vehicle representing half of all offences committed.
Car crime drops considerably as you venture away from the city centre, with cars parked in Manchester's M1 area being almost twice as safe as those parked in the city centre's M2 district. M1 recorded 1651 car crimes, compared to the 3180 of central Manchester, suggesting criminals prefer the anonymity of bustling shopping districts compared to the quieter suburbs.
The safest districts in Greater Manchester are found in the suburbs and villages, with Sale having the lowest car crime, with just 31 offences per 10,000 vehicles. The villages surrounding Bolton also show low car crime, with BL7 showing 59 comparable incidents. 
Makes of car at most risk include Daewoo (341 offences), Mercedes-Benz (336 offences) and Mitsubishi (246 offences). The safest vehicles were Jaguar (65 offences) and Porsche (88 offences). 
See also: Top 10 Cars Stolen to order / Top 10 Most Stolen Cars / Crime homepage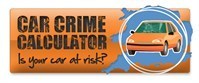 Crimes by type
Offence type
Offences per 10,000
registered vehicles
Theft from
113
Criminal Damage
94
Theft of
34
Total
241
Crimes by postcode
Postcode District
Offences per 10,000
registered vehicles
M2
3180
M1
1651
M4
1536
M15
622
M3
614
M13
568
M8
556
M12
502
M17
458
M7
453
M14
390
M90
379
M9
355
M20
355
M6
347
M5
309
M18
300
SK1
282
M19
267
M50
264
OL16
259
OL1
254
M38
245
SK5
233
M25
233
BL3
232
M40
224
OL8
221
BL4
212
WN7
200
M21
200
M23
190
SK3
189
M11
189
SK14
186
M30
183
BL1
182
M34
181
OL6
178
OL7
174
OL4
173
M24
172
M16
172
SK4
172
OL9
169
M26
165
WN1
162
OL11
160
M22
155
BL2
153
M27
152
M45
147
M46
143
SK15
143
OL10
137
M35
134
OL12
130
M28
127
M29
125
SK2
120
OL2
119
WN5
118
M44
116
OL15
115
BL6
107
SK8
105
BL9
103
WN4
99
SK6
97
WN3
94
M43
93
OL5
91
BL8
88
WA14
87
WA3
85
OL3
85
WN2
83
BL0
83
M32
80
BL5
80
M31
78
WN6
74
M41
73
WA15
68
SK16
62
SK7
60
BL7
59
M33
31