Lancashire Police 
Boasting the eighth highest population in the country, Lancashire is home to a number of large towns, including Blackburn, Burnley, Bolton, Rochdale, Oldham and Wigan.
Car crime is prevalent in all of the major towns and the region has a considerable average crime rate of 219 offences per 10,000 cars.
Burnley has the worst car crime rate with 317 offences per 10,000 vehicles, and Blackpool is rated second with 254 incidents of car crime. However, it should be noted that Blackpool attracts large number of cars during the summer months, which will attribute to a surge in car numbers and crime. Fleetwood and Thornton-Cleveleys also recorded increased levels of activity, showing car crooks do quite literally follow the tourists along the west coast.
Other hotspots include Blackburn and Preston, with the latter's town centre recording 171 comparable offences. The safest area in Lancashire in 2011-2012 was Carnforth, with just 26 incidents per 10,000 vehicles.
Mercedes-Benz was the most targeted make of car in 2011-2012, with 282 recorded offences per 10,000 cars. Peugeot and Volvo were also attacked by car criminals, with 252 and 241 comparable incidents recorded respectively. Lexus and Jaguar were the vehicles least targeted. 
See also: Top 10 Cars Stolen to order / Top 10 Most Stolen Cars / Crime homepage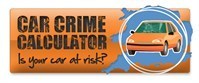 Crimes by type
Offence type
Offences per 10,000
registered vehicles
Criminal Damage
97
Theft from
90
Theft of
21
Interfering with
12
Total
219
Crimes by postcode
Postcode District
Offences per 10,000
registered vehicles
BB11
317
FY1
254
BB2
217
BB3
185
PR1
171
FY3
165
BB10
156
BB12
155
WN8
144
BB5
139
BB9
139
BB8
136
FY7
130
FY4
128
LA1
127
OL13
124
PR2
121
LA3
118
LA4
118
BB1
117
FY2
111
PR5
110
PR7
94
BB4
90
BL0
83
BB6
76
PR6
75
FY5
71
FY6
62
BL7
59
PR25
55
L39
51
BB7
49
LA2
49
BB18
49
FY8
47
L40
44
PR26
35
PR4
31
LA6
27
PR3
26
LA5
26