Cumbria Constabulary
One of the largest districts to feature in the HonestJohn.co.uk Car Crime Census, Cumbria covers 4205 square miles and incorporates a number of towns, including Carlisle, Kendal and Whitehaven.
Home to the Lake District National Park, Cumbria attracts thousands of tourists (and cars) every year, which accounts for this rural region having an above average car crime rate of 143 offences per 10,000 registered vehicles. During the summer months Cumbria attracts a large number of hikers, mountain climbers and walkers. The majority of visitors drive to the region and leave their vehicles unattended as they go exploring.
The small town of Maryport tops the region's crime rankings, with 129 offences per 10,000 registered cars, making it significantly more dangerous for vehicles than Kendal.
The rise in crime in Maryport has been largely attributed to a decline in police numbers. In a recent statement the county's new police commissioner, Richard Rhodes, was quoted as saying it was "extraordinary" that the town's law enforcement had been cut to just one PCSO and plans are afoot to combat the problem, with consultations open to increasing the number of officers and reopen the police station.
Overall Cumbria has few crime hotspots, but those areas that do show increased activity are confined to built-up areas. SEAT was the most targeted make of car (248 offences per 10,000 cars) while Toyota and Jaguar were the safest with 55 and 63 comparable crimes each.
See also: Top 10 Cars Stolen to order / Top 10 Most Stolen Cars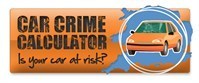 Crimes by type
Offence type
Offences per 10,000
registered vehicles
Criminal Damage
88
Theft from
38
Theft of
13
Interfering with
4
Other
1
Total
143
Crimes by postcode
Postcode District
Offences per 10,000
registered vehicles
CA15
129
LA22
121
CA1
105
LA14
101
CA3
95
CA2
94
CA23
92
CA12
81
CA26
68
LA13
68
LA23
66
CA14
64
LA21
64
CA17
54
CA11
43
CA8
43
LA9
43
CA16
39
CA28
39
LA15
39
CA25
37
LA10
36
LA20
35
CA4
32
LA19
31
CA10
31
CA9
31
LA8
28
LA6
27
CA5
27
CA13
27
CA6
25
CA22
24
LA16
24
LA12
24
LA7
24
CA7
21
LA18
19
LA11
16
CA24
15
LA17
11
CA19
10
CA27
10
CA20
8