Lothian and Borders Police
Lothian and Borders is made up East Lothian, Edinburgh, Midlothian and West Lothian.
Like many areas in the HonestJohn.co.uk Car Crime Census, the average offence rate is distorted by a combination of a few high crime areas affecting the figures for the large rural districts.
More than 200 offences per 10,000 cars were recorded in 2011-2012, with criminal damage accounting for 54 per cent of all offences. Theft from a motor vehicle makes up 30 per cent of car crime, while 16 per cent of all cars involved in crime were physically stolen.
In recent months a number of steps have been taken to combat car crime in Lothian and Borders, with local police forces checking routes that cross the Scotland-England border to disrupt crime and check vehicles. 
As with all areas in Scotland, a lack of detailed data means that we are unable to display a heatmap for the region.
On 1 April 2013 Lothian and Borders Police was subsumed into Police Scotland.
See also: Top 10 Cars Stolen to order / Top 10 Most Stolen Cars / Crime homepage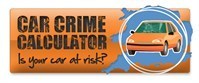 Crimes by type
Offence type
Offences per 10,000
registered vehicles
Criminal Damage
110
Theft from
62
Theft of
32
Total
204