Fife Police 
Part of the Scottish Lowlands, Fife covers a relatively small region of Scotland, but is ranked third in population with 365,000 people living within its borders. The district's largest towns include Dunfermline, Kirkcaldy and St Andrews.
Overall car crime is below the national average, with just 100 offences per 10,000 cars. Almost three quarters of car crime involves criminal damage, whilst theft of and theft from a motor vehicle accounts for the rest of all offences.
The most targeted models are Fiat and Ford, with 147 and 131 offences per 10,000 cars, while there were low crime rates for Audi, Mini and Volkswagen.
As with all areas in Scotland, a lack of detailed data means that we are unable to display a heatmap for the region.
See also: Top 10 Cars Stolen to order / Top 10 Most Stolen Cars / Crime homepage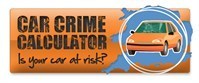 Crimes by type
Offence type
Offences per 10,000
registered vehicles
Criminal Damage
73
Theft of
14
Theft from
13
Total
100