Durham Constabulary
Durham Constabulary's patch is a varied one, with large areas of rural farmland combined with a few large towns.
The HonestJohn.co.uk Car Crime Census only received limited data relating to car crime in this region, and there's no details relating to the average crime rate or any information to suggest which make of cars were targeted.
Our crime map shows very little in the way of car crime in County Durham, with Peterlee in the east showing the biggest ration of car crime. The town's central postcode recorded 170 offences per 10,000 cars, with the Hordon district showing the most criminal activity.
Darlington also recorded above average car crime, with 168 offences per 10,000 cars.
Consisting mostly of rural areas, County Durham shows relatively little crime elsewhere, although Durham's Gilesgate area shows a number of hotspots on our crime map.
The safest area in Durham Constabulary's district is Bernard Castle; the market town reported 38 offences per 10,000 cars between 2011-2012. 
See also: Top 10 Cars Stolen to order / Top 10 Most Stolen Cars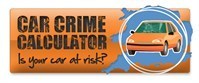 Crimes by postcode
Postcode District
Offences per 10,000
registered vehicles
SR8
170
DL3
168
TS29
160
DL4
144
DL14
138
TS28
116
NE17
111
DH3
110
DH6
98
DH2
93
DH1
87
DL5
83
DL2
76
DH8
75
DH9
74
DL17
71
DL15
68
NE16
66
DL13
66
DL1
63
DL16
63
SR7
59
TS21
59
TS27
58
DH7
44
DL12
38