Cleveland Police
Cleveland is home to a number of large towns, including Hartlepool and Middlesbrough. The area has one of the worst rates of car crime in the country, with an average of 255 offences per 10,000 registered vehicles.
Middlesbrough shows the biggest spike, with its town centre reporting 924 crimes per 10,000 cars, which places it just outside our top 10 hotspots for the whole of England and Wales. Criminal damage accounts for more than half of all offences, while theft from a motor vehicle represents 34 per cent of incidents.
The safest area is Cleveland is Billingham, with just 28 car crimes per 10,000 cars – a reduction of 97 per cent in comparison to Middlesbrough's town centre.  
Middlesbrough has been the subject to a number of high-profile police operations in recent months, as the town's law enforcement agencies attempt to tackle the root cause of car crime. Gangs, drug dealers and petty thieves have all been targeted in large scale crackdowns, while the local courts have handed out stiffer sentences by empowering the police to strip convicted criminals of their assets.
See also: Top 10 Cars Stolen to order / Top 10 Most Stolen Cars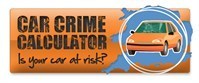 Crimes by type
Offence type
Offences per 10,000
registered vehicles
Criminal Damage
131
Theft from
87
Theft of
25
Interfering with
12
Total
255
Crimes by postcode
Postcode District
Offences per 10,000
registered vehicles
TS1
924
TS3
382
TS4
332
TS2
219
TS5
205
TS24
143
TS6
128
TS8
127
TS18
124
TS19
110
TS26
103
TS10
101
TS20
97
TS13
95
TS25
91
TS7
88
TS17
77
TS14
73
TS23
67
TS12
67
TS21
59
TS27
58
TS15
58
TS11
42
TS16
29
TS22
28