Nottinghamshire Police
The area that Nottinghamshire Police covers is a real mix of a major conurbation in Nottingham, large towns, such as Bassetlaw, Newark ,Sherwood, Mansfield,  Ashfield and large swathes of countryside.
Nottingham and its suburbs are the big car crime hotspot in the area and as it's a large city, that's to be expected. However, it compares favourably with other areas and even the highest area for crime - NG1 - is under 1000 crimes per 10,000 cars registered. Compare that to South Yorkshire and its biggest crime hotspot - S1 in Sheffield - and you'll see its crime figure is 1492 crimes per 10,000 cars. 
Nottingham's NG1 district is as city centre as it gets with a spread of hotels, restaurants and bars. Unlike many other city centre postcodes, it doesn't include the station. That's in NG2 and much further down the table. NG2 is a much larger postcode area that includes both Nottinham Forest and Notts County football clubs and Trent Bridge cricket ground. It also takes in part of the River Trent.
Elsewhere in Nottinghamshire, S80, which covers a large chunk of Worksop is highest placed after the central Nottingham postcodes, though below the national average of 1228 crimes per 10,000 registered cars.
Nottinghamshire Police has issued specific warnings for Mansfield about vehicle crime, so it's no surprise to see its postcode - NG 18 - among the worst. In January it stated "Police have seen an increase in car crime and are asking motorists to take extra measures to ensure their vehicles are as secure as possible. Since 1 January 2013 police have been called to 29 incidents where cars had been broken into in Mansfield. Items stolen include sat navs, mobile phones, medication and tools. On Thursday 3 January a chainsaw was stolen from a Ford transit van which was parked overnight in Parliament Road. Several days later a sat nav, some CDs and medication was taken from an unlocked Volvo parked in Crowhill Drive."
Elsewhere, rural spots are among the safest, with neighbouring NG13 and NG14 at the bottom of the table. This rural postcodes cover the villages to the east of Nottingham.
See also: Top 10 Cars Stolen to order / Top 10 Most Stolen Cars / Crime homepage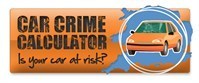 Crimes by postcode
Postcode District
Offences per 10,000
registered vehicles
NG1
916
NG7
649
NG3
232
S80
207
NG18
178
NG6
173
NG8
148
NG2
139
DN11
139
NG5
128
S81
127
NG17
121
NG11
114
NG9
108
DN10
104
DN22
104
NG19
96
NG24
94
NG20
89
NG16
81
NG4
79
NG15
75
NG22
70
NG21
67
NG23
64
NG12
63
NG25
63
NG13
55
NG14
48