Humberside Police
Although it's limited to a small section of the north east, Humberside covers a number of large population areas with the city of Hull accounting for the largest concentration of cars. Other large towns in the district include Grimsby and Scunthorpe.
The region has an above average of 189 offences per 10,000 cars, with the mainstay of car crime taking place in Hull and Grimsby. Indeed, Hull's post codes show a noticeable spike in crime, with the city centre's HU2 and HU1 showing 462 and 327 crimes per 10,000 cars. DN31 in Grimsby's central district also showed increased criminal activity, with 328 comparable car crimes.
Mitsubishi were most at risk, with 283 offences, while Citroen (243 offences) and Fiat (225 offences) were also heavily targeted. Criminal damage makes up roughly half of all recorded crimes, while theft from a motor vehicle account for 40 per cent of all incidents. Just one in 10 cars involved in crime were actually stolen.
The safest area for car crime in Humberside is Pocklington (20 offences), while the least targeted make of car was Jaguar, with 79 offences per 10,000 cars.
Humberside Police recently announced a crackdown on car crime in Hull and it's hoped an increase in neighbourhood policing will help reduce the numbers of offences in the city.
PC Chris Haley, from Humberside Police, said: "Ensuring our local community is aware of how to keep criminals at bay is one of our top priorities.
"We hope that people will remove the opportunity for thieves to strike, by moving valuables out of site and shutting and locking their car windows and doors when not in use. By taking these simple steps, people dramatically reduce the risk of becoming victims of crime."
See also: Top 10 Cars Stolen to order / Top 10 Most Stolen Cars / Crime homepage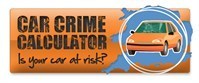 Crimes by type
Offence type
Offences per 10,000
registered vehicles
Criminal Damage
93
Theft from
75
Theft of
21
Total
189
Crimes by postcode
Postcode District
Offences per 10,000
registered vehicles
HU2
462
DN31
328
HU1
327
HU3
262
DN32
261
HU6
245
DN35
200
HU5
190
HU9
165
DN15
147
HU8
144
HU7
141
DN34
125
DN40
115
HU4
110
DN16
97
DN17
87
DN9
86
DN39
79
DN14
78
YO15
76
DN20
74
HU20
67
HU13
65
HU16
64
DN18
62
DN41
59
DN33
57
DN38
57
YO16
54
DN37
47
DN36
46
HU10
44
HU11
42
HU14
41
HU18
40
HU19
40
HU12
39
HU17
36
HU15
35
YO43
32
YO25
30
DN19
28
YO41
22
YO42
20