UK's top body and panel technicians announced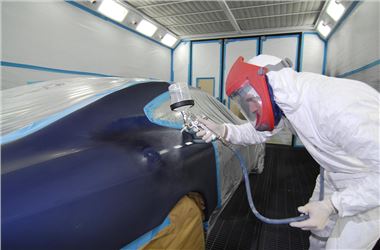 Five technicians from across the country have been crowned the top technicians in panel and paint after winning gold medals in the national skills competition.
Eighteen year old Sean Burns who works for Charles Hurst Accident Repair Centre in Northern Ireland and twenty one year old Tony Litchfield from Kynaston Autobodies in Exeter won gold at the paint final held at the DuPont Refinishing Academy in Stevenage.
William Howell (20) from Howell Accident Repair Centre, Northern Ireland, Matthew Quinn (20) who works at Charles Hurst Accident Repair Centre in Northern Ireland and Marcello Apollonio (24) from Gimber Motors in Cardiff were all awarded gold at the panel final held at GTG Training in Glasgow.
Lesley Woolley, Head of Professional Development, who manages SkillAuto activity at the IMI said:
"Our congratulations go to all the gold medallists who competed in the SkillAuto panel and paint final.  All the finalists have demonstrated the world class skill levels at which individuals now need to work at in the automotive sector, this re-enforces their status as professional engineers and delivers long overdue status and respect."
Sean Burns was the highest scorer in the paint final and collected the trophy and scooped an impressive prize haul including a Devilbiss GTi Pro Digital spraygun very kindly donated by Devilbiss and numerous other gifts donated from competition sponsors, the Morelli Group.
William Howell achieved the highest score at the panel finals and as a result received a two tier 10 drawer tool chest, donated by Moretools products by Morelli Group.  
Commenting on the successes of the Northern Ireland competitors, Colin Hagan, Managing Director of Riverpark Training and Development said:

"This year we saw the highest representation ever from Northern Ireland in the SkillAuto finals. The competitors all requested additional training prior to the event finals and I would strongly recommend any college or training provider who successfully gets a candidate through to this level to engage in this to support their students.
Comments