ULEZ Ultra Low Emissions Zone Explained for 2021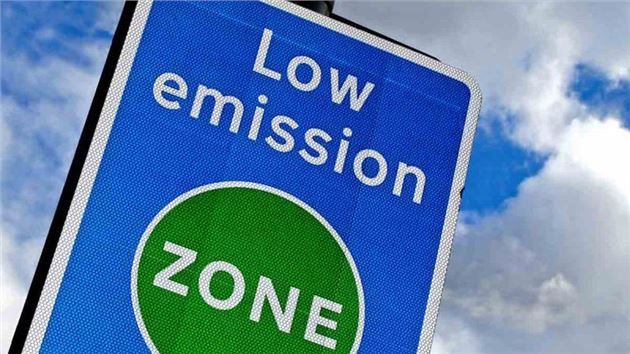 What is the ULEZ?
The Ultra Low Emissions Zone - or ULEZ - came into effect in central London on 8 April 2019. It replaced the T-Charge (officially known as the Emissions Surcharge) and operates 24 hours a day, seven days a week, every day of the year.
It sits alongside the Congestion Charge and operates in the same geographical area. Transport for London says the ULEZ will help improve air quality, with a system based around vehicle emissions rather than age.
It means most vehicles, including cars, motorcyles and vans, will need to meet new, tighter exhaust emission standards (ULEZ standards) or pay a daily charge to travel within the area of the ULEZ. 
How can I check if my car is ULEZ compliant?
Find out if your car meets the ULEZ standards with our free ULEZ checker. Simply enter your vehicle registration details.
Please note: Vehicle data sourced from Transport for London (TfL). ULEZ standards are based on the declared emissions of the vehicle and not the age.
How much does the ULEZ cost to enter?
If your car is not compliant then you will have to pay a daily charge of £12.50 to enter the ULEZ. The charge applies 24 hours a day, every day of the year except Christmas Day (25 December), within the same area of central London as the Congestion Charge.
It starts at 00.01 and runs until midnight, so if you drive within the ULEZ area across two days, for example before midnight and after midnight, you will have to pay for two days.  
As TfL handily says, "we prefer that you use a vehicle that meets the new emissions standards rather than pay a daily charge...."
How do I pay the ULEZ charge?
You can pay the ULEZ at the TfL website or using the TfL Congestion Charge App.
Be wary of scam and unofficial sites that look bona fide but charge you a premium - often up to £8 extra - on top of the cost. They usually don't pay the charge, leaving you with a penalty charge notice. These sites often appear at the top of Google searches so be sure to only go to the official TfL site.
Alternatively you can pay by phoning 0343 222 2222.
There is also Auto Pay, which does carry a £10 admin charge but means TfL will automatically record the number of charging days a vehicle travels within the charging zone each month and bill you accordingly. You can register up to five vehicles.
Which cars are exempt from ULEZ?
The ULEZ is really aimed at discouraging diesels in the capital, so only diesels that are Euro 6 will be exempt. That tends to be diesels registered after September 2015, although you need to check with TfL as to whether a specific car is actually exempt.
It's more relaxed for petrols, which have to be Euro 4 or better, which is generally most cars registered after 2005 and some as early as 2001.
All hybrids, PHEVs and electric cars are exempt. As for LPG conversions, it depends on the individual model and engine, so it's important to check with TfL first. The emissions are taken from the V5C data held by the DVLA.
| | | |
| --- | --- | --- |
| Fuel | Emissions standard | Age of vehicle |
| Diesel | Euro 6 | Registered after September 2015 |
| Petrol | Euro 4 | Registered after 2005 |
Where does the ULEZ cover?
From April 2019, the ULEZ covers the same area as the Congestion Charge Zone. It will expand in October 2021 up to the boundary of the North and South Circular.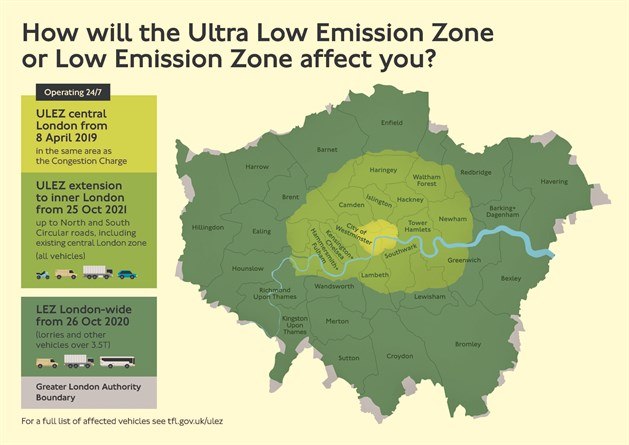 What happens to the ULEZ in 2021?
From 25 October 2021, the ULEZ is expanding from central London to create a single, larger zone up to, but not including, the North Circular Road (A406) and South Circular Road (A205). 
Entry signs at every boundary point will tell you when you're in the zone and advance information signs will appear on major roads around 0.5 miles from the boundary. Like the Congestion Charge zone, there will be no barriers or toll booths, instead cameras will read vehicle number plates.
Do I have to pay for ULEZ and the Congestion Charge?
If your vehicle isn't ULEZ compliant and you're driving in central London then you will have to pay both charges. That means £12.50 (cars, motorcycles and vans up to and including 3.5 tonnes) for the ULEZ and £15 for the Congestion Charge - £27.50 a time in total.
The Congestion Charge is in force in central London from 7am to 10pm, everyday except 25 December (Christmas Day), but the be aware that the ULEZ is in force all day, 365 days of the year. The ULEZ and Congestion Charge zones are the same until October 2021, when the ULEZ expands.
Are there any discounts?
Yes. If you're a resident who is registered for the Congestion Charge discount, you will be granted a 'sunset period' until October 2021 where a 100 per cent discount will apply to your vehicle. The discount is available to anyone who lives within the ULEZ and in areas next to the boundary where the Congestion Charge residents' discount applies.
However, if you're a resident using a car that doesn't mean the older T-Charge standard, you will have to continue to pay it, albeit at a discounted rate of 90 per cent. 
Not for profit minibuses will have to pay the charge unless they conform to ULEZ standards. From 2021 they will be eligible for a sunset period whereby they will get a 100 per cent discount as long as they carry eight to 16 passengers, were owned before 8th June 2018 and are operated by a not for profit organisation. That will end in October 2023.
Certain other vehicles are exempt such as agricultural vehicles, military vehicles, showman vehicles and some mobile cranes.
Is the Congestion Charge changing?
Yes. The discount for clean vehicles is changing when ULEZ is introduced on 8 April 2019.  It is now called the ULED - or Ultra Low Emission Discount and cars will have to meet stricter emissions standards to qualify for the 100 per cent discount. 
Vehicles will have to be Euro 6, emit no more than 75g/km of CO2 and have a minimum electric only range of 20 miles.
This will change in October 2021 when only pure electric vehicles will be eligible for the 100 per cent discount. From December 2025, the Cleaner Vehicle Discount will be scrapped altogether and all cars will have to pay to enter the congestion charge zone, unless they qualify for another discount. 
What about disabled badge holders?
Blue Badge holders will have to pay the ULEZ charge from April 2019 unless the vehicle has a disabled or disabled passenger tax class.
If you have a vehicle registered with a disabled tax class, you will get a similar 'sunset' period to residents. This means that your vehicle will be exempt from the charge until October 2025. 
What about taxis and private hire?
Taxis are exempt from the ULEZ, as long as they are London licensed as emissions standards have already been introduced and from January 2018 all new taxis must be zero emissions. 
Private hire vehicles, like other cars, will have to meet the emissions standatds to enter the ULEZ without paying. However, certain wheelchair-accessible vehicles will be given a sunset period until October 2025, where they will be exempt from the charge. These vehicles will only be exempt when carrying out a private hire booking for a TfL-licensed operator.
Do I have to pay if I live in London?
No, not if you live in the ULEZ zone. Instead you will be able to claim 100 per cent discount until October 2021. After that time you will have to pay unless you switch to a compliant car. The discount is applicable to anyone who lives within the ULEZ and in areas next to the boundary where the Congestion Charge residents' discount applies.
What's the fine for not paying the ULEZ?
If the vehicle does not meet the ULEZ standard, and the daily charge is not paid, then a Penalty Charge Notice (PCN) will be issued to the registered keeper or operator.
For motorcycles, cars, vans and minibuses this will be £130 (reduced to £65 if paid within 14 days). For HGVs, coaches and buses this will be £1000 (reduced to £500 if paid within 14 days).
What is the LEZ?
The Low Emissions Zone is much larger than the ULEZ but only applies to commercial vehicles such as HGVs, buses, coaches, horseboxes, plus large vans and minibuses. Cars, most vans and motorcycles are exempt.
Ask HJ
Are there exemptions for classic cars from the ULEZ in London?
What exemptions are available to enthusiasts using 25+-year-old cars as daily drivers as ULEZ expands in London and with other cities contemplating introducing similar restrictions? Would an engine upgrade giving Euro 5 compliance on emissions work?
At present, proposed exemptions fall in line with the MoT and free road tax cut-off date of 40 years or more. Any car with a pre-Euro 4 powertrain (approximately 2003 for petrol cars and 2008 for diesel) will be faced with the ULEZ charge. There are currently no plans to change this. The charge is based on the vehicle's specific launch data, so an engine change will sadly make no difference.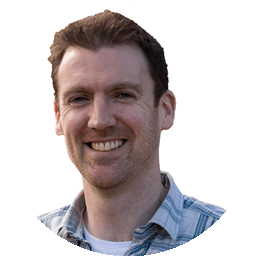 More Questions
Ask HJ
How can a Euro5 diesel van be ULEZ compliant?
I'm considering buying a 2016 Renault Trafic S127 Energy dCi panel van (66 Plate) and have checked online with Transport for London's ULEZ Checker and it seems to be compliant. The problem is that I understand the van has a Euro5 engine (not Euro6) which has worried me in case I discover long-term that it's not compliant at all. Can you shed light on why this particular model is 'ULEZ friendly" even though it has a Euro5 engine?
The ULEZ rules are based on the declared emissions of the vehicle, rather than the age. However, with the ULEZ due to be expanded to the north and south circular in 2021 and drivers being charged £12.50 (on top of the Congestion Charge), you're right to be concerned. Given you're in the market for a 2016 van, I'd strongly recommend choosing a Euro6 model (that was registered after September 2016). It won't cost you a great deal more to purchase but will provide peace of mind and protect you from any future changes in TfL's emission rules. For more information on the ULEZ (and to check if a van has to pay or not) see: https://vans.honestjohn.co.uk/ulez-van-checker-will-you-have-to-pay-the-low-emissions-charge/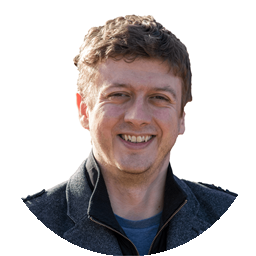 More Questions
Car Buying Advice