Audi e-tron GT long term review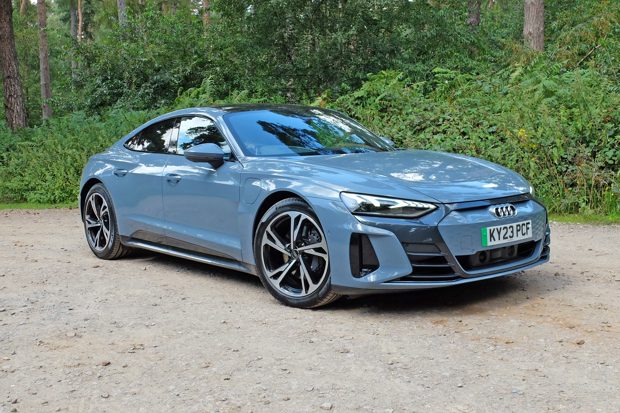 Specifications: Audi e-tron GT quattro
Run by: David Ross (since August 2023)
Price when new: £87,800 (£97,950 including options)
Battery: 93.4 kWh
Power: 476PS
Torque: 630Nm
Claimed consumption: 3.1 mi/kWh 
Range: 303 miles
0-62mph: 4.1 seconds
Report 1: We welcome the cream of the Audi EV range
For the next six months we'll be running what is arguably the flagship of the Audi electric car range right now - the Audi e-tron GT.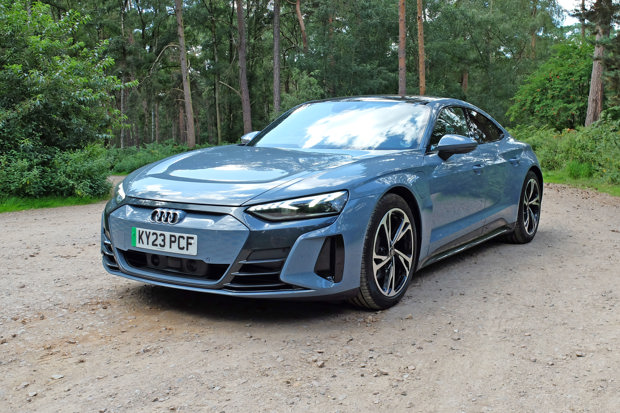 Date: 15 August 2023 | Current mileage: 488 | Claimed economy: 3.1 mi/kWh  | Actual economy: 2.8 mi/kWh
There are times in this job when you count your lucky stars. Being asked if we'd like to run an Audi e-tron GT quattro for six months is one such occasion. The flagship of the Audi electric car range, the Audi e-tron GT is the twin car to the amazing Porsche Taycan and built on the same platform. 
You may think the Audi e-tron GT would be the cheaper alternative to the Taycan, but in fact it actually carries a higher starting price - the Taycan starting at £79,200 while e-tron GT list prices kick off at £87,800.
That only tells half the story though. The e-tron GT is more expensive but then comes with far more. Not only does it have more power but it also has quattro four-wheel drive as standard. The cheapest Taycan 4S is £90,700. 
Rather than go for the high spec Vorsprung version or the full on RS e-tron GT, we've stuck with the more 'sensible' standard e-tron GT quattro. It's still not cheap of course. With the optional Comfort and Sound Pack Plus costing £8190, upgraded wheels and the Parking Assistance Package, our car comes in at a cool £97,950 on the road.
That gets you a lot of Dacia Dusters and is also more expensive than the quicker Tesla Model S which has a longer range, although the Model S, like the Model X, is currently only available as left hand drive. Indeed, over the next few months we'll be comparing the e-tron GT with its main rivals, such as the new Mercedes EQE.   
Having lived with the Audi Q4 e-tron for several months, I'm no stranger to Audi's electric cars range, but the e-tron GT is a very different animal. This is a car more about performance than practicality, although as a four-door with a decent boot, it will still see service as our family car.
It's certainly gone down well with the kids who all love electric cars - 'good for the environment' they tell me. They also love the sleek look of it plus of course the fact it has wireless Apple CarPlay, which seems to be the first thing they ask these days...
So over the next six months we'll be exploring family life with a high performance electric car and seeing how it copes with children, weekends away and colder temperatures over winter. 
Report 2: The more exclusive alternative to the Porsche Taycan?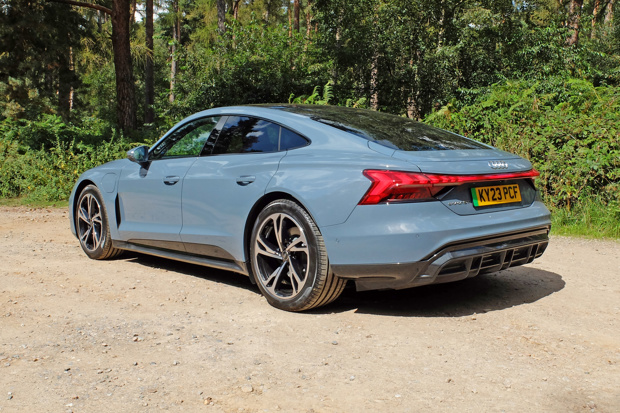 Date: 31 August 2023 | Current mileage: 864 | Claimed economy: 3.1 mi/kWh | Actual economy: 2.9 mi/kWh
It's often the way that you don't notice how common (or not) a car is until you drive one. Since I've had the Audi e-tron GT I've been on the lookout for other e-tron GTs on the road. Although going past the local Audi dealership doesn't count, despite there being a lovely Ascari Blue RS e-tron GT on the showroom floor.
Yet in the time I've had the e-tron GT I've only spotted one other in the wild, a white RS e-tron GT that passed me on the A1. I have however seen plenty of Audi e-trons (and the Q8 e-tron which replaced it), SUVs remaining as popular as ever.
What I have seen plenty of is Porsche Taycans, many of them high performance Turbo S models. Those start at close to £150k new which makes our e-tron GT look positively affordable.
But this got me thinking, is the Audi e-tron GT actually more exclusive than its Porsche Taycan sibling? For me, the Porsche is the better looking of the two cars, but I'm noticing that the Audi e-tron GT gets plenty of attention wherever I go.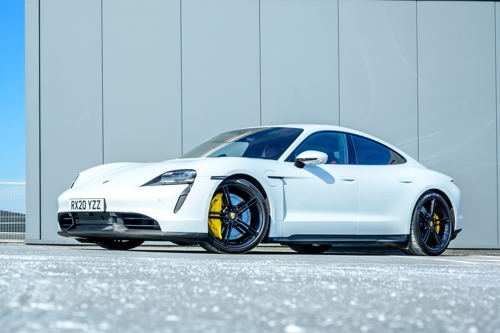 It's always a strange one when there are two cars so similar, not that the Volkswagen Group is a stranger to this. You only have to look at the likes of the Volkswagen Tiguan, SEAT Ateca and Skoda Karoq to see how one platform can spawn several different yet similar cars.
In fact, aside from the Porsche Taycan it's hard to pinpoint obvious rivals to the Audi e-tron GT. It's something I'll be covering in a future update as I look at what the likes of Tesla, BMW and Mercedes offer that's similar in size, performance and price.
In the meantime, life with our Audi e-tron GT is proving hassle free. We've yet to undertake any long journeys, but a weekly 100 mile round trip to Cambridgeshire gives us a chance to stretch its legs and economy of 2.9 mi/kWh is not at all bad.
One of the next things I'll be doing is looking at which EV tariff is best for charging and how cheap we can make charging the e-tron GT.
Report 3: What are the Audi e-tron GT's rivals?
Picking obvious alternatives to the Audi e-tron GT isn't that straightforward - so what cars would be considered rivals?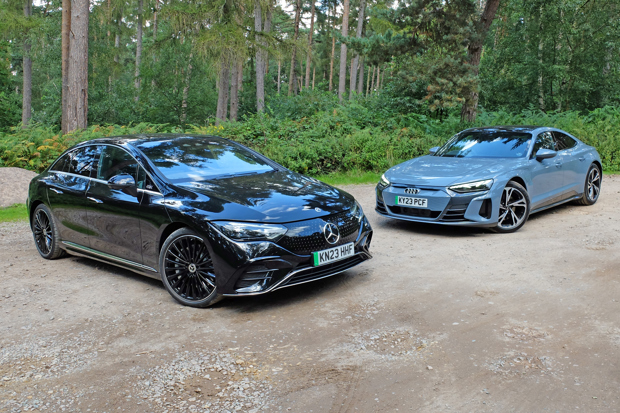 Date: 15 September 2023 | Current mileage: 1102 | Claimed economy: 3.1 mi/kWh | Actual economy: 2.9 mi/kWh
We've seen plenty of top end electric cars launched in the last few years as brands showcase the technology that will filter down to more affordable volume cars. The Audi e-tron GT is a case in point as the performance flagship model in the Audi range.
But what rivals does the Audi e-tron GT have? Well aside from its counterpart the Porsche Taycan, with which is shares much under the metal, the answer is, very few obvious cars.
The Tesla Model S would be an obvious choice, but that's currently only available as left-hand drive with Tesla concentrating on UK demand for the smaller Tesla 3 and Model Y. From BMW you could argue that the forthcoming BMW i5 M60 xDrive is a rival but it's not grand tourer in the same spirit as the e-tron GT.
A recent test of the impressive new Mercedes EQE further proved the point. With prices starting at £88,000, the Audi e-tron GT sits between the Mercedes EQE priced from £69,000 and the bigger Mercedes EQS which starts at £105,000. Of course, start adding on options - as pretty much every new buyer will do - and these prices will soon rocket. Indeed the Mercedes EQE 300 AMG Line Premium Plus we tested came in at more than £86k.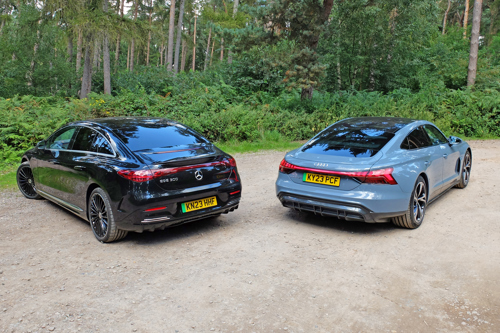 And with the e-tron GT and EQE parked up next to each other, you can see the similarities in terms of that low sleek profile and smooth aerodynamically-friendly styling. Both offer similar space inside too.
The EQE may not be able to match the e-tron GT for outright performance but with a 0-62mph time of 7.3 seconds it's hardly slow, although the more powerful e-tron GT does naturally feel much quicker, especially when accelerating from around the 40mph mark.
There's lots to like about the EQE and EQS, not least their impressively modern interior designs which make the inside of our e-tron GT seem positively dull, something I'll talk about in a future update. It's good looking from the outside too. Indeed, of all the cars I've driven this year, I was surprised how much attention both the EQE and EQS got when parked on the drive.
With an Audi A6 e-tron due next year (both as a saloon and estate), these will prove a more obvious rival to the Mercedes EQE. However, with rumours of an electric successor to the Mercedes CLS and BMW 8 Series on the horizon, maybe the Audi e-tron GT won't be alone for much longer.
Report 4: The good and the bad so far
Two months into our time with the Audi e-tron GT and we're starting to discover the good and not so good features. But are we just being picky?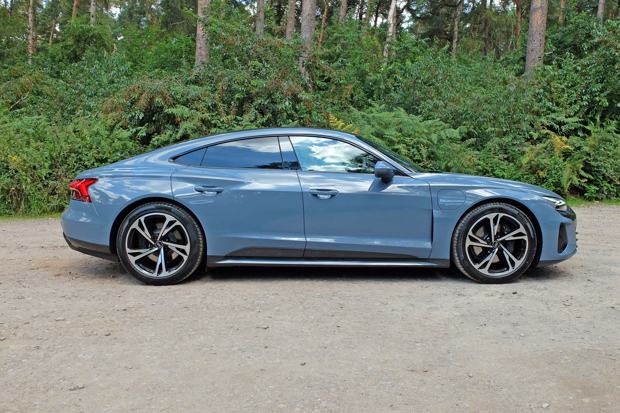 Date: 3 October 2023 | Current mileage: 1461 | Claimed economy: 3.1mi/kWh | Actual economy: 2.8mi/kWh
We're a few months into our time with the Audi e-tron GT and is often the way with new cars, once the honeymoon period is over, you start to really get to know the good and bad bits, however small. And even at more than £95k, the Audi e-tron is by no means perfect.