Cheapest electric cars 2022

The electric car sector is evolving all the time – and not just in terms of technology. EVs are also becoming ever more affordable, as our guide to the cheapest electric cars makes clear.
Prices of EVs are dropping closer to the level of regular petrol cars. When you consider that electric cars are future-proofed and ready for 2030, it makes them even more tantalising.
Buyers get the benefit of a silent-running drivetrain, often a range of several hundred miles, and the convenience of being able to charge overnight on their driveway.
Far from being an expensive indulgence only for early adopters, the cheapest electric cars today really are cars for everyone.
Add in the fact you will save on running costs, thanks to the cheaper price of electricity compared with petrol, and it's very much a win-win – especially as the cheapest electric cars themselves are so tempting in their own right.
All prices here are listed with the £1,500 Plug-in Car Grant already subtracted.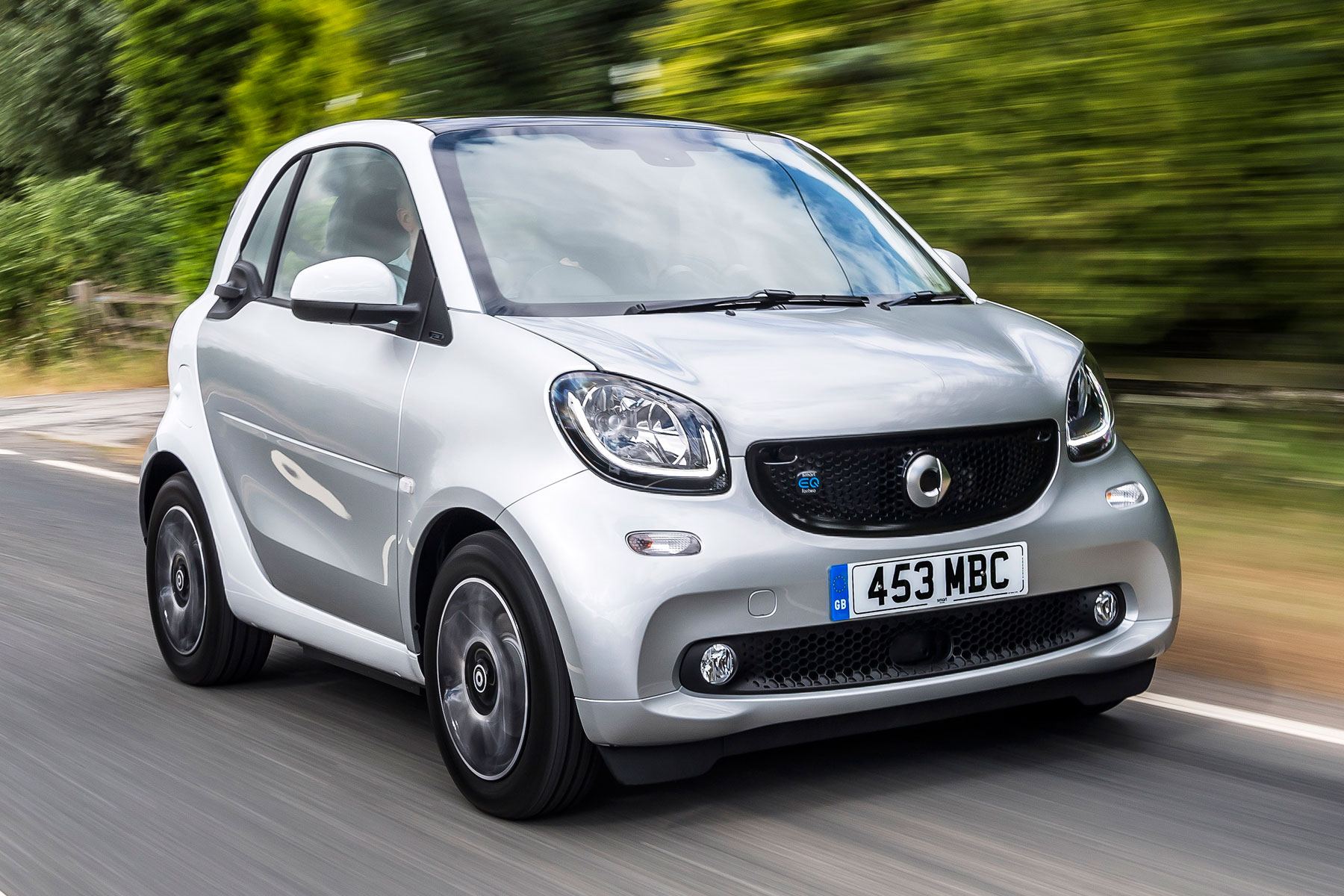 Smart EQ Fortwo
The Smart EQ Fortwo isn't just one of Britain's smallest cars overall, it also takes the crown of being the country's cheapest electric car. For a little more than £20,000, you get a fun-to-drive two-seat city car with an extremely spacious driving position and high-set view out that feels very safe and secure. The Smart's 80-mile EV range means it's best reserved for use in the city, but negotiating busy streets will be a breeze and, at just 2.7 metres long, there's little to match it for ease of parking. Despite that low price, its Mercedes-Benz parentage brings a good haul of upmarket features inside. Smart's fun configurator lets you choose some wacky colour combinations, too.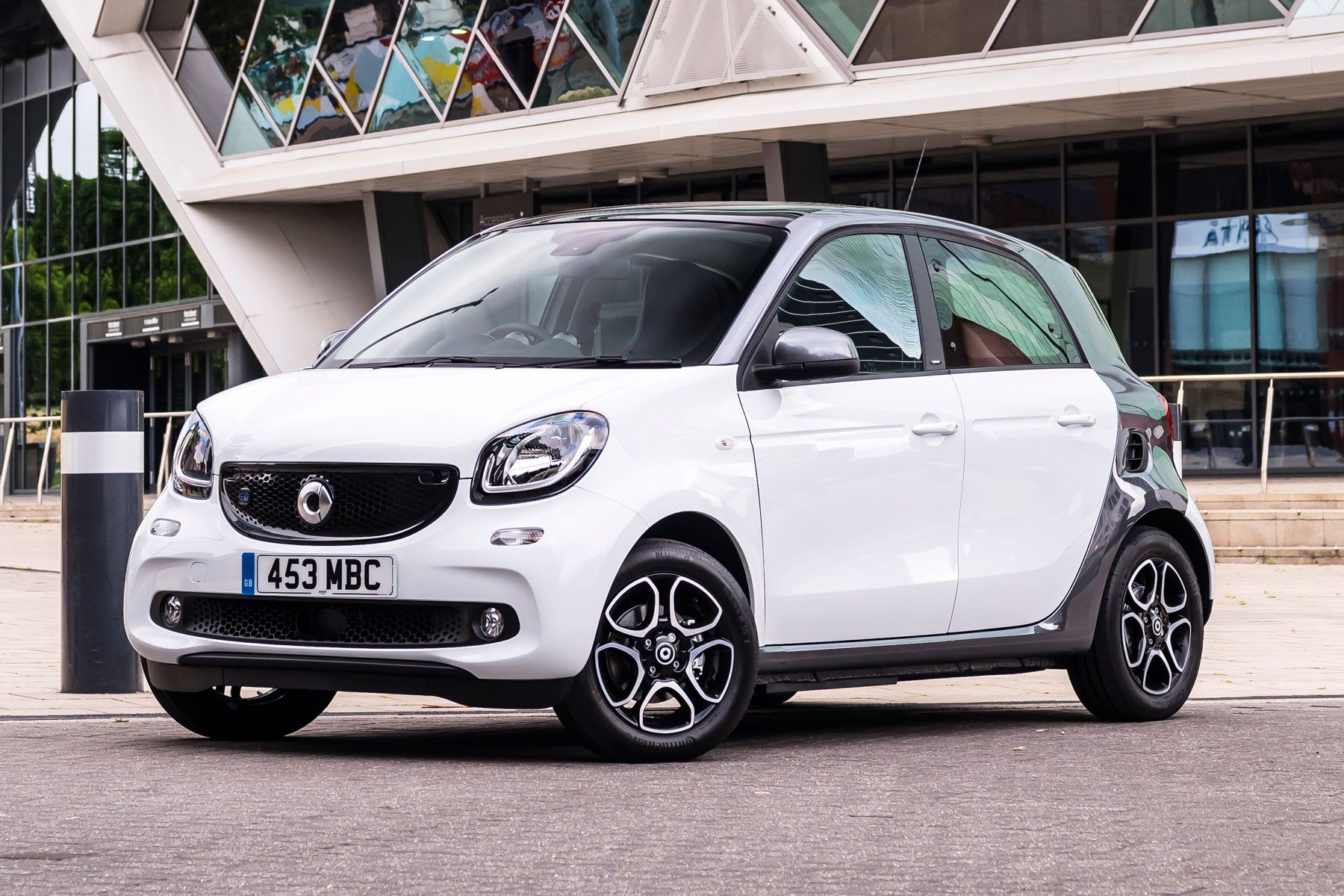 Smart EQ Forfour
As its name suggests, the Smart EQ Forfour is the four-door, four-seat sibling to the Fortwo. It's around a metre longer overall, but still very compact even by small car standards. It has a similarly tight turning circle, too. Inside, there's room enough for four adults, not just kids, and the bigger boot is more practical than the Fortwo. Using the same-sized battery, the Forfour has an even shorter range, but it's still OK for city use. Note that it costs hardly more than the Fortwo, making it a real bargain by electric car standards.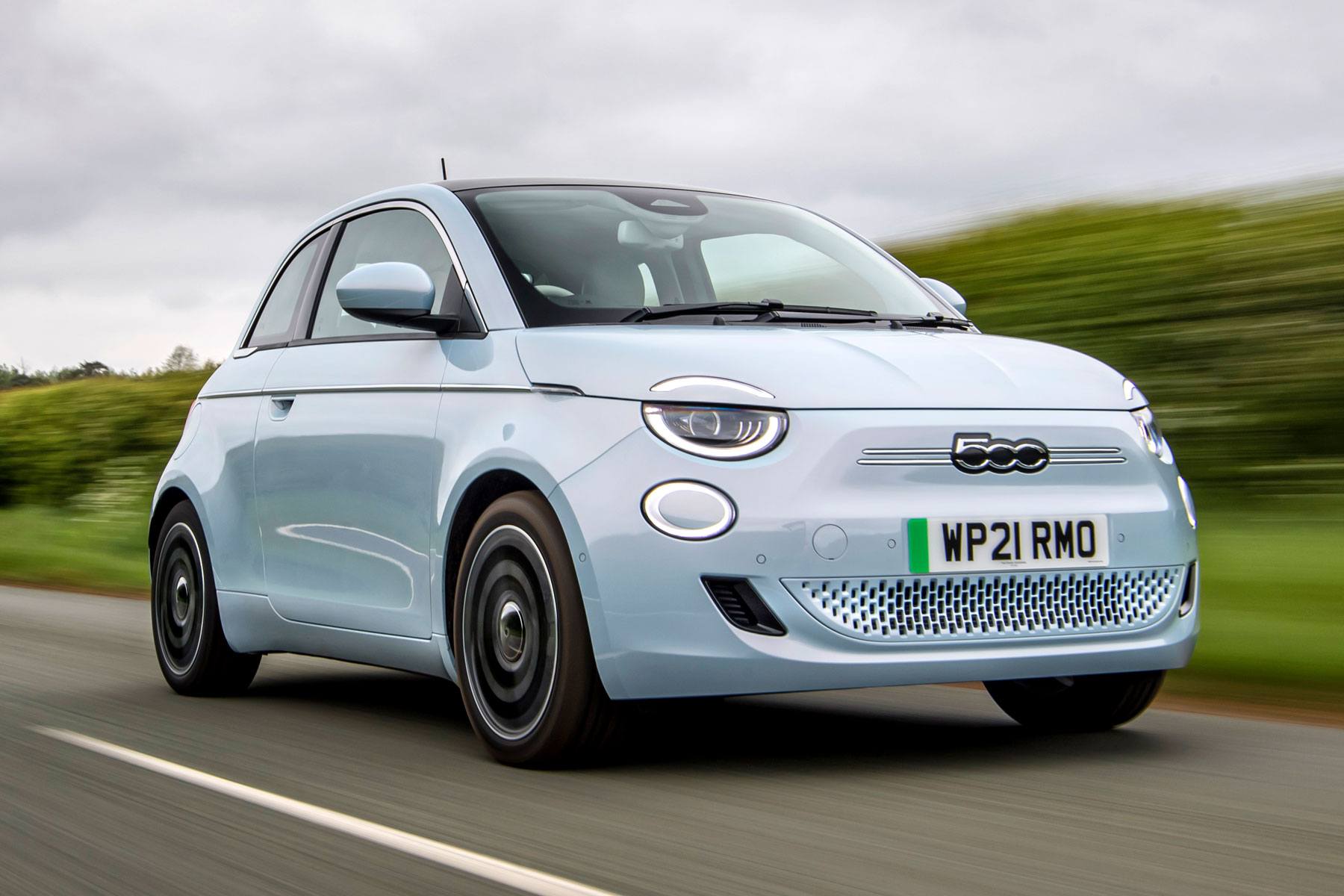 Fiat 500 Electric
The chic new Fiat 500 Electric is an appealing car in its own right – but factor in that it's one of the cheapest electric cars on sale and its draw is magnified. The entry-level model comes with the smaller 24kWh battery, but even this has a 115-mile range: good for the city and the odd trip beyond, too. If you want to spend more, a 42kWh battery gives a 199-mile range. We love the refinement of the latest 500 Electric, along with its comfortable, easy-to-drive nature. The selection of colours and trims is classy, and overall there's little not to like about Fiat's cheapest EV.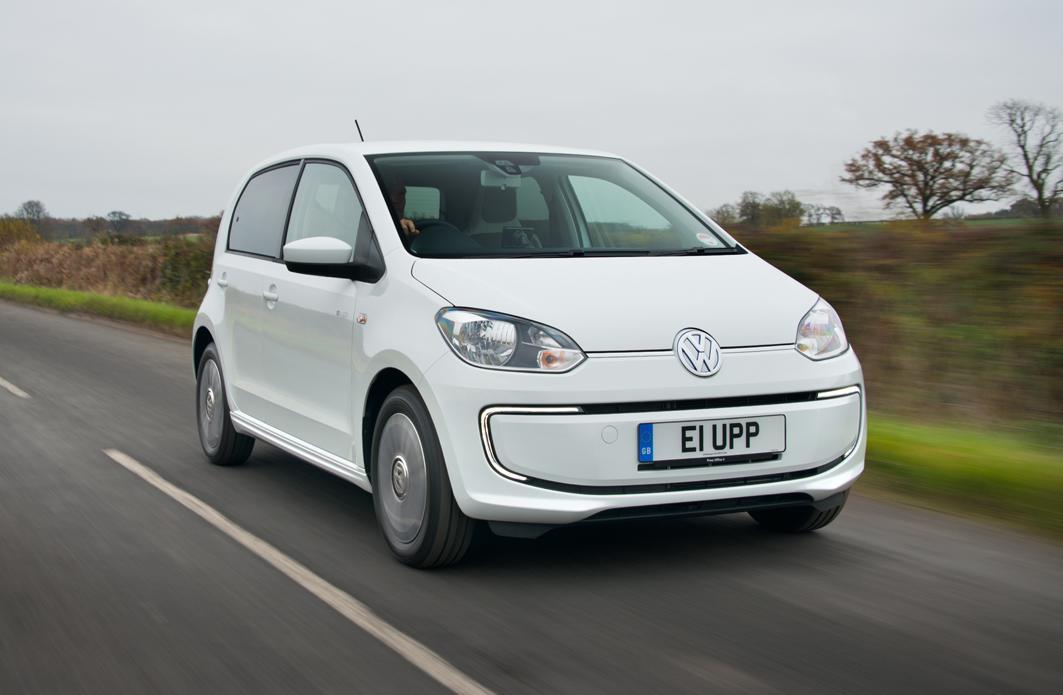 Volkswagen e-Up
The Volkswagen e-Up commands a price from just £22,585 once the £1,500 Plug-in Car Grant is taken off. Given that it has a large 36.8kWh battery, which gives a 159-mile electric range, this bargain price is very impressive. The e-Up is also a car that can seat four people, and while the boot is small, it's not microscopic. Volkswagen's cheapest electric car remains a pleasant vehicle to whizz around town in, and is able on longer trips as well. It is zippy, refined, very well-built and a reassuring option for long-term EV ownership.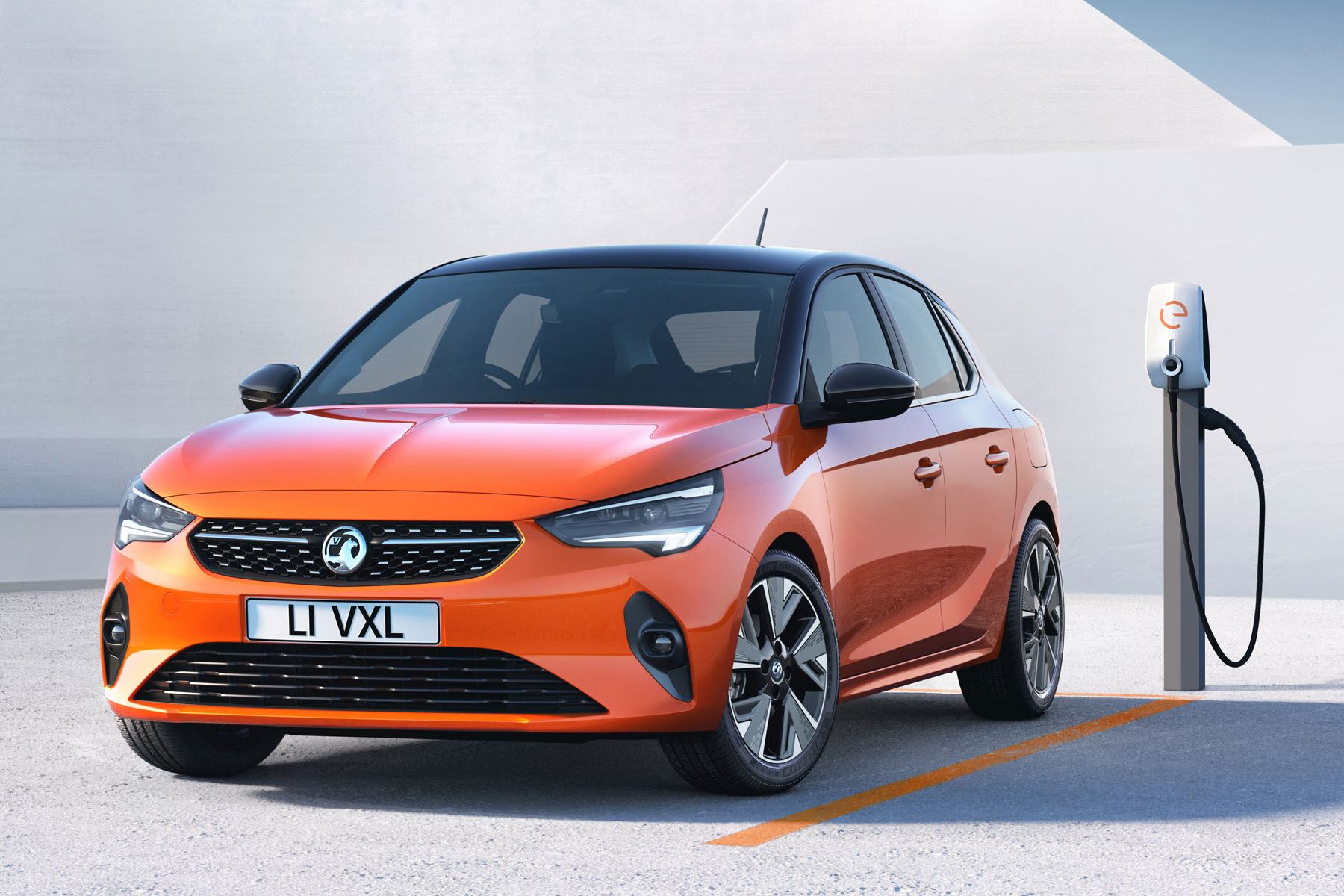 Vauxhall Corsa-e
Currently Britain's best-selling car, the Vauxhall Corsa is also available in pure electric Corsa-e guise. This ensures thousands of people are being introduced to the idea of electric car ownership – and with prices starting from less than £26,000, many have discovered it's not the prohibitively expensive proposition they thought. The Corsa-e has an electric driving range of 222 miles from its 50kWh battery: one of the best price-to-range combinations you can buy. It is a punchy little car, with a 136hp power output, and the automatic gearbox standard on all electric cars makes this five-door supermini an easy car to drive as well.
Nissan Leaf
One of the original everyday electric cars, the British-built Nissan Leaf is now into its second generation. The crisp lines still look sharp and the interior is both easy to use and reasonably accommodating both front and rear. The most affordable £26,995 version comes with the smaller 40kWh battery, which has a driving range of 168 miles. It's able to use 50kWh rapid chargers, though, which means speedy top-ups on the move. The Leaf also comes as standard with the comprehensive Nissan Safety Shield active safety pack, plus the innovative Nissan e-Pedal. This allows 'one-pedal' driving to minimise use of the brakes.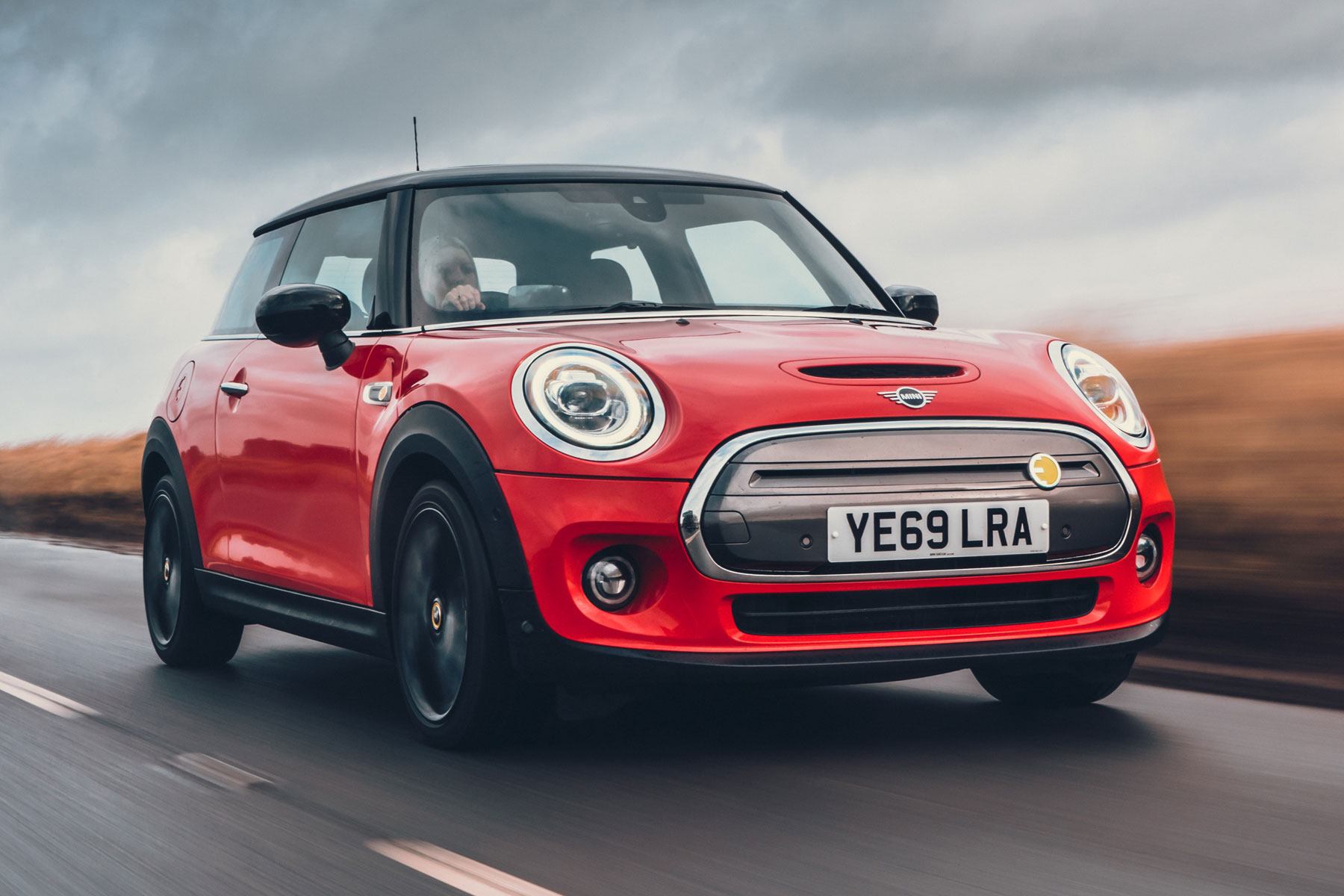 MINI Electric
The much-loved MINI hatchback is a proudly premium small car, one that rarely worries about being the cheapest on sale. Despite this, the MINI Electric still manages to rank in our cheapest electric car rundown, with prices starting from £27,000. Even better, this is for a car with a 184hp electric motor, delivering genuinely impressive performance. Zero to 62mph takes just 7.3 seconds. Handling is also classically MINI, with fantastic tenaciousness in corners and loads of smiles per mile. A 32.6kWh battery has a range of up to 145 miles and you can keep an eye on nearby charge points through the comprehensive BMW-derived infotainment system.
Mazda MX-30
The quirky Mazda MX-30 is a novel take on the electric car, with a part-crossover, part-coupe body style that includes rear-hinged rear doors. It feels distinctive to sit in, and we love the use of cork for the interior trim. It's reasonably practical, with a decent boot, and has a real feeling of high-end quality throughout. The 145hp motor gives decent performance and a 'right-sized' 35.5kWh battery offers a range of just under 125 miles. That even the entry-level Mazda MX-30 is so generously equipped is another tick in its favour, here in our guide to the cheapest electric cars.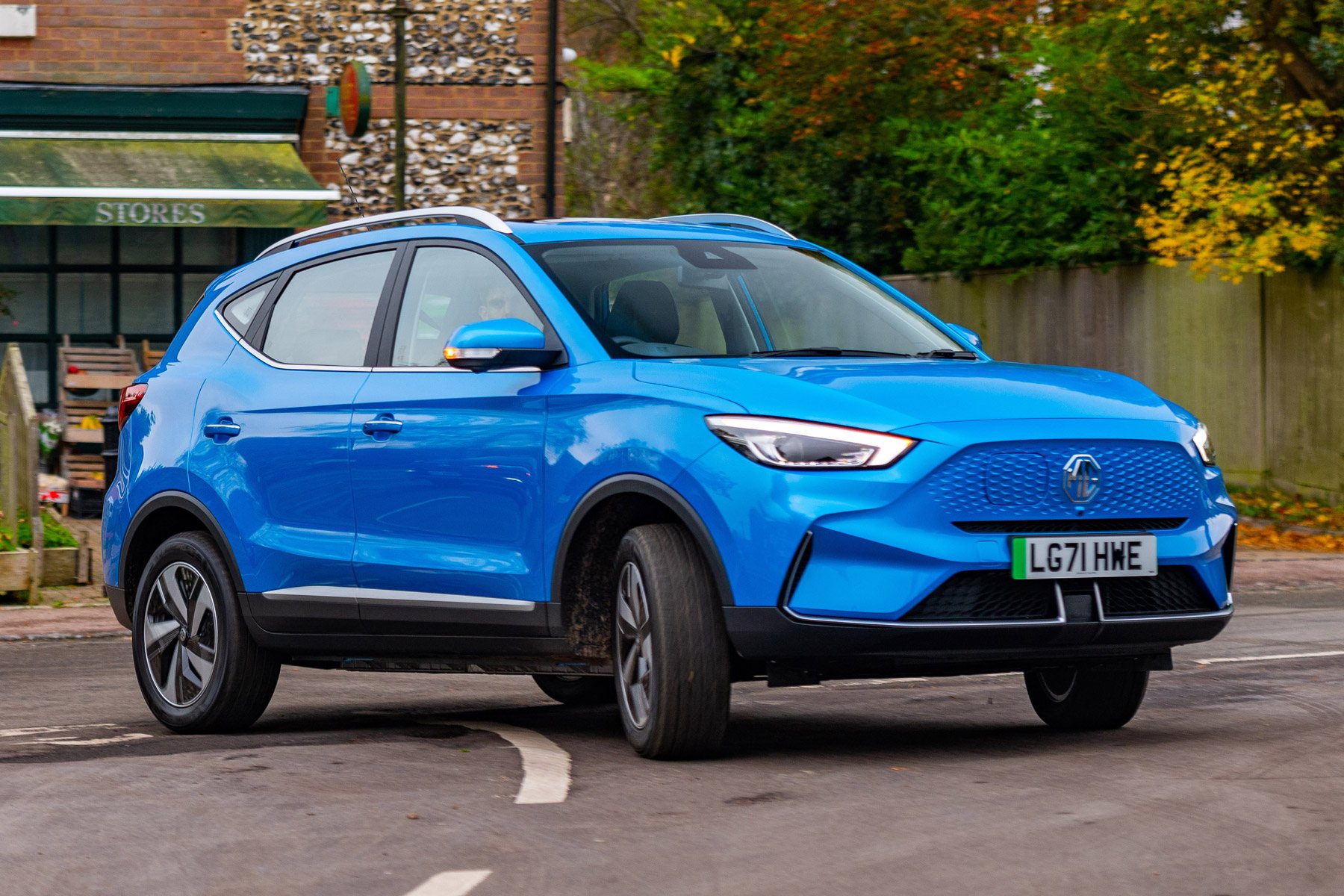 MG ZS EV
The MG ZS EV electric SUV was already appealing, thanks to its combination of decent range and low price. But the facelifted-for-2022 version improves this further. The entry-level 51kWh battery's range has been improved to 198 miles, while exterior styling and interior tech have also been updated to give the MG ZS EV a fresher, more modern feel. The one thing that hasn't changed is the sheer value it offers, proven by prices that start from £27,495. For a well-equipped, family-sized car with a five-star Euro NCAP safety score, that's great value indeed.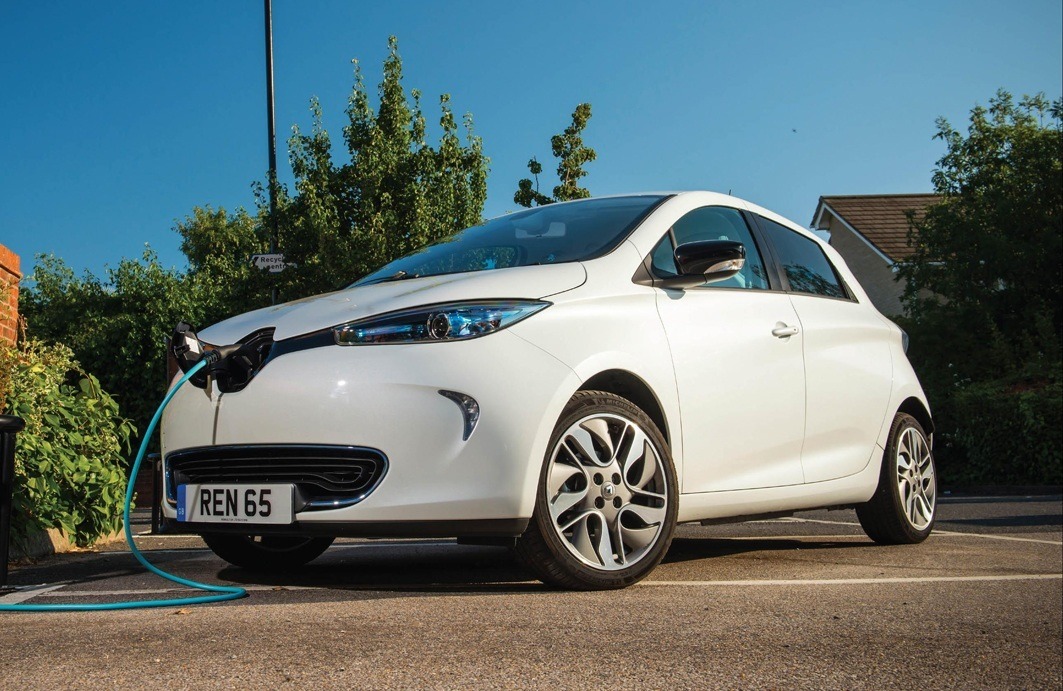 Renault Zoe
The long-running Renault Zoe has won many fans over the years. It has cute styling and a luxurious feel to its premium interior, while the five-door body encloses decent space for passengers and luggage alike. Every Zoe has a 52kWh battery, which gives a range of up to 239 miles, and it's able to use 50kWh DC rapid chargers on the move. All this can be monitored by a comprehensive My Renault smartphone app. The only fly in the ointment is a woeful zero-star Euro NCAP crash safety score, revealed in late 2021.
Are the cheapest electric cars proper vehicles?
All the cars listed here are genuine cars, as opposed to quadricycles such as the Renault Twizy. Sure, the Twizy can be bought far more cheaply, but it's an extremely basic machine, with a tiny range and few creature comforts. That's a compromise too far for British car buyers, which is why we've stuck to proper cars here.
Do the cheapest electric cars have tiny EV ranges?
While the two cheapest electric cars listed here do have ranges of less than 100 miles, they're the exception. Most easily cover more than 100 miles, and models such as the Vauxhall Corsa-e can manage well over 200 miles between charges. Buying a cheap electric car doesn't mean you'll be lumbered with a short-range motor.
Are the cheapest electric cars safe?
Unlike lightweight quadricycles, the electric cars we've listed here are generally at least as safe as a conventional petrol car. Some of them are arguably even safer, with some standout Euro NCAP performances from cars such as the Mazda MX-30.
Ask HJ
Should I buy a hybrid or electric car?
I have a 2018 Yaris Hybrid. It is a second car but covers 15,000 miles a year commuting with 32 miles a day on the motorway. Very cheap to run, averages 60mpg in winter and around 65mpg during the summer. I was looking at changing to the new one but at £23,000 is there a better alternative or even an electric car that's cheap to run?
The new Yaris starts from £20,210 and it's the car I would choose, it gets exceptional fuel economy and is very well equipped for the money – it comes as standard with autonomous driving aids that are expensive options in rivals.
Answered by
Russell Campbell
More Questions
More electric car guides
More expert car guides