Best family car 2022

Being a family car is an unenviable job. You not only need to be large and practical enough to cope with daily family life, you also need to be robust enough to shake off the knocks and scrapes that come with it.
Family cars should be easy to drive, because you've got enough on your mind. But they should also be relaxing or fun when the family isn't with you. We all deserve a treat, after all.
These days, nearly every family hatchback on sale has five doors, with the less practical three-door body style fading away. Family cars aren't just the preserve of mainstream brands, though; some of the best-selling models in the UK now come from Audi, BMW and Mercedes-Benz.
Because family cars are still so popular – they are the second-best-selling type of car in Britain – car manufacturers use economies of scale to bring upmarket features into the mix. You'll be amazed at some of the high-tech gadgetry available in the best family cars today.
Here is our guide to 10 of the best family cars you should consider.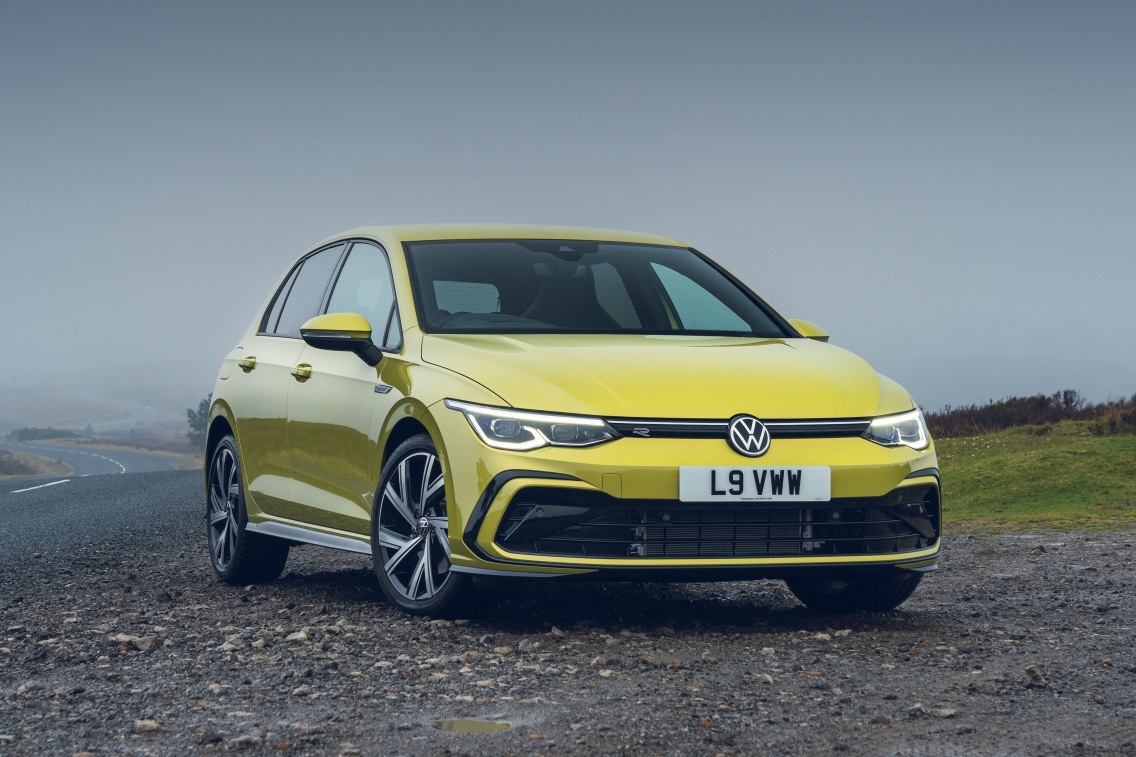 Volkswagen Golf
The Volkswagen Golf is an archetypal family car. It effectively invented the sector back in the 1970s and has continued to define it ever since. This eighth-generation Golf has a new modernist new end, which some find divisive, but the fundamentals remain intact. It's brilliantly practical, perfectly spacious and almost everything about it is straightforward and delightfully simple. The exception here is its interior controls and infotainment system, which require practice and patience. They do allow VW to pack in a lot of big-car features, though. You can get a plug-in hybrid drivetrain alongside the core petrols and diesels – and that's before you consider the GTI and R high-performance models. Few family cars are more thrilling.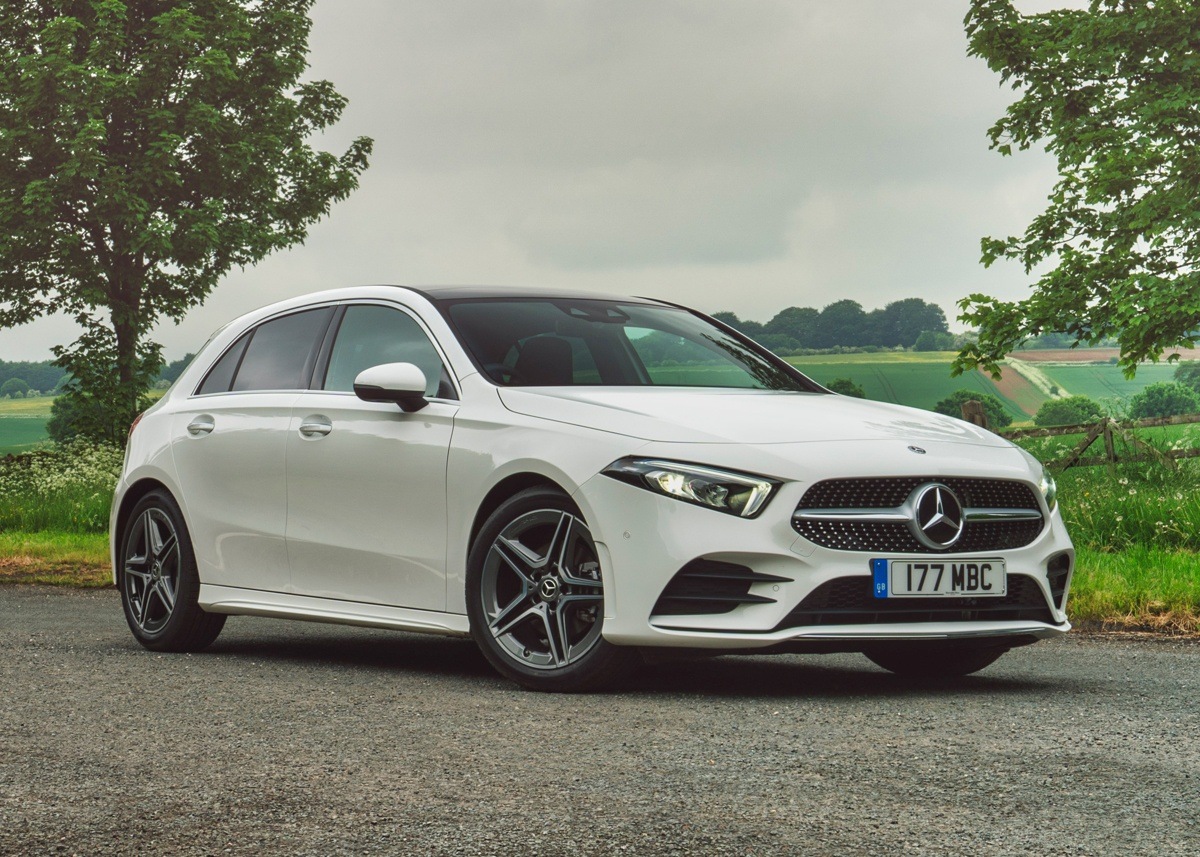 Mercedes-Benz A-Class
The Mercedes-Benz A-Class may wear a premium badge, but this doesn't stop it regularly being one of the UK's top 10 most popular new cars. It's easy to see why. The sleek five-door body looks classy and the interior is modern and interesting in layout. Dual colour screens are available in various sizes and you can even get clever augmented reality sat-nav, which overlays directions onto a video feed of the road. Regular engines are joined by a plug-in hybrid and two high-performance AMG-badged hot hatches, meaning there's something for everyone. Excellent retailed values help keep monthly PCP payments manageable.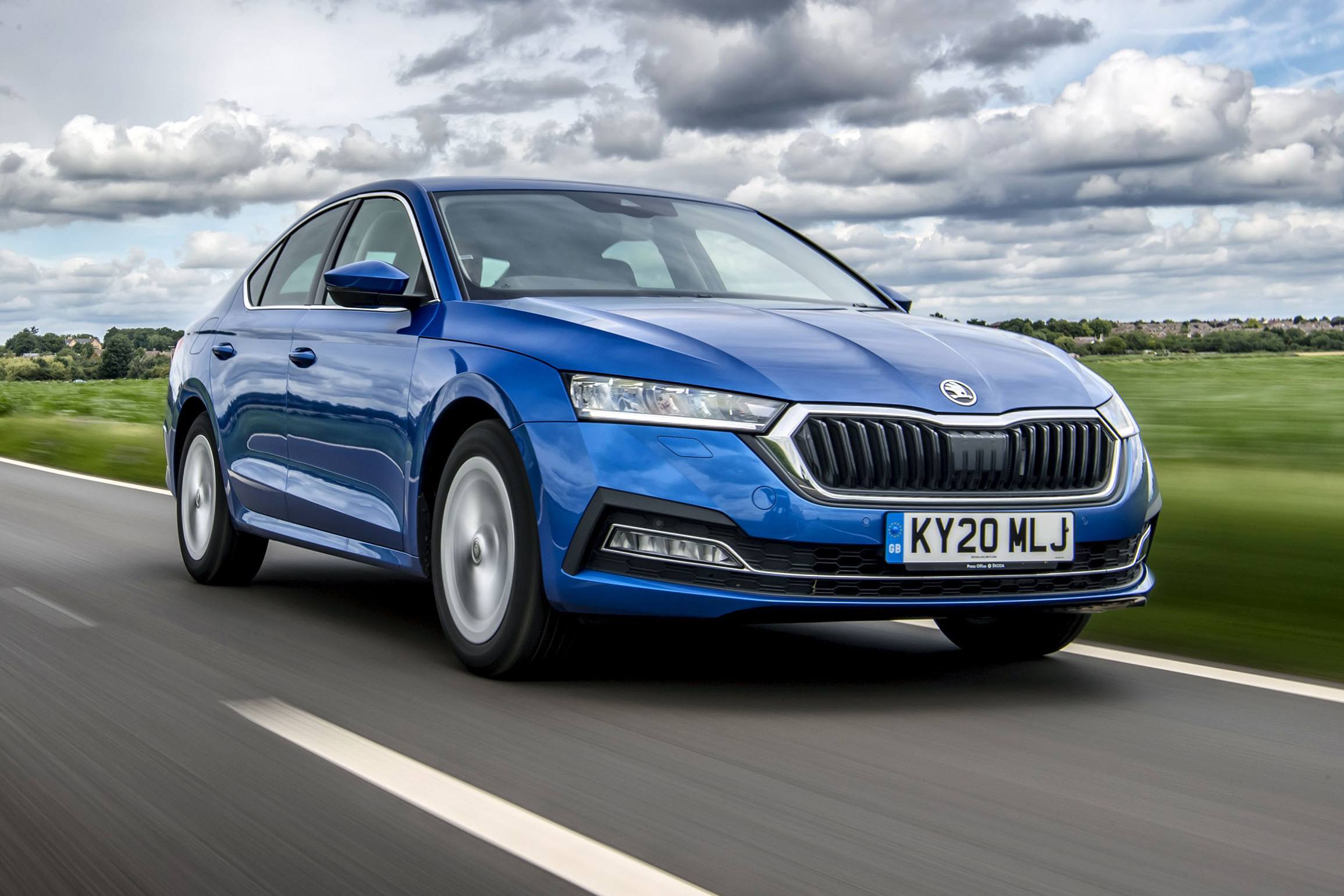 Skoda Octavia
The Skoda Octavia is a family car that offers space comparable to a large car. If roominess is your thing, look no further, because no car in this class offers more practicality than the Octavia. It's large inside, for starters, with adult-friendly rear legroom and enough space across the bench seat for three. But it's the boot that is the real standout: no less than 590 litres of space is on offer. Compare that to the 380 litres you get in a Volkswagen Golf to appreciate how vast it is. The Octavia is not a one-trick pony, however, with VW-supplied engines offering a plug-in hybrid option, along with a sporty vRS range-topper. There's something for everyone here.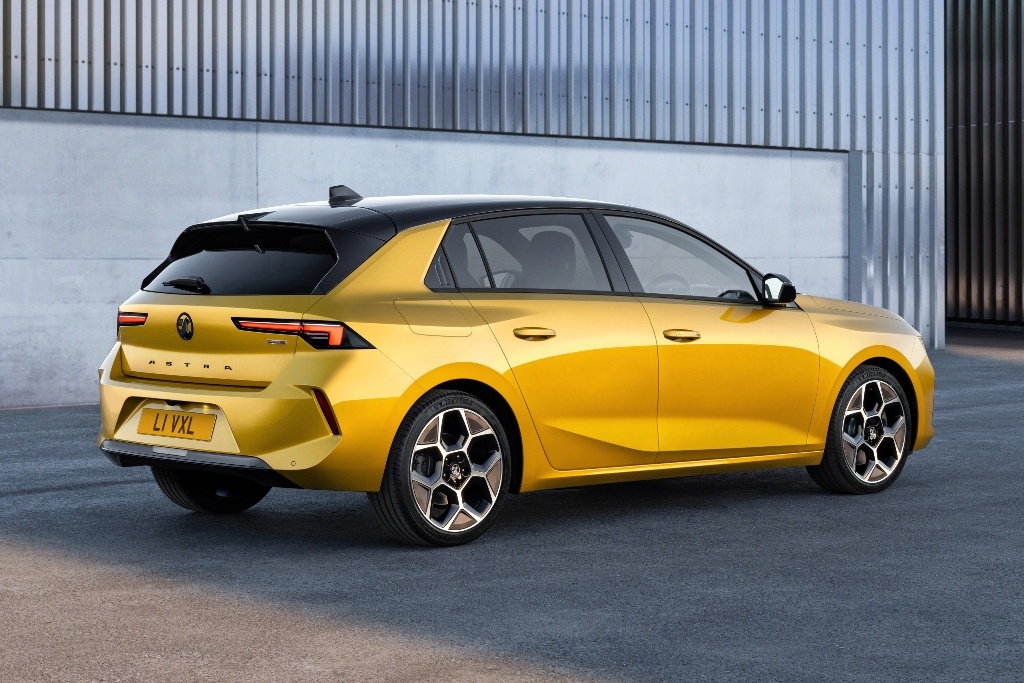 Vauxhall Astra
The latest Vauxhall Astra is an exciting new proposition in the family car sector. The previous version was worthy but dull; this one brings radical sharp-edged styling that sets it amongst the trendiest cars in the sector. The interior has a new digital-first layout, with dual HD screens centred around the driver. Space inside is decent and Vauxhall has simplified the formerly confusing trim line-up to make buying an Astra easier. Choose from petrol, diesel or plug-in hybrid drivetrains. A pure electric version called the Astra-e will arrive later, expanding the choice of models still further.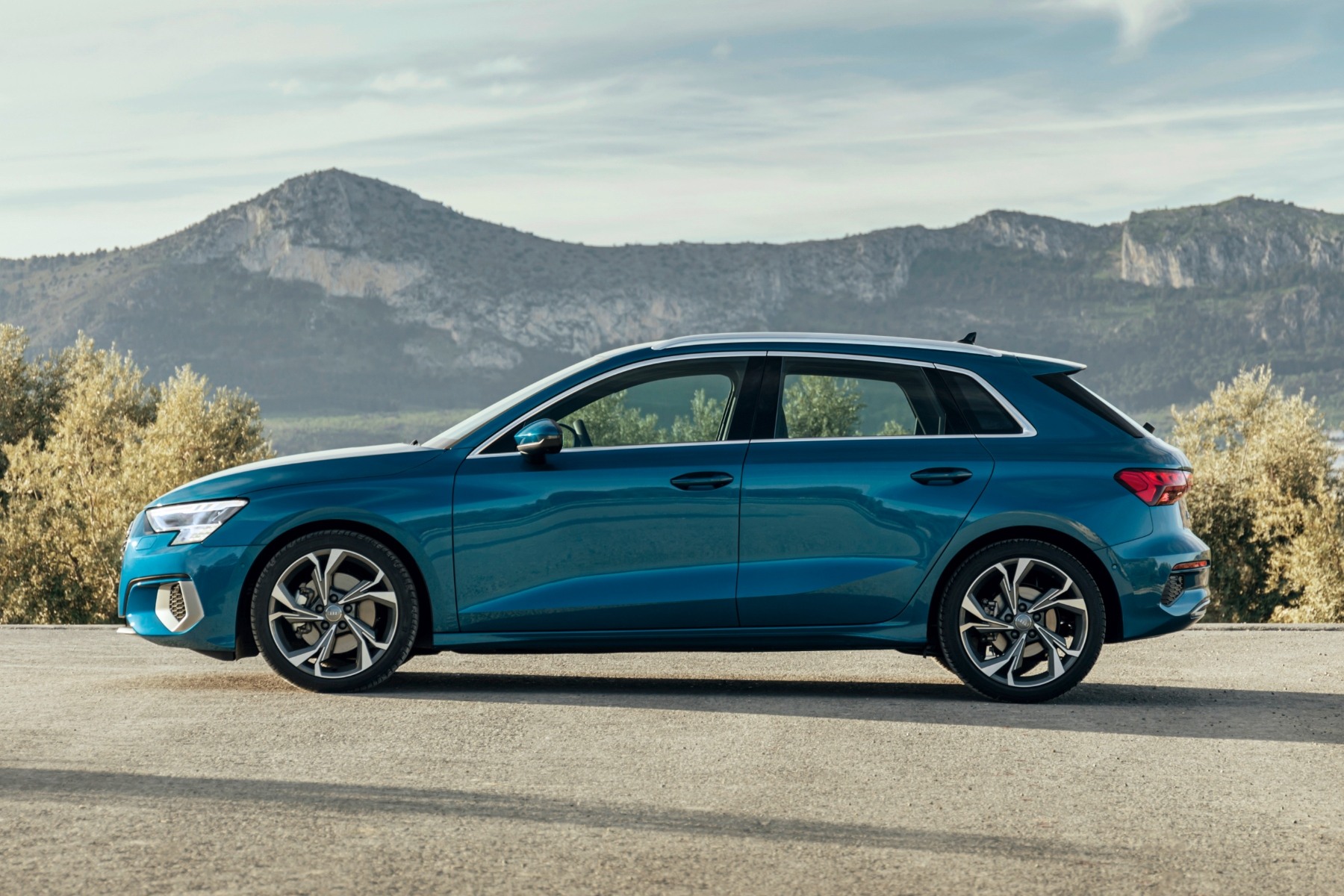 Audi A3 Sportback
Another popular premium car in the UK, the Audi A3 is offered in a single five-door Sportback bodystyle, with pumped-up styling that nods to the original 1980s Audi Quattro. Sporty S3 and five-cylinder RS3 models steal the limelight, but the core range has some verve, too; the popular 35 TFSI petrol can do 0-62mph in 8.4 seconds and still return 50mpg. Audi's motto of 'Vorsprung durch Technik' is evident in the sprawling options list, but all cars come with a decent amount of connectivity. As with other premium brands, the A3's strong retained values help keep monthly PCP payments in check.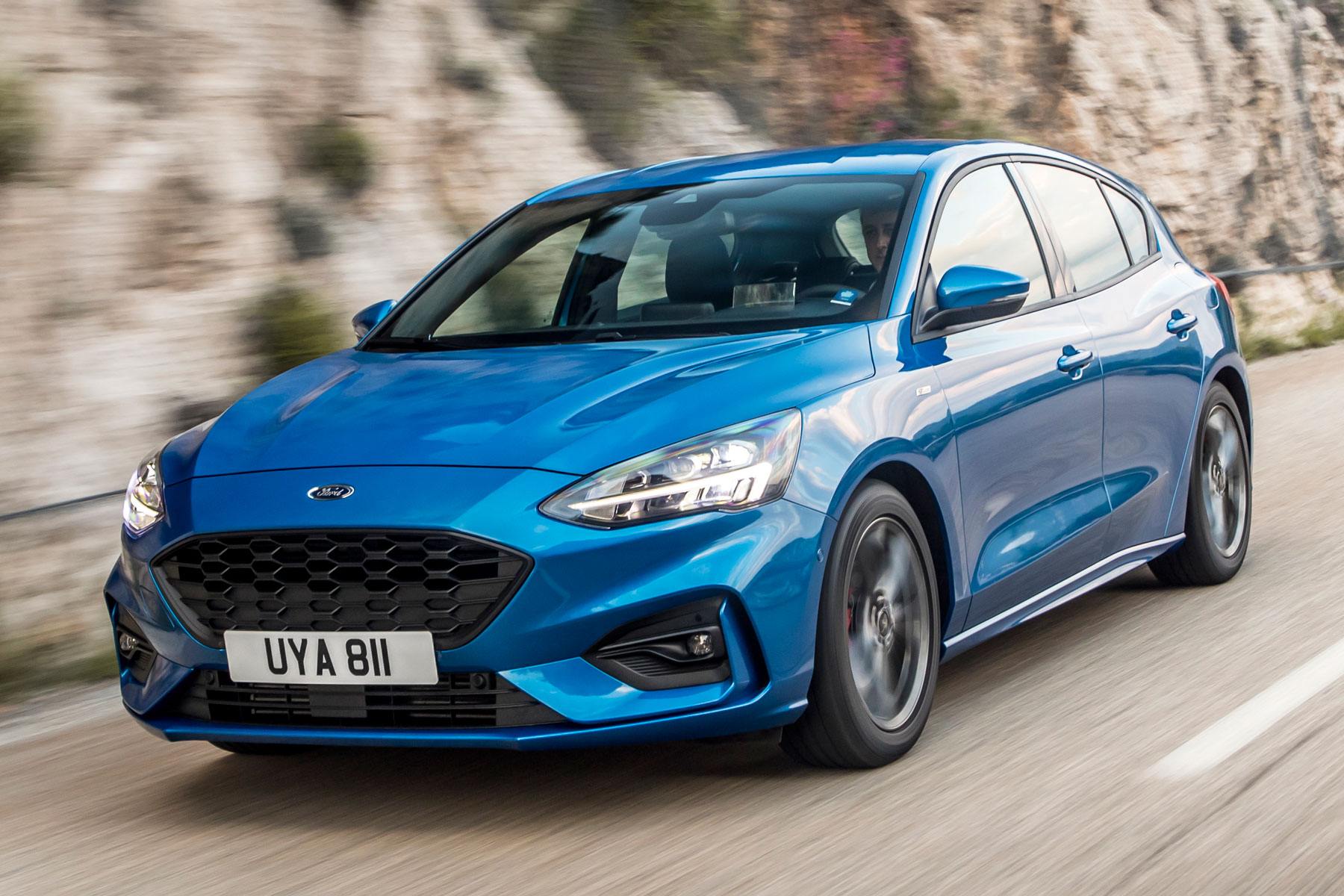 Ford Focus
Ford has facelifted the Focus for 2022, in an attempt to restore the fortunes of its core family car after sales slipped due to the semiconductor shortage. There's a cleaner look for the front end, with a bigger grille and a selection of new colours. Inside, the touchscreen has grown to 13.2 inches and the function-packed Ford Sync 4 connectivity system is standard. Alongside the core 1.0-litre Ecoboost petrol engines are improved mild hybrid motors. Ford has dropped the diesel-engined ST hot hatchback, but the 280hp 2.3-litre petrol version remains. Top nerd fact? It's the same engine previously fitted to the Ford Mustang.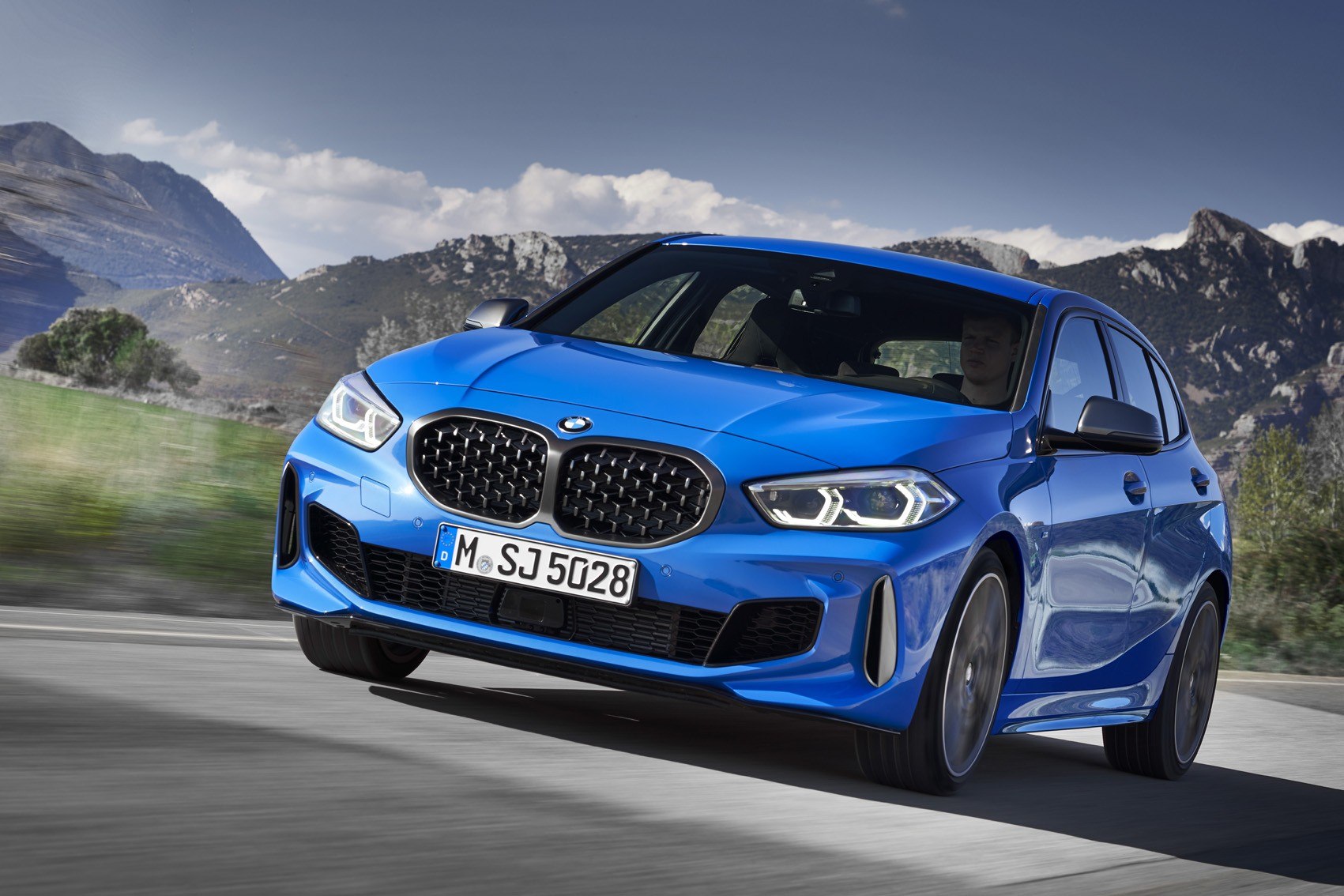 BMW 1 Series
The BMW 1 Series is an increasingly familiar sight on British streets. Now a five-door-only hatchback, it has distinctive chiselled lines and a prominent BMW kidney grille. Controversial at first, the latest looks are now finding favour. Inside, the interior has a strikingly premium feel, with the 3 Series-inspired layout looking high-tech and sophisticated. BMW infotainment systems are top-drawer and this is no exception, while the firm somehow still manages to make driving positions feel sportier than any rival. In the rear, it's much more spacious than 1 Series models of old, and the boot is better as well. Pick from petrol, diesel, plug-in hybrid or, if you're feeling sporty, the all-wheel-drive M135i xDrive. The latter has recently been joined by an equally sparkling 128ti front-wheel-drive alternative.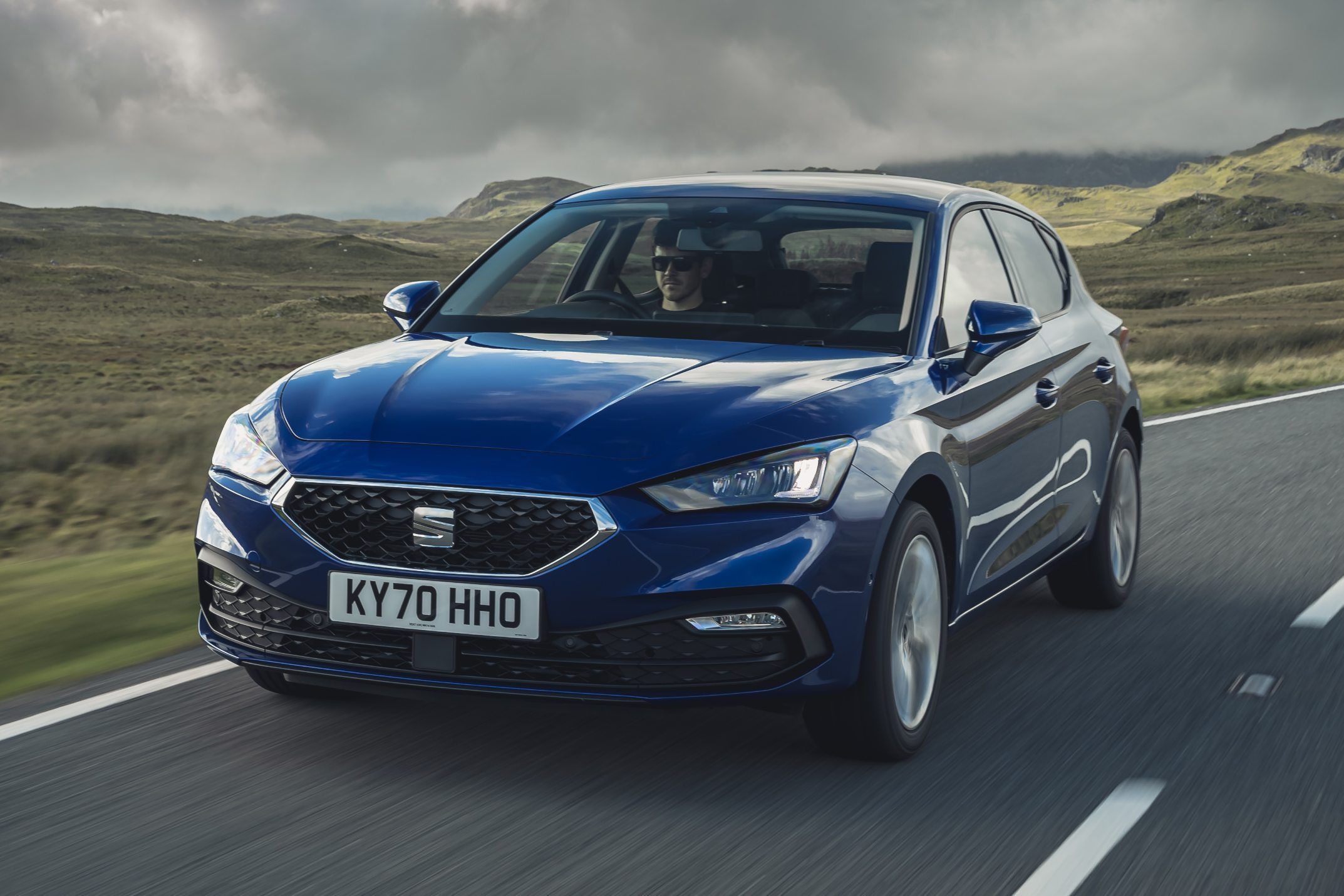 SEAT Leon
The SEAT Leon is an award-winning family car from Volkswagen's Spanish division. Closely related to the Golf, the latest Leon has less of an overtly sporty air than previous models. The reason? Cupra is now a standalone sporting brand, and you can choose a high-performance Cupra Leon if you wish. Most go for the regular cars, which are a good-value alternative to the Golf, with sharp-suited styling and a simpler line-up of engines, trims and options that Seat calls 'Easymove'. Even metallic paint is included in the price. We like FR trim, which has just the right amount of styling pizazz. Choose the good-value 1.5-litre TSI Evo petrol engine and you've got a great all-rounder.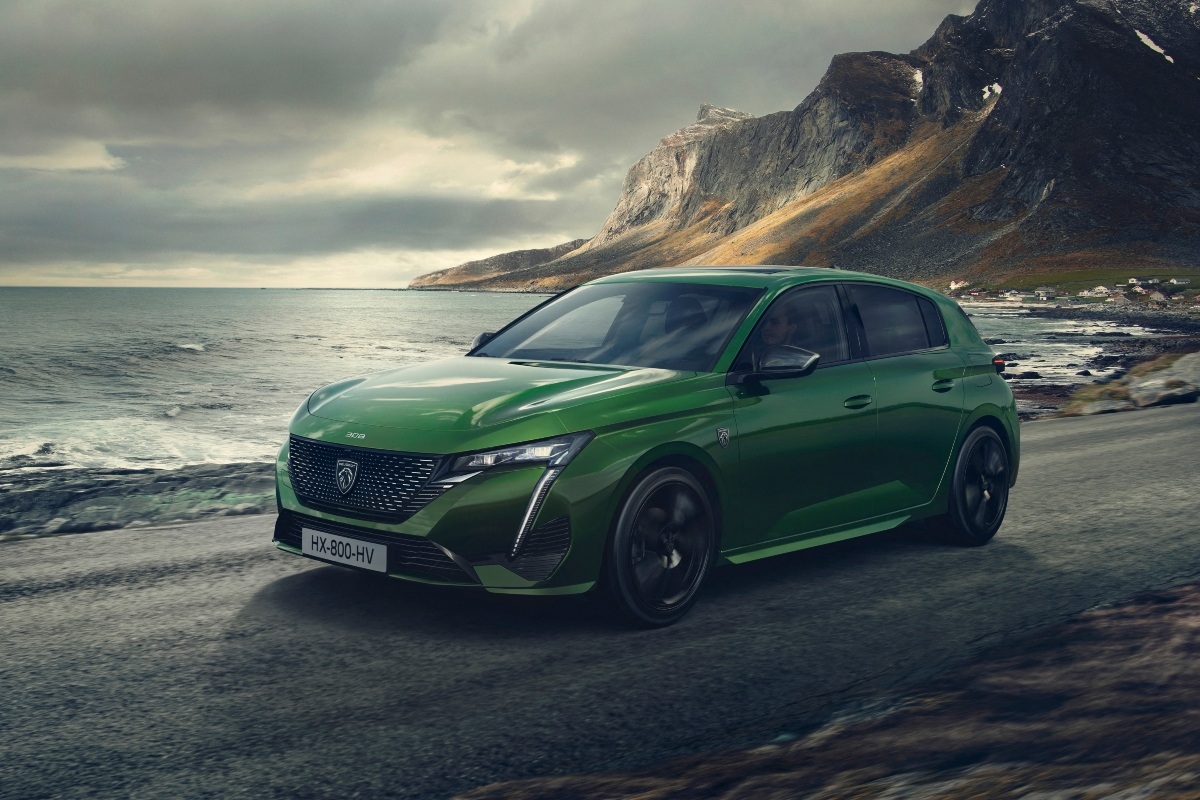 Peugeot 308
The Peugeot brand is moving upmarket and the new 308 represents the latest step on this journey. Positioned as a more premium machine than its predecessor, it now looks to go head-to-head with cars such as the Mercedes-Benz A-Class. Radical new styling helps here; it's certainly distinctive, and the interior continues the trend, with fascinating details wherever you look. The 308 also drives in a suitably grown-up way, which makes it a nice car to live with day-to-day. If you have a home charging point, the plug-in hybrid version will minimise trips to the filling station, while normal petrol and diesel engines are available for everyone else.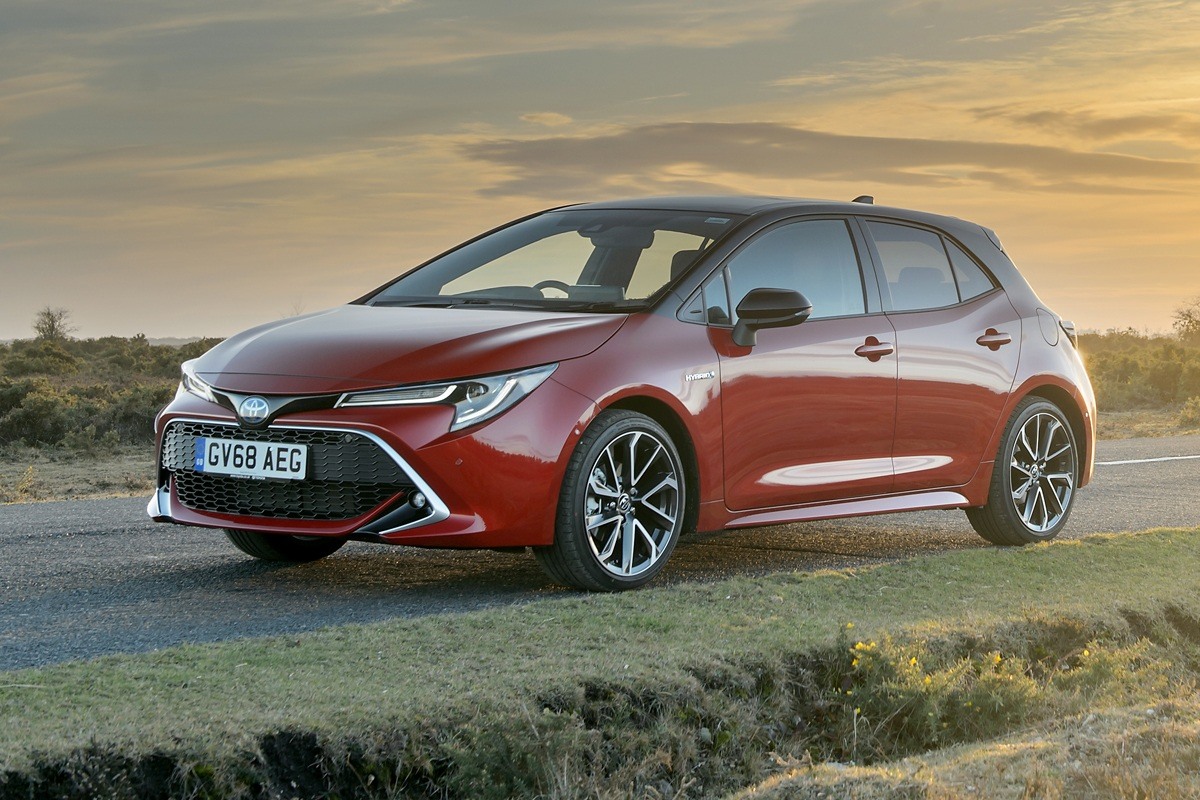 Toyota Corolla
The British-built Toyota Corolla is a top-selling hybrid that's known as a 'self-charging' model. This means you don't have to plug it in, so it's ideal for those without a home charging point. Clever tech aims to switch the engine into EV mode wherever possible, and it's not uncommon to see more than half a journey being driven in engine-off electric mode. There are now two engines, a 1.8-litre and the more powerful 2.0-litre. Both come with a good amount of standard equipment, including a comprehensive array of safety tech. The Corolla is almost guaranteed to be totally reliable and Toyota now underlines this with a 10-year warranty – provided you take it back to an official Toyota dealer each year for servicing.
Can you buy an electric family car?
Electric family cars are starting to arrive on the market. You will soon be able to buy pure electric versions of the new Peugeot 308 and Vauxhall Astra, for example. For now, though, most brands are offering hybrid or plug-in hybrid models. The former don't need to be plugged in, so are ideal if you don't have charging facilities, while the latter can travel for 30 miles or more between charges – enabling most daily drives to be tackled in pure electric mode. The petrol engine can then be saved for longer trips at the weekend.
Which is the most popular style of family car?
The most popular type of family car is the traditional five-door hatchback. Many brands used to offer three-door hatchbacks as well, but these gradually became less popular as they are not as practical. Few brands now sell them. While the SUV craze means nearly every car here has a closely-related crossover-style sibling, the core family hatch remains alive and well, with a constant presence in the UK's best-selling cars list.
How safe are family cars?
In terms of Euro NCAP crash-test ratings, family cars score very well indeed. The Audi A3 attained five stars in 2020, as did the Seat Leon, and both models were praised for their high levels of standard safety assist gadgetry. The Skoda Octavia, Volkswagen Golf and BMW 1 Series are two more five-star cars, and we expect newer vehicles such as the Peugeot 308 and Vauxhall Astra to perform well when they are tested.
Ask HJ
What's the most reliable, economic family car?
What do you consider to be the most reliable and economic automatic family car?
The Toyota Corolla is a good choice. Toyota always performs very well in reliability surveys and we've had very few issues reported with the Corolla. It's a hybrid, so it'll be cheap to run too.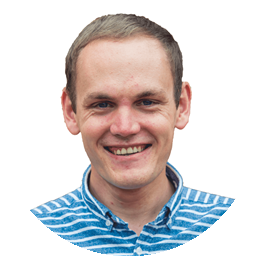 More Questions
More family car guides
More expert car guides