Best estate cars 2022

Despite the rise of SUVs, the traditional estate car remains popular in Britain. Generally derived from saloon or hatchback models, estate cars have more squared-off rear ends, which are tailor-made for carrying large loads.
Compared to a regular car, the best estate cars have considerably greater boot capacities, with 500 litres of space being just the starting point for larger models.
Their load bays are also more practical and easier to access. And they are squarer and more space-efficient in shape, allowing owners to make maximum use of the room available.
Estate cars have fold-flat rear seats, which further expand the amount of space on offer. In this guise, they're less like cars, more like upmarket vans. Some of the best estate cars even offer stylish good looks that make them preferable to less spacious alternatives.
Here are 10 of the best estate cars currently on sale. If you want a massive boot able to cope with everything family life can throw at it (and more besides), look no further.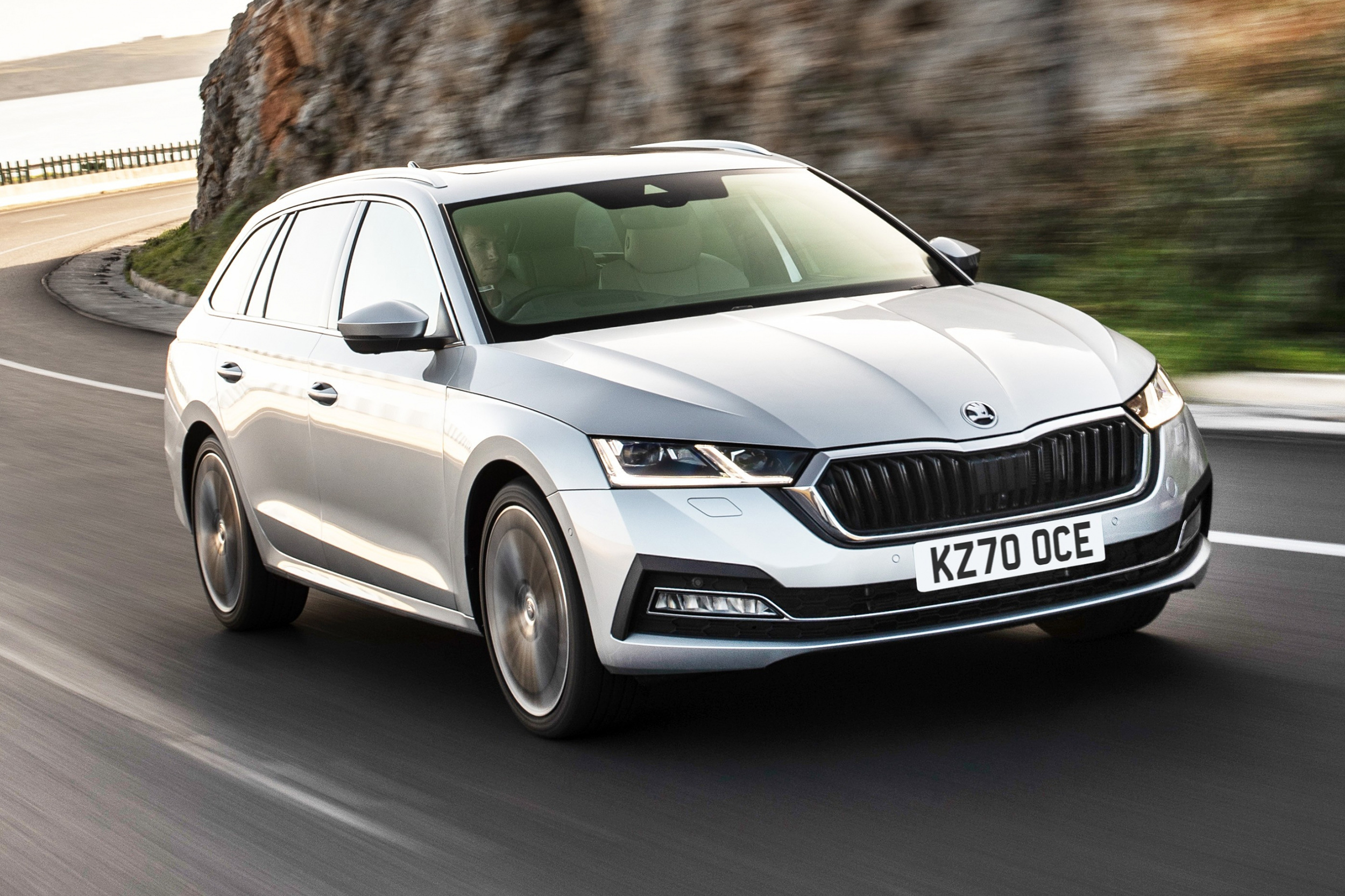 Skoda Octavia
The Skoda Octavia is one of the most common-sense cars on sale. And in estate guise, it simply bolsters these credentials still further. The headline figure is a 590-litre boot capacity with the rear seats in place. For a vehicle that measures less than 4.7 metres long, that's very impressive. Fold the rear seats and it expands to almost 1,600 litres. The space is impeccably designed for ease of use, and it doesn't come at the expense of passengers either. Affordable petrol and diesel engines provide great value for money, while you can get both sporty vRS and tax-friendly plug-in hybrid versions. The latter can travel for up to 44 miles in pure electric mode.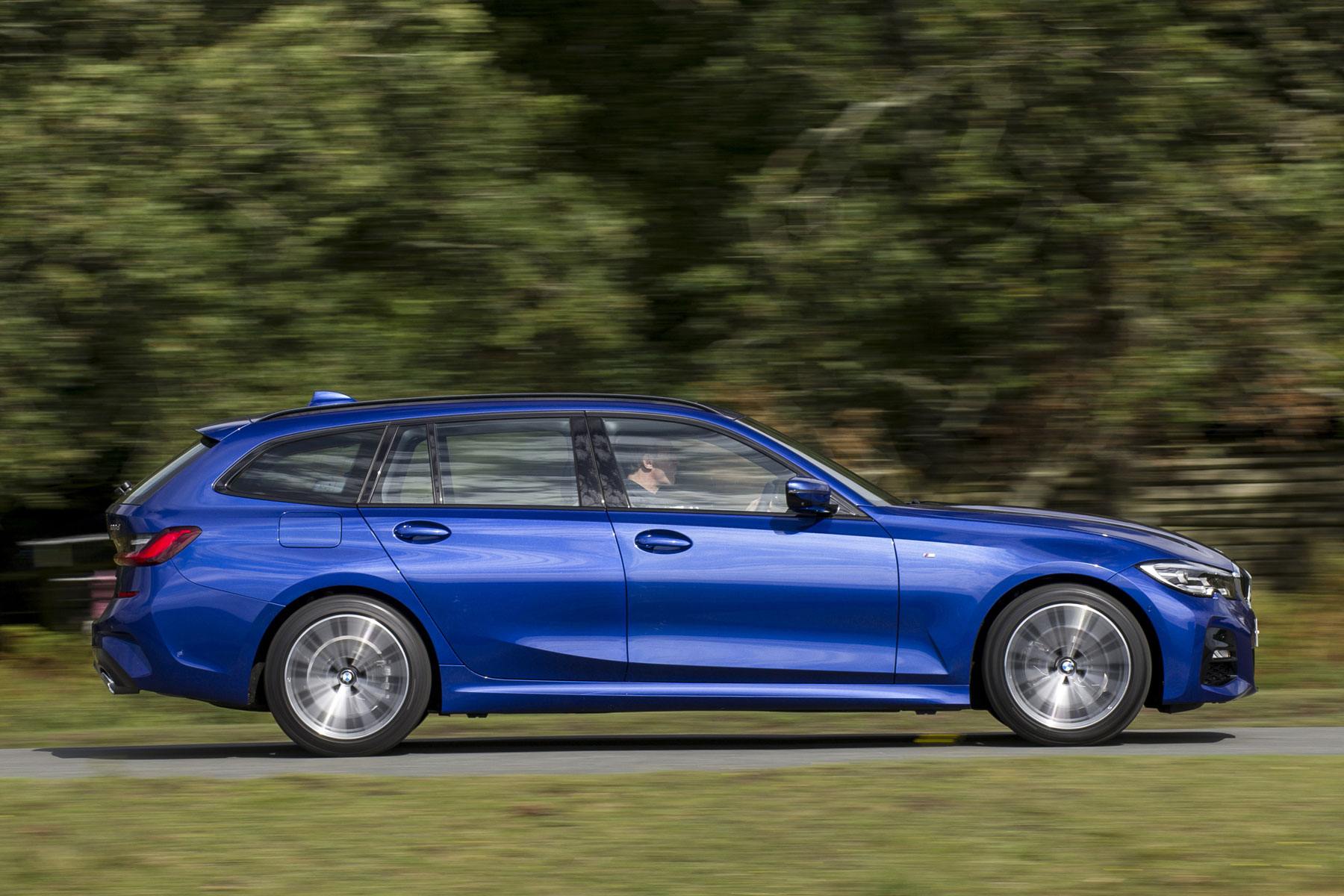 BMW 3 Series Touring
The good-looking BMW 3 Series Touring is an upmarket and far more practical alternative to the regular 3 Series saloon. BMW has put a lot of thought into its design, with features including an ingenious 'anti-slide' boot floor that stops luggage banging around during driving. And so enjoyable is the handling, you'll certainly want to fling it across twisting roads. All engines are fuel-efficient and BMW now offers a 330e Touring plug-in hybrid with a 34-mile EV range. There's a thrilling new arrival coming in 2022 as well: an M3 Touring. An expected power output north of 500hp will provide supercar pace to complement its 500-litre boot space.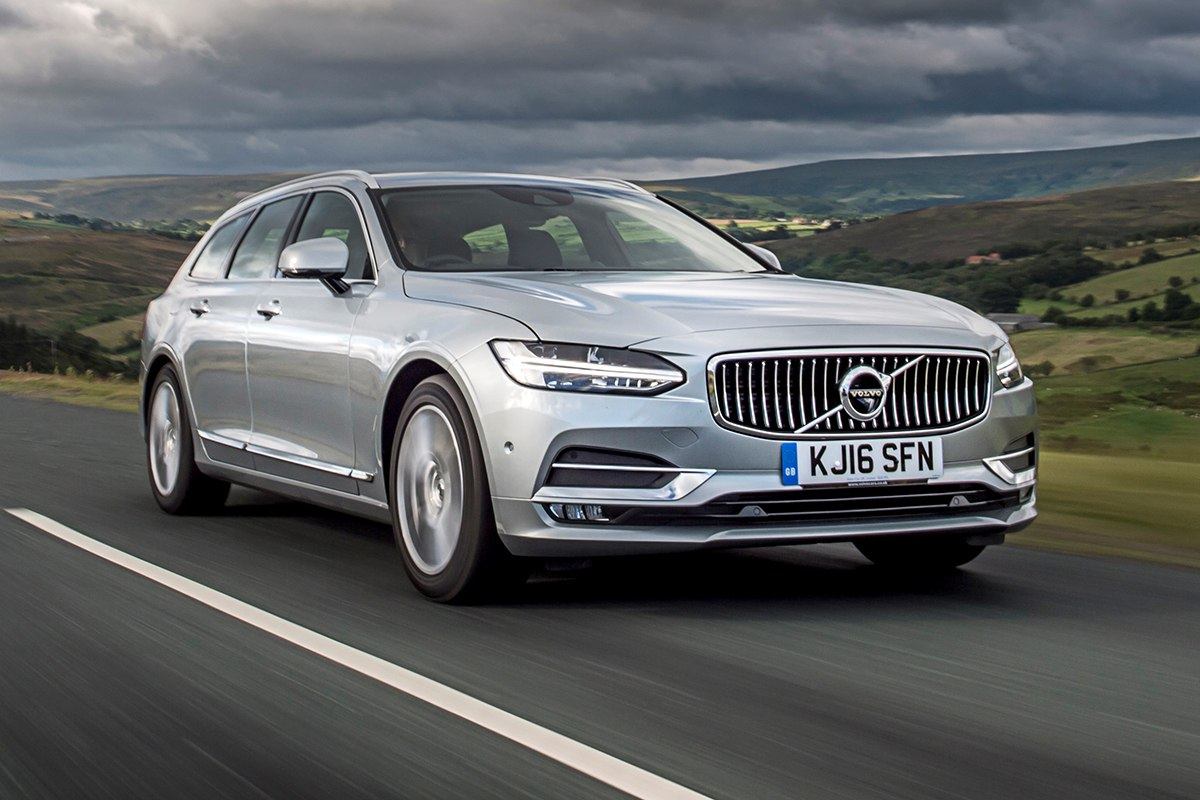 Volvo V90
Volvo is an archetypal estate car manufacturer, so it should come as no surprise to discover its largest estate car, the V90, is an exemplar of the breed. Its 551-litre boot isn't the biggest in the large estate car arena, but it's superbly shaped and lavishly upholstered. You'll think twice before letting a muddy dog jump in. Fold the rear seats and it expands to 1,517 litres. Volvo offers a full range of accessories – yes, including boot liners – and a set of beautifully designed roof bars. Both mild hybrid and EV-capable plug-in hybrid versions are available, and there's also a V90 Cross Country with tough bodyside mouldings, raised ride height and all-wheel drive. Perfect for crossing rough terrain in style.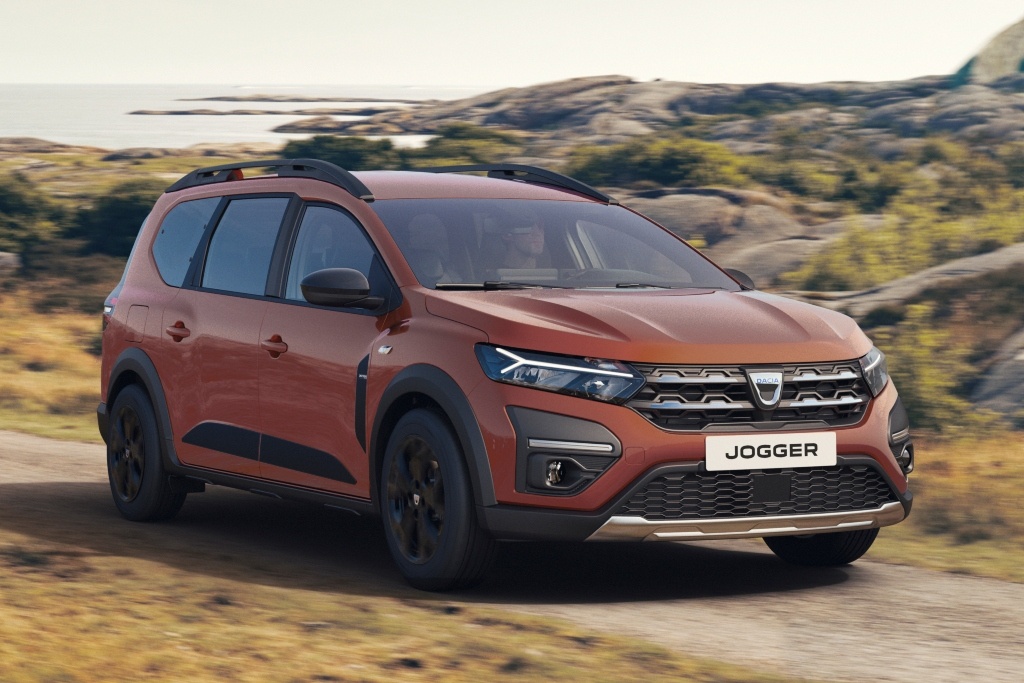 Dacia Jogger
The Dacia Jogger is a fascinating new type of car. Part crossover, part estate, it's derived from the Sandero supermini but has an ultra-long wheelbase. This allows enough space for seven seats to come as standard. The third-row chairs fold flat into the floor, giving 712 litres of boot space. Fold the middle seats and remove the lightweight third-row chairs, and it grows to an incredible 1,819 litres. Even in seven-seat mode, the boot has 213 litres of space. With 200mm of ground clearance, the rugged-looking Jogger has a modicum of off-road ability, but the best part of all is the price: it starts at less than £15,000. For such a practical and family-friendly car, that's little short of incredible.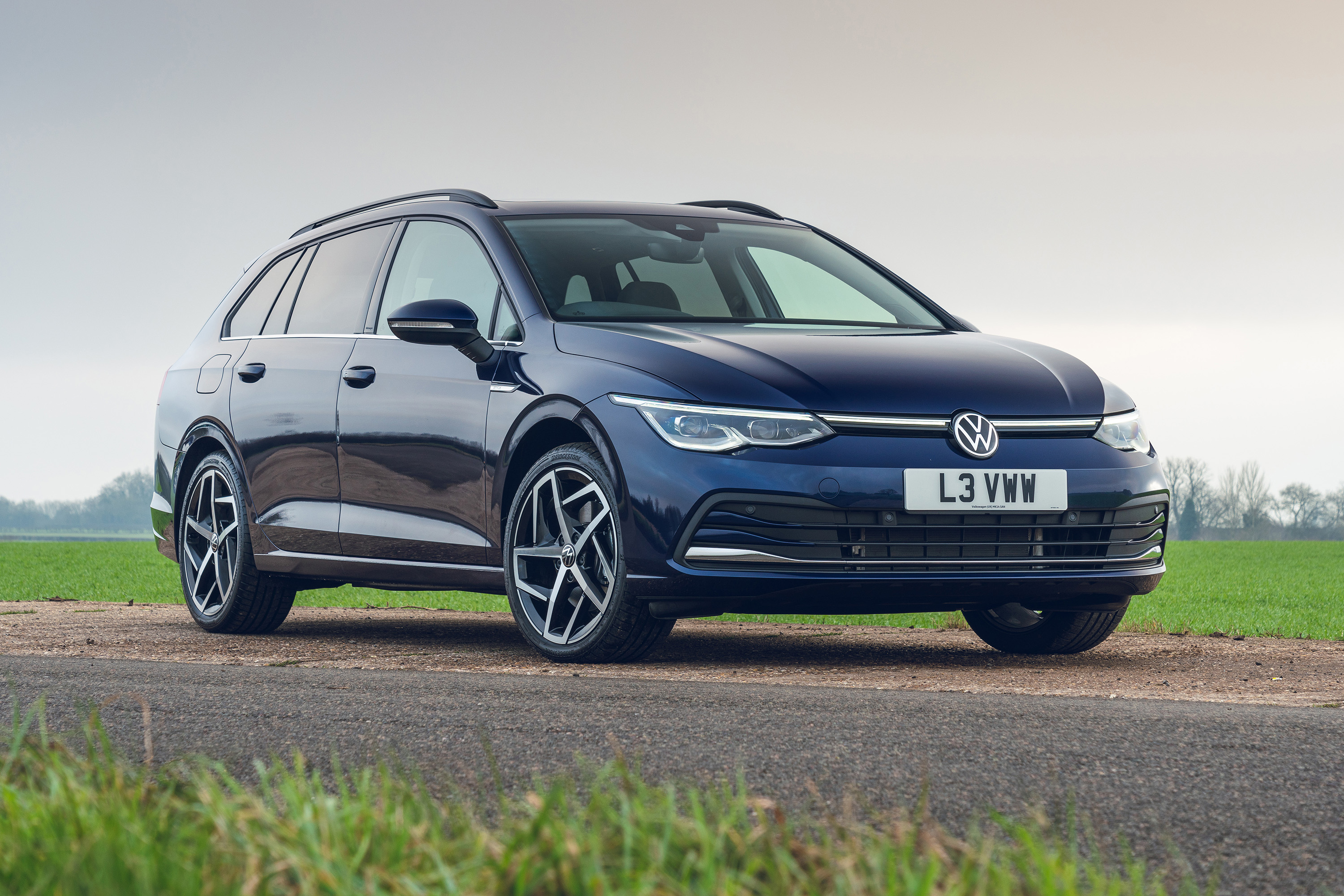 Volkswagen Golf Estate
The Volkswagen Golf is a family favourite, particularly in roomy and flexible Golf Estate guise. This latest version looks better than ever, with an angular rear end that's less boxy than previous versions. It's still box-friendly inside, though, with a vast 605 litres of space, expanding to 1,620 with the rear seats folded down. You can also get a rugged Golf Alltrack, with tougher suspension, more ground clearance and all-wheel drive. And if high performance is your thing, you might like to check out the Golf R Estate, with a heady 320hp for blistering speed. All Golfs have a good quality feel and impeccable attention to detail, which makes them easy to live with.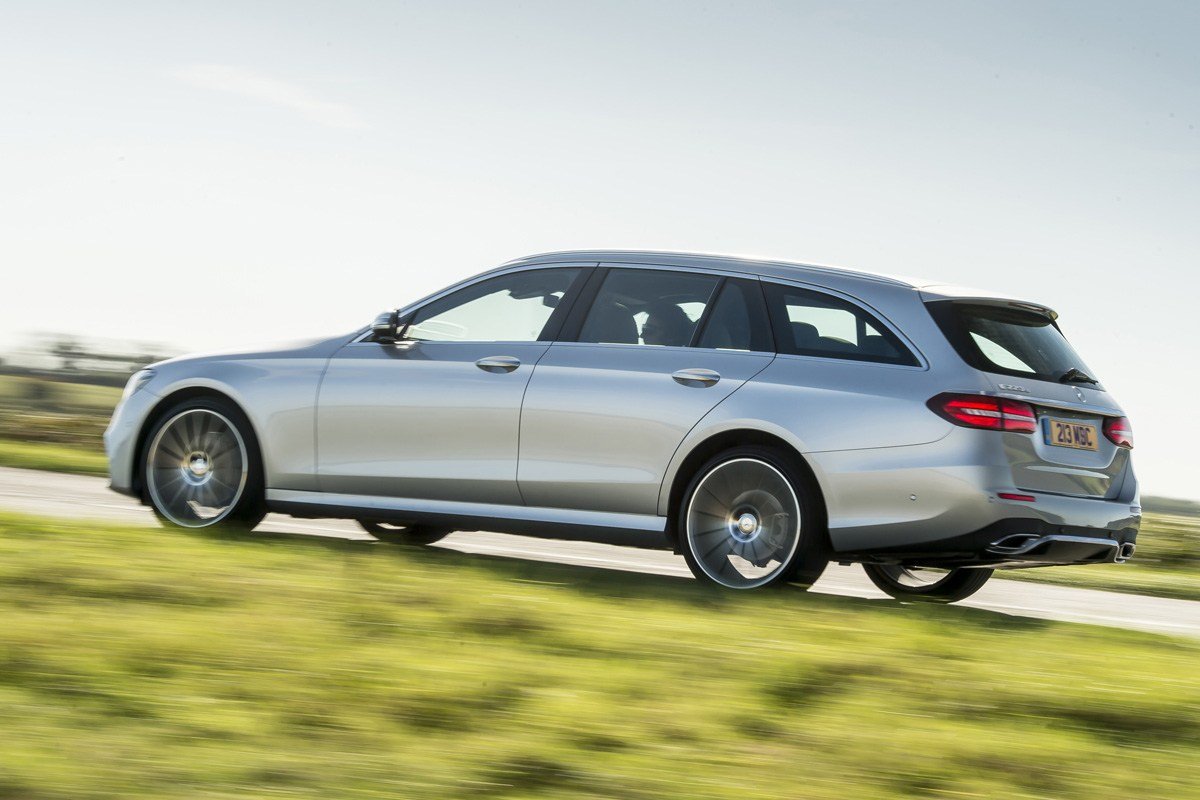 Mercedes-Benz E-Class Estate
If space is your thing, the Mercedes-Benz E-Class Estate is almost unmatched. Seats up, it boasts a whopping 640 litres; fold them and the boot grows to an incredible 1,820 litres. Both figures, you'll note, are well clear of even estate car stalwarts such as the Volvo V90. All E-Class Estates have standard rear air suspension to keep an even ride height when carrying heavy loads. Alongside conventional engines, you can get a plug-in hybrid diesel version, called the E 300 de. This has a 34-mile EV range, although boot space does shrink to 480 litres due to the batteries under the floor. Is going fast more your thing? You're in luck: there are both 435hp E 53 and 612hp E 63 V8 versions of the E-Class load-lugger.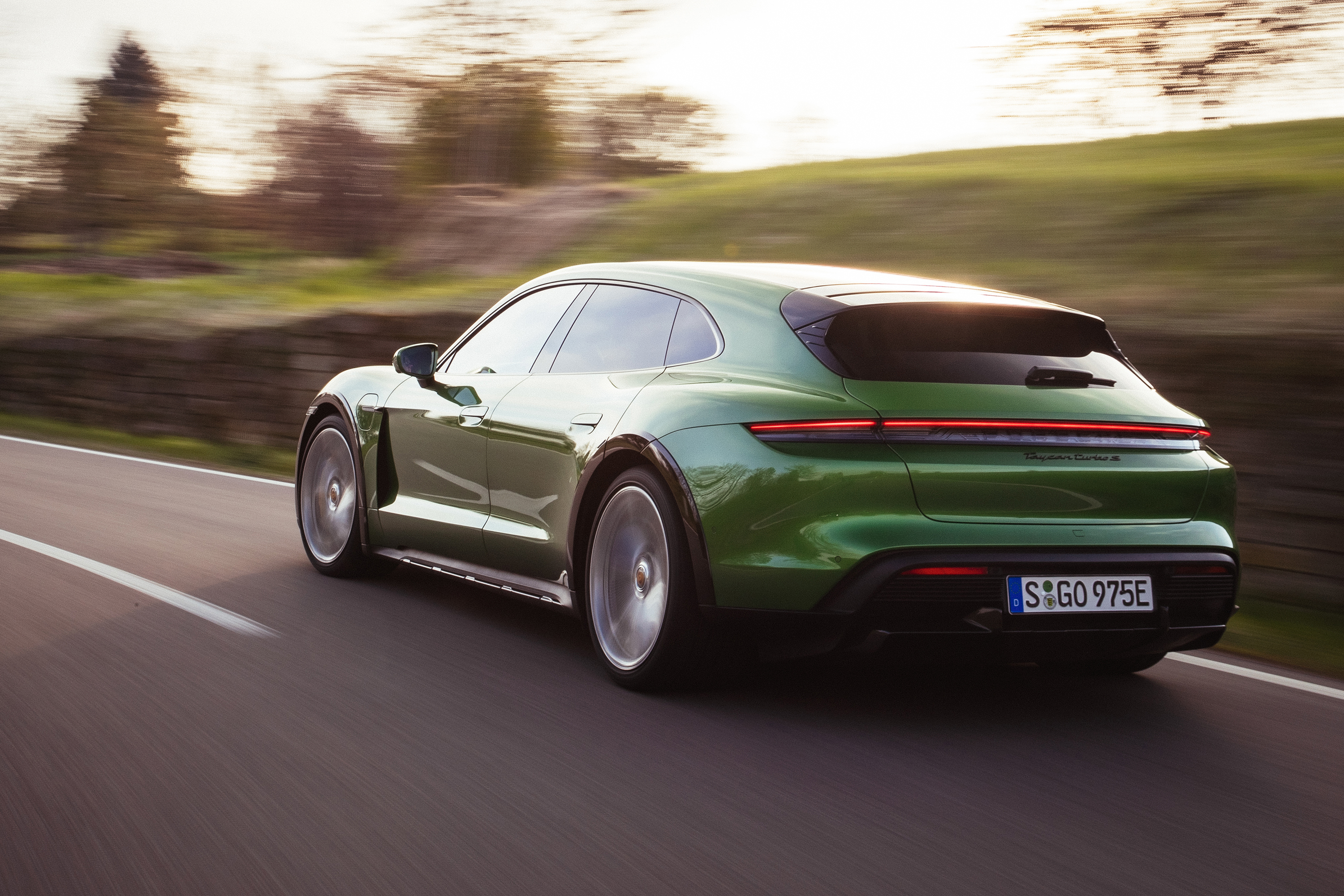 Porsche Taycan Sport Turismo
The Porsche Taycan Sport Turismo is the estate car alternative to the Cross Turismo crossover. It is a pure electric estate, with exceptionally high performance; even the basic version has 408hp and the range-topping Turbo S has a staggering 762hp for 0-62mph in just 2.8 seconds. The sleek Taycan has an easy-to-access 405-litre boot, which grows to 1,172 litres with the rear seats folded. It's not the biggest of estate cars, then, but is there a better-looking, more thrilling one to drive? You also get an additional 84-litre boot in the front, which is perfect for storing charging cables. Depending on spec, the Taycan can manage up to 308 miles of driving between charges.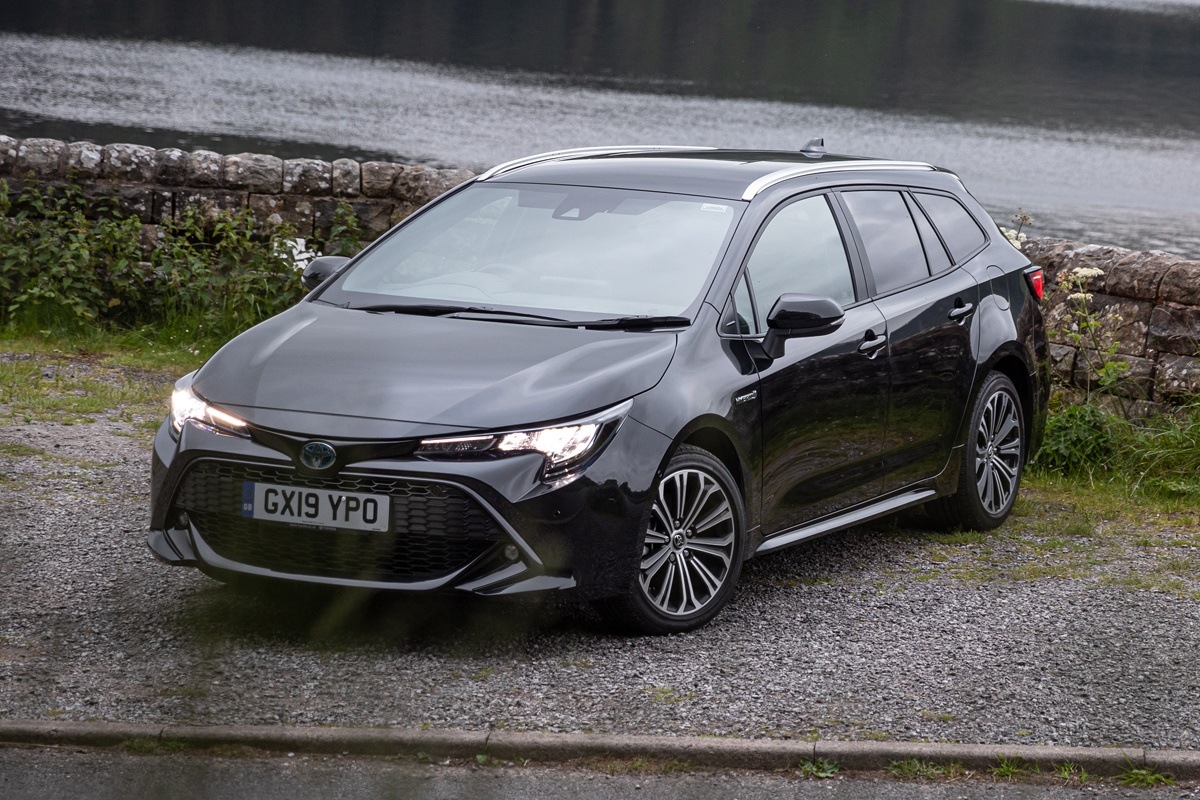 Toyota Corolla Touring Sports
If you don't have charging facilities at home, but still want to go green with your estate car, consider the Toyota Corolla Touring Sports. It uses a 'self-charging' hybrid drivetrain that doesn't need to be plugged in, but can drive for upwards of 50 percent of the time in engine-off pure electric mode. It has low CO2 emissions (and thus low car tax) and potential fuel economy of 60mpg or more, yet can still carry 598 litres with the seats up. Add in legendary Toyota reliability and competitive prices for a well-rounded estate that helps you do your bit for the environment without fuss.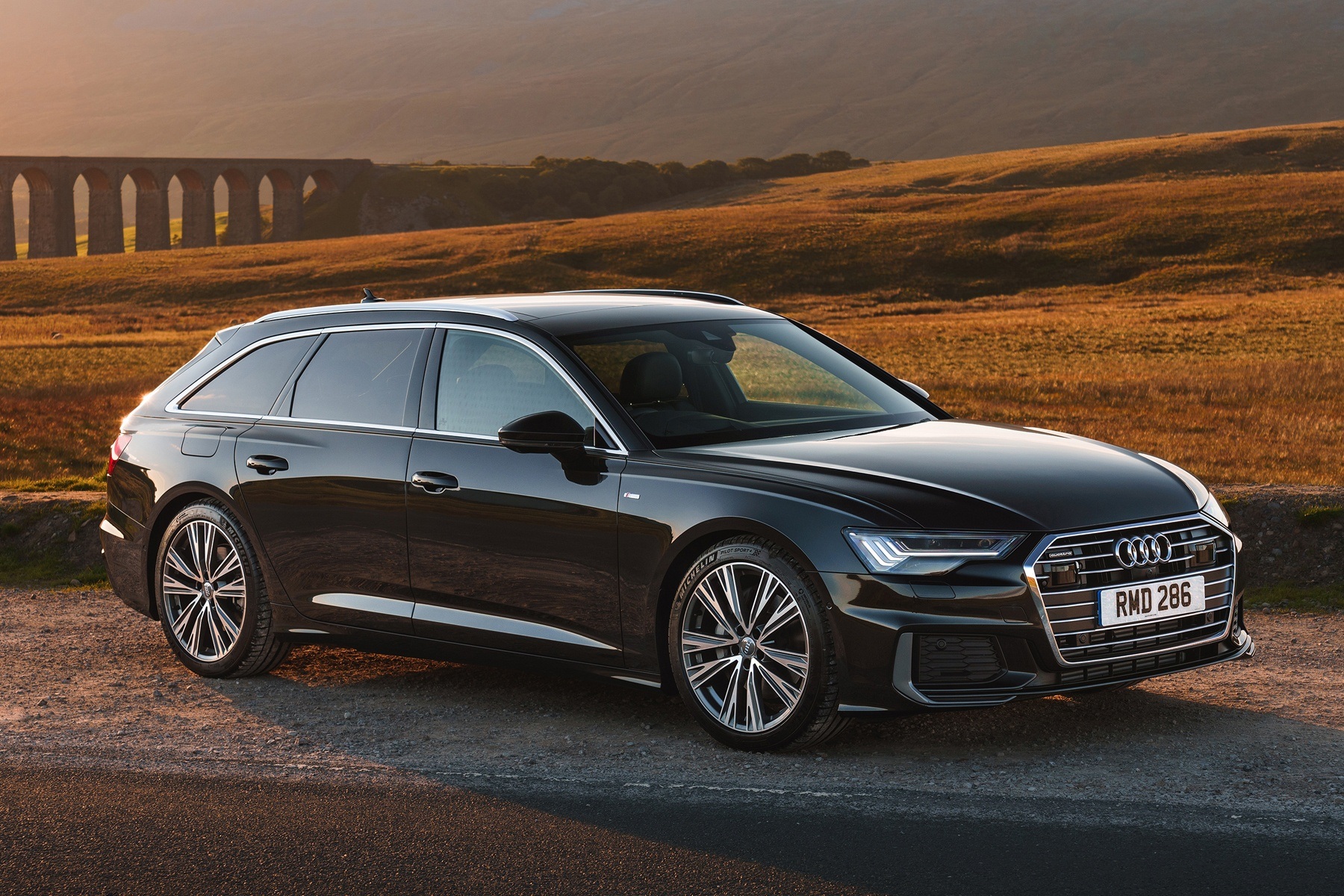 Audi A6 Avant
The upmarket Audi A6 Avant is the latest in a long line of Audi Avant-branded estate cars. Like its predecessors, it has more of a sleek, GT-like angle to its rear end, in contrast to more upright estate cars. This does limit ultimate capacity, but with 565 litres of space – growing to almost 1,700 litres with the rear seats folded – you'll struggle to feel short-changed. Conventional petrol and diesel engines have now been joined by a plug-in hybrid TFSI e, while the thrilling range-topping RS6 Avant remains, too. A legend in its own right, this remarkable machine produces 600hp for 0-62mph in just 3.6 seconds, with all-wheel drive to deliver reassuring traction in all weathers.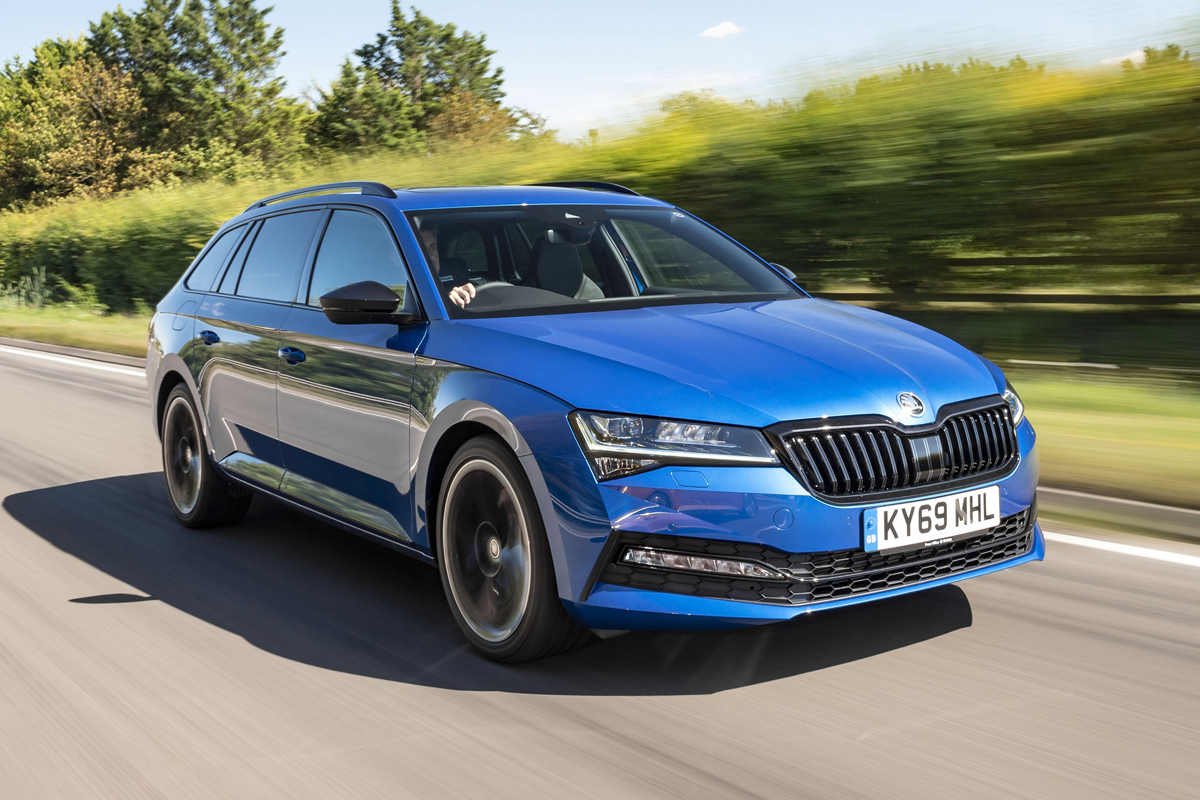 Skoda Superb Estate
The second Skoda in our gathering of the best estate cars justifies its place because of its exceptional practicality and value for money. With the seats up, the Superb Estate boasts 660 litres of perfectly practical space. Fold them flat and this grows to a seriously impressive 1,950 litres. Forget suitcases, this is a car that's ideal for transporting white goods with ease. For such an upmarket-feeling machine, prices starting from less than £29,000 are amazing. Skoda can also sell you a plug-in hybrid Superb iV variant, which is capable of travelling 37 miles in pure electric mode before an efficient turbocharged petrol engine takes over.
What's the most spacious estate car?
The Skoda Superb takes the prize for most spacious estate car. Even with the seats up, it boasts 660 litres of space, which is more than even the giant Mercedes-Benz E-Class can offer. With the seats down, it starts to feel more like a van, with 1,950 litres of well-shaped and ultra-practical boot. We must make special mention of the Dacia Jogger, though. Its 1,819 litres of space is excellent for such a relatively compact and extremely affordable estate car.
What is the best looking estate car?
Beauty is in the eye of the beholder, but we think most estate cars look good. Judging by sales figures, car buyers seem to agree. It's hard to argue with the svelte styling of the new Porsche Taycan Sport Turismo, though. Based on the already alluring Taycan saloon, this new interpretation turns even more heads, particularly in sporty GTS guise. You can also get a more crossover-themed variant, the raised-up and more rugged Taycan Cross Turismo.
Can you buy electric estate cars?
The Porsche Taycan Sport Turismo proves that electric estate cars are coming. For what is essentially a GT sports-estate, its load capacity isn't bad, and we'd expect the next generation of pure electric estate cars to push practicality much further. For now, buyers can choose plug-in hybrid versions of many of the best-selling estates, giving pure EV driving ranges upwards of 30 miles before the petrol engines (or diesel engines, in the case of Mercedes-Benz) kick in. They're a great stepping stone to future electric estate cars.
Ask HJ
What's the best estate car for sale right now?
What is the best estate caron sale right now?
If you need a mid-size estate, I'd say Toyota Corolla Touring Sports. For anything larger, I'd go with Skoda Superb Estate or Mercedes-Benz E-Class Estate.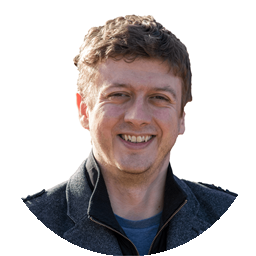 More Questions
More family car guides
More expert car guides