Best electric SUVs 2022

Given the ever-growing popularity of SUVs, if you are looking for a new electric car, you will likely be seeking the best electric SUV on sale
Such is the growth of electric cars in Britain, the number of EV SUVs on the market is already healthy, with new models arriving all the time. Simply limiting our list of electric SUVs to 10 vehicles has been a challenge.
Both mainstream and premium brands offer electric SUVs in all shapes and sizes. Car buyers have the choice of fuel-saving two-wheel drive or grippier all-wheel drive, should they wish to take their electric SUV off the beaten track.
All of the cars here combine the roominess of an SUV with the space-efficiency inherent in most EVs, making them genuinely family-friendly choices.
All you need to do is pick the right SUV for you. Here's our round-up of the 10 best electric SUVs on the market right now – you won't be disappointed with any of them.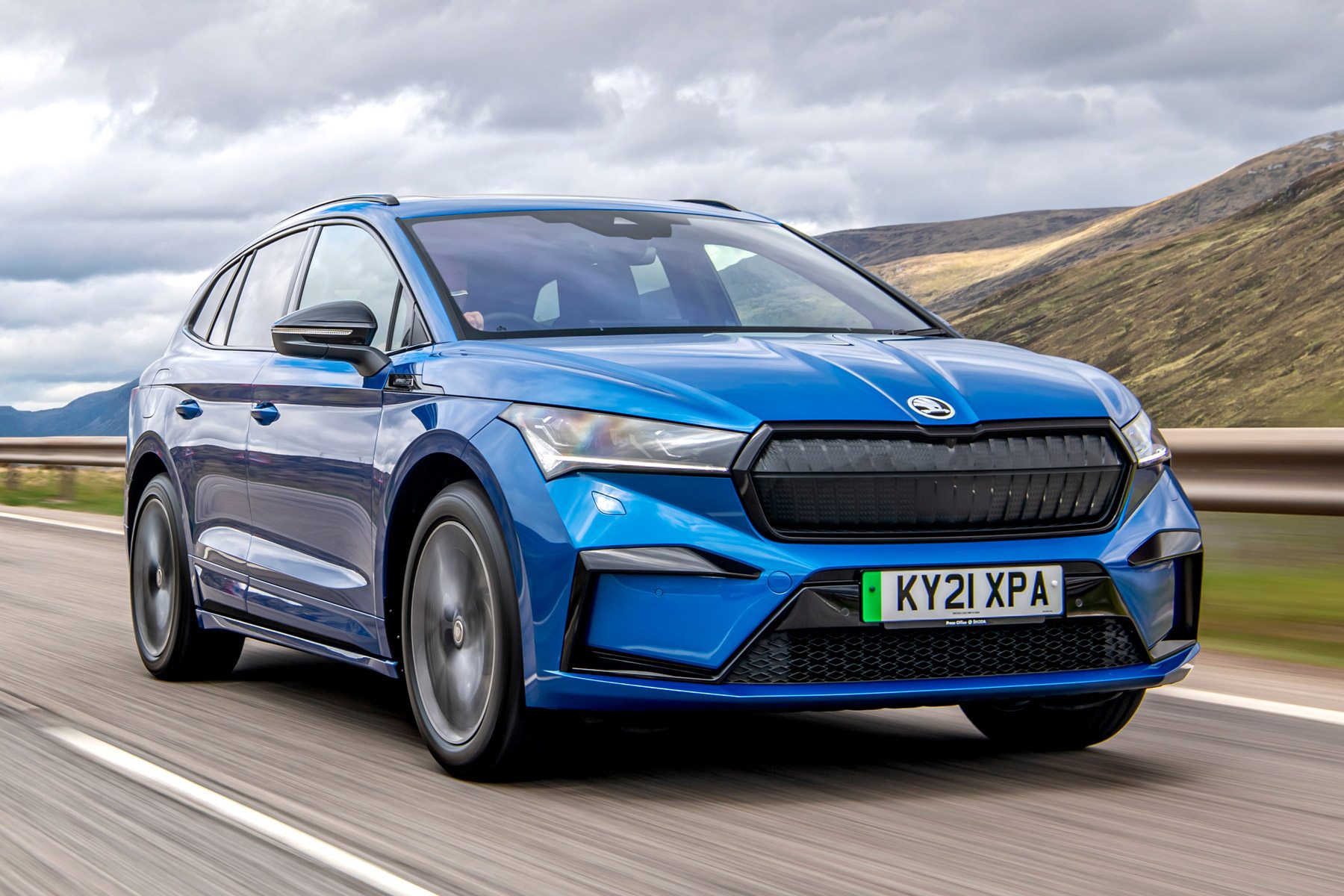 Skoda Enyaq iV
The Skoda Enyaq iV electric SUV is genuinely one of the best on the market. A roomy, confident-looking five-seater, it is a modern take on the Skoda family style that has proved so popular here in the UK. There are two battery options, 62kWh and 82kWh, and buyers can choose from front- or all-wheel drive. The most efficient 82kWh version has a vast 336-mile range, but even the most affordable Enyaq iV can travel 255 miles between charges. All models get a 13-inch touchscreen and rear parking sensors, and all are refined and satisfying to drive – particularly the driver-focused Sportline versions.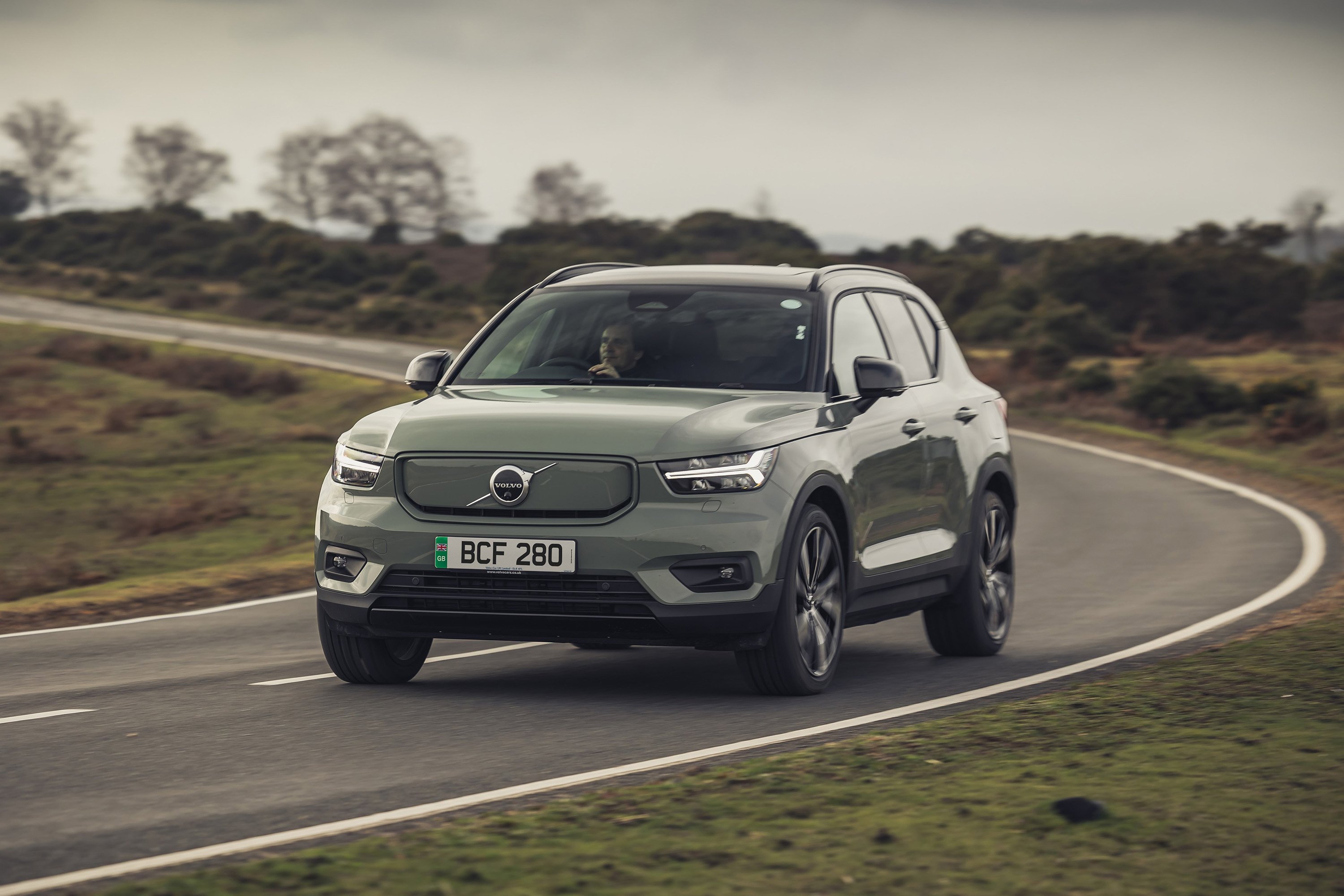 Volvo XC40 Recharge
The Volvo XC40 Recharge is the safety-focused Swedish brand's first all-electric car. It sees the XC40 compact SUV charging into the electric age, with striking results in Twin Motor guise. Boasting 408hp, it offers supercar-like acceleration to 62mph in 4.9 seconds, yet still has a range of 259 miles. The more affordable 231hp Single Motor model nudges range up to 264 miles, and is still swift against the clock. The familiar XC40's chunky good looks, roomy interior and large 419-litre boot remain present and correct in Recharge guise, plus there's an additional boot in the front for storing cables. Now with Google-based infotainment, all XC40 Recharge models have built-in Google Maps and Google Play, while voice-based Google Assistant is just a button-press away.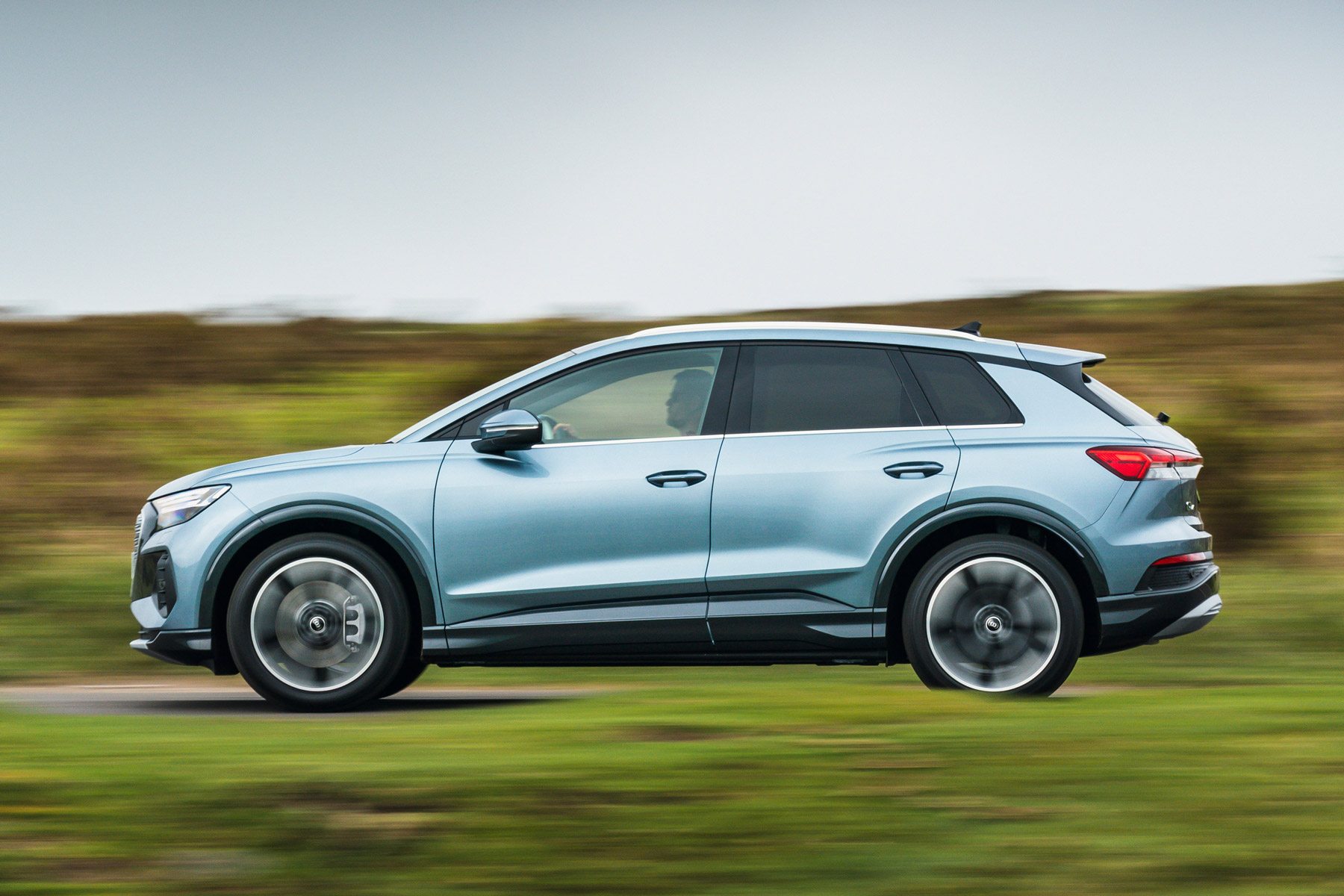 Audi Q4 e-tron
The good-looking Audi Q4 e-tron (and its svelte coupe-style sibling, the Q4 e-tron Sportback) push forward the German brand's electric agenda. With a bold grille, distinctive body creases and big wheels, the Q4 e-tron is an attention-grabbing take on the compact electric SUV. Its futuristic interior is another notable draw, although Audi hasn't forgotten the basics; sharing underpinnings with the Volkswagen ID.4 means ample space for five people and a decent boot. Audi uses 'power badges' to reference output: the 35 produces 170hp, 40 produces 204hp and 50 Quattro produces 299hp (along with all-wheel drive for rapid off-the-line acceleration). Base 35 models have a 52kWh battery, with the others offering 77kWh for a driving range of up to 316 miles. What an enjoyable drive it is too, with exceptional refinement and agile handling.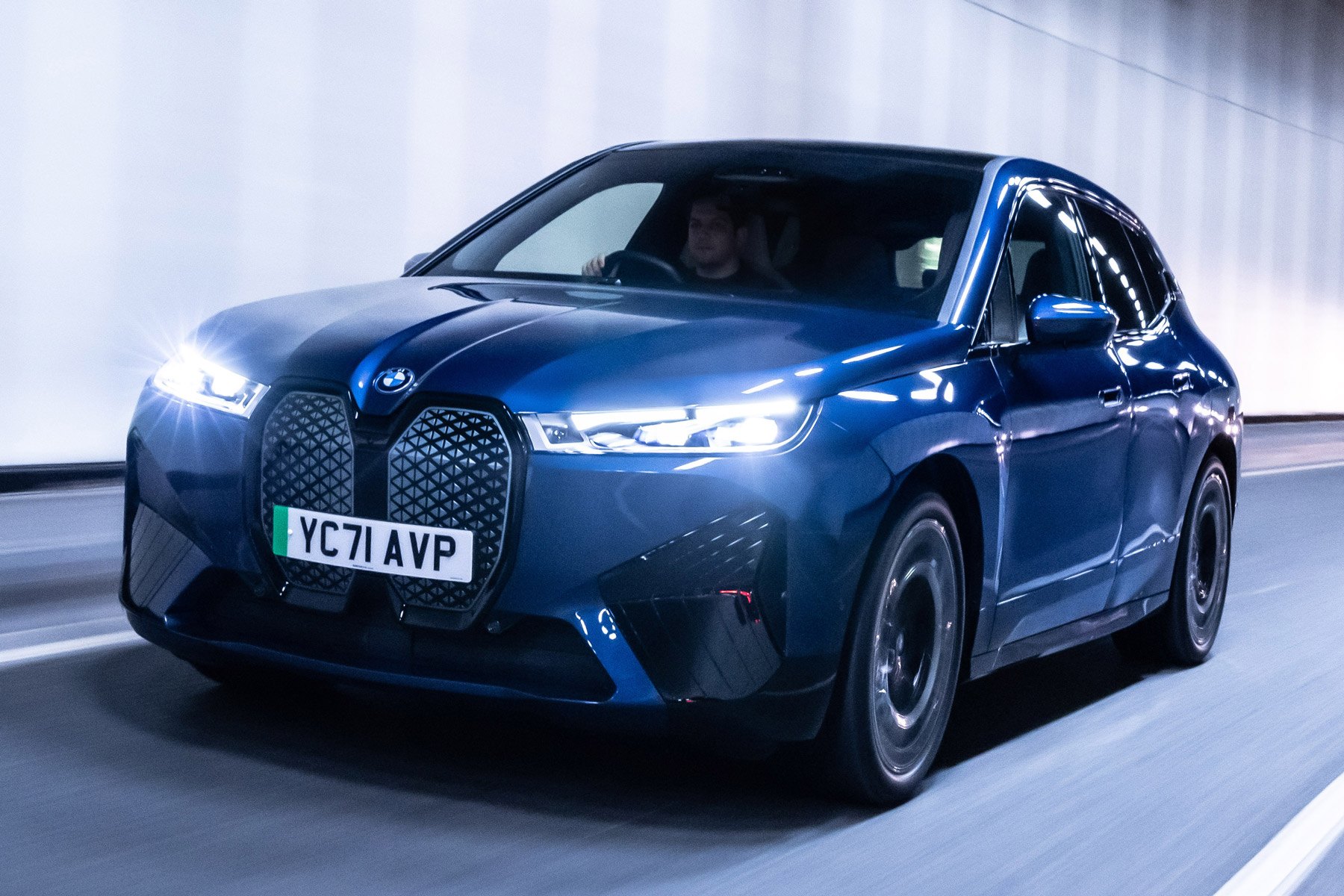 BMW iX
The BMW iX is a head-turning large electric SUV from the German EV innovator. More than a decade after BMW made waves with the i3, the iX aims to do the same again. The iX is much larger than the i3, and boasts undeniably divisive styling, but it's easier to agree on the interior – it's beautiful and extremely luxurious. The roomy five-seat iX is a superb car to sit in, while top-notch refinement and comfort continue the premium vibes. There are two versions: the xDrive 40 and xDrive 50. The 40 has 326hp, a 71kWh battery and a 252-mile range; the 50 boasts a massive 105.2kWh battery and a 380-mile range to make full use of its potent 523hp output. Prices start from just under £70,000, but those who can afford this remarkable new BMW certainly won't feel short-changed.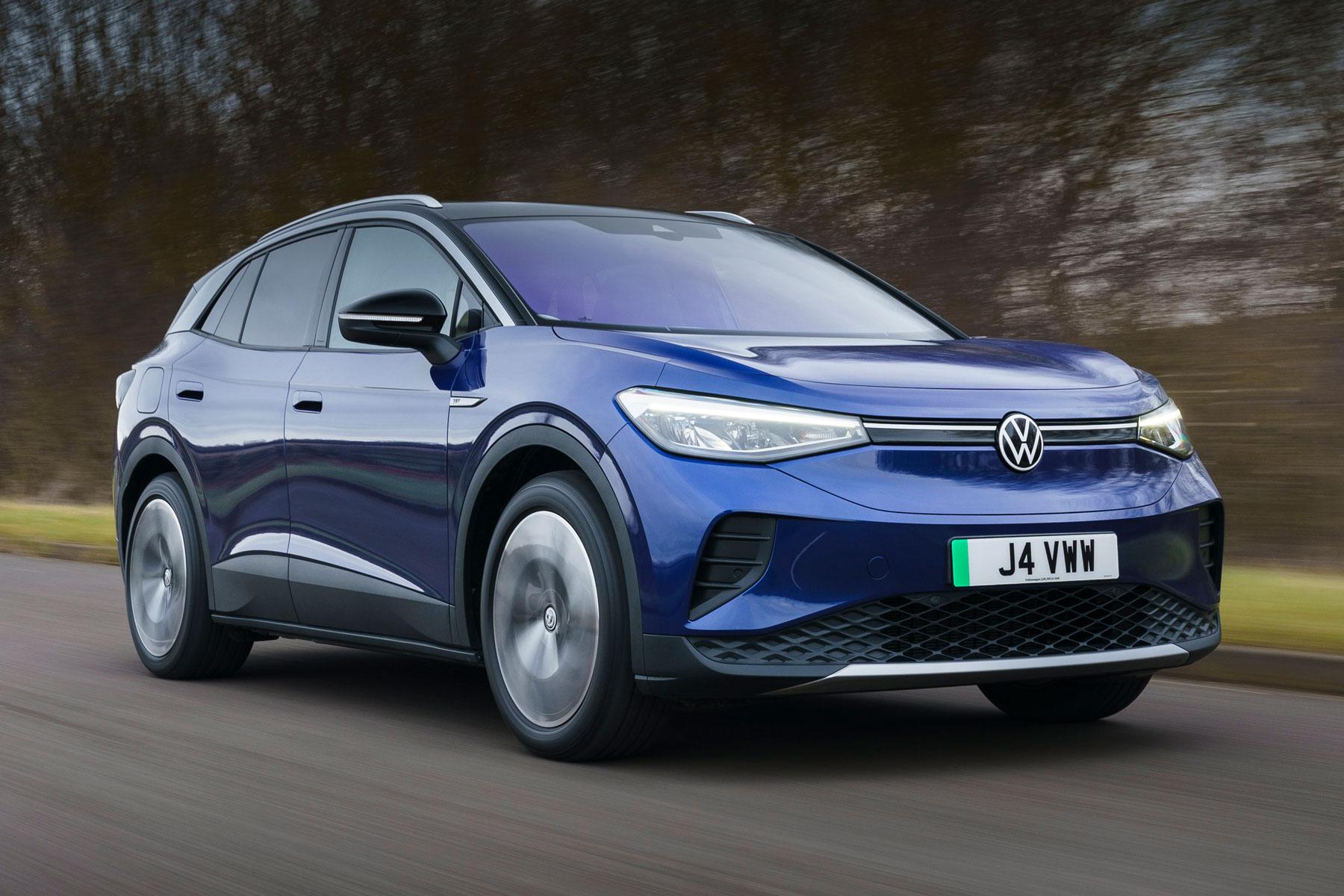 Volkswagen ID.4
The current World Car of the Year winner, the Volkswagen ID.4 is the SUV alternative to the cheaper ID.3 family hatchback. It is currently offered with a single high-capacity 77kWh battery, which connects to either a single electric motor, or dual setup with front and rear electric drive. Related to the Skoda Enyaq iV and Audi Q4 e-tron, the ID.4 focuses on the commonsense approach inherent in all Volkswagens. It is easy to drive, refined and comfortable, and very easy to live with. Even rare niggles such as the fiddly infotainment system are being resolved by regular over-the-air software updates. Confident behind the wheel and well supported by Volkswagen's comprehensive smartphone app, expect the ID.4 to become a familiar sight on UK roads.
MG ZS EV
Already an affordable electric car favourite, MG has made the ZS EV even more appealing for 2022 with a far-reaching facelift. The previous model had a decent 163-mile electric range. But thanks to a larger 72kWh battery, the new Long Range version stretches this to a very impressive 273 miles. Prices remain keen, however, starting from less than £29,000. The update also brings a more modern look to the exterior and a crisper, larger infotainment touchscreen inside. With decent space for five and a capacious 448-litre boot, the MG ZS EV is among the best electric SUVs for affordable family motoring. It proves you don't need to spend a fortune to get a competitive new EV.
Ford Mustang Mach-e
We love Ford's approach with the Mustang Mach-e: take the wow-factor of the legendary Mustang sports coupe, then blend it into an entirely new electric SUV that takes the brand into entirely new territory. Although this approach delivers instant kudos, Ford hasn't forgotten the important stuff. The Mustang Mach-e has plenty of space for five, a decent boot and a choice of two battery sizes: 75kWh or 98kWh. You can pick all-wheel drive, but the rear-wheel-drive model has the best range, offering up to 379 miles. A massive Tesla-style portrait touchscreen inside will make the kids fall in love, and you'll love the sporty dynamics of the Mustang Mach-e from behind the wheel. Even prices are competitive, starting from just over £40,000.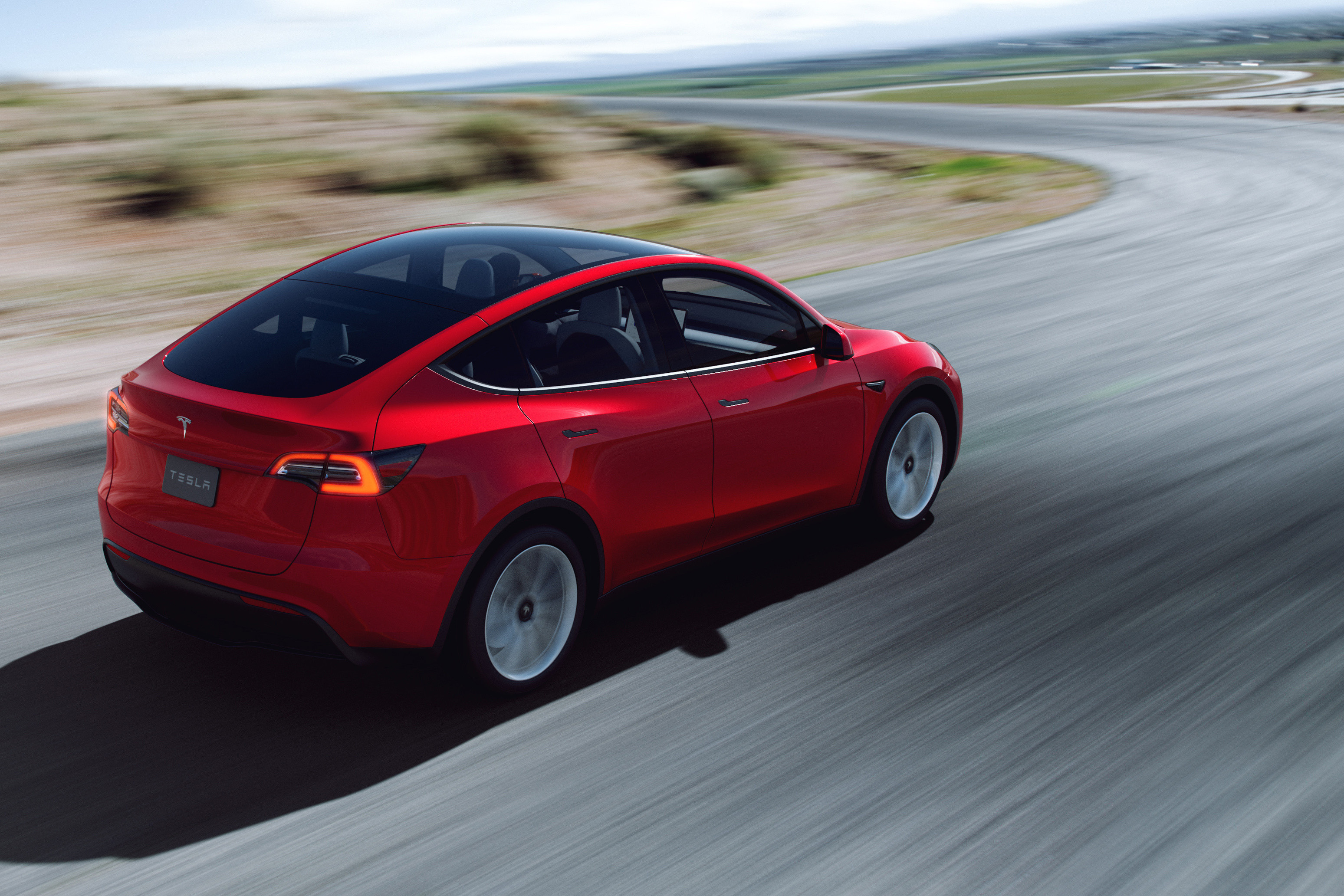 Tesla Model Y
The new Tesla Model Y aims to build on the success of the top-selling Model 3 saloon it is derived from. Taller than the Model 3, the Model Y has a large rear hatchback and the option of seven seats, although most will be sold as five-seaters. Pick from two variants: Long Range (as its name suggests, it offers a 315-mile range) or the sportier Performance. Prices start from around £55,000. The Model Y has a vast 854-litre boot, an open-plan interior that feels very bright and airy, plus the iconic controls that replace nearly every switch and button with the central touchscreen. Exciting to drive and very fast, the Model Y is also well supported by Tesla's market-leading Supercharger network, making charging on the go a breeze. Expect the Model Y to be another top-selling Tesla in the UK.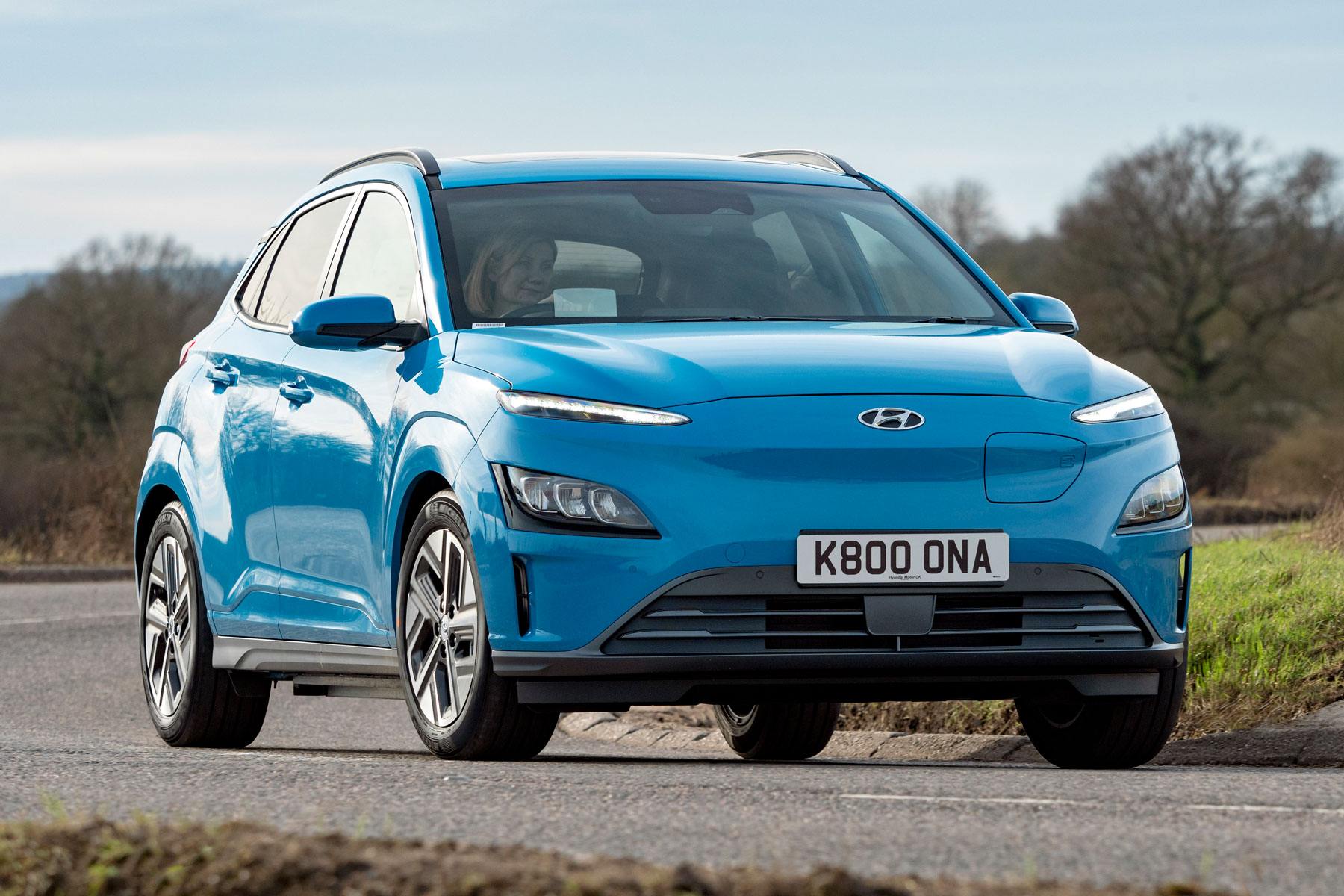 Hyundai Kona Electric
The sporty-looking Hyundai Kona Electric is proving a popular all-electric car. It is competitively priced, starting from less than £29,000 once the Plug-in Car Grant is subtracted, while the larger of two battery options has a driving range of 300 miles. All Kona Electrics are very well equipped, and advanced features include a configurable regenerative braking system so you can maximise the efficiency of this compact SUV. It comes with the reassurance of Hyundai's five-year, unlimited mileage warranty as well – and battery health is guaranteed even longer, up to eight years or 125,000 miles.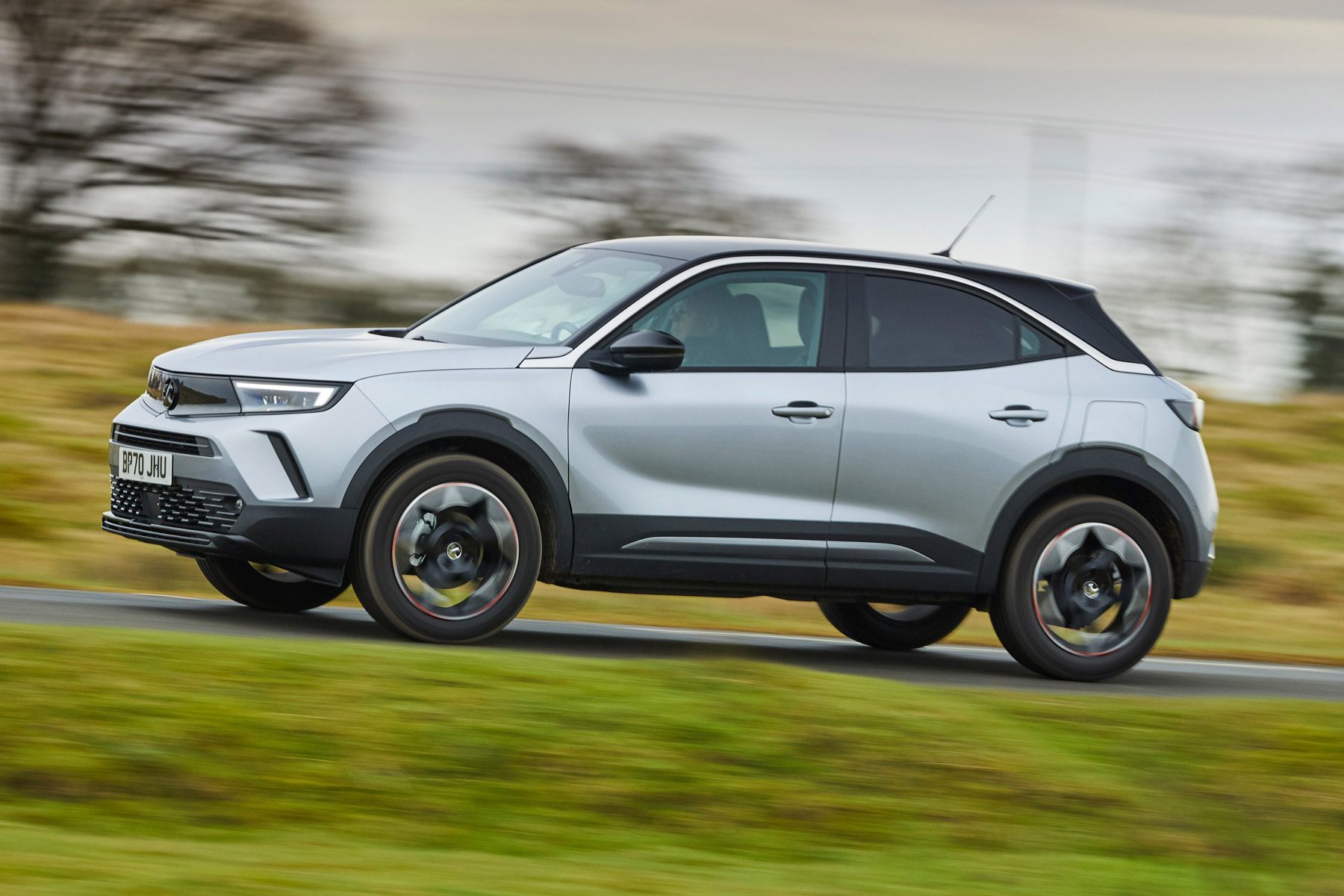 Vauxhall Mokka-e
The Vauxhall Mokka-e is notable for being a pure electric alternative to the core Mokka range of petrol and diesel models. Visual differences are few: all of them share the same the highly distinctive styling of Vauxhall's small crossover, plus the same driver-focused interior layout that is dominated by two large infotainment screens. Vauxhall has recently cut prices for the Mokka-e range to make sure it remains eligible for the Plug-in Car Grant, and configuring one is simple as all share the same 50kWh battery and 136hp motor. All you need to do is select your preferred trim. Although it's still relatively fresh to market, the new Mokka-e has already had a battery upgrade, and is now capable of travelling up to 209 miles between charges.
Which electric SUV has the longest range?
The new BMW iX currently holds the title of being Britain's longest-range electric SUV. The head-turning BMW offers a mighty driving range of 380 miles between charges. However, that's just one mile ahead of the Ford Mustang Mach-e when equipped with the largest battery option and rear-wheel drive. Once the electric SUV leader, the Tesla Model X is now in third place, with a 360-mile range.
What is the cheapest electric SUV?
The MG ZS EV is Britain's cheapest electric SUV, with a price tag starting from £28,495 once the Plug-in Car Grant is applied. The Kia e-Niro is nearly as affordable, although it's soon to be replaced, while the Hyundai Kona Electric is another cost-effective choice for those after the best electric SUV on a budget.
Are electric SUVs a good choice for families?
Family-focused buyers are drawn to SUVs because of their space efficiency. Electric SUVs only build upon this. Although battery packs have to be squeezed in, the latest models use the space normally taken up by an engine to open out the cabin. The result is flat-floor practicality and a real feeling of roominess, further enhancing their appeal to families.
Ask HJ
What are the best electric cars for towing?
I am planning to replace my Land Rover Freelander 2 with a pure electric car. The car must have a towbar. I can't find any current pure electric models that allow this. Will this be the case in the future?
Take a look at the upcoming Hyundai Ioniq 5 and Kia EV6. Both are electric crossover SUVs that can officially tow a braked trailer weighing up to 1600kg. Otherwise, pricier electric SUVs like the Tesla Model X, Audi e-tron and Mercedes EQC are all capable of towing.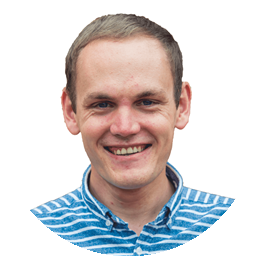 More Questions
More electric car guides
More expert car guides