Mercedes-Benz E-Class All-Terrain (2017 – 2020) Review
Mercedes-Benz E-Class All-Terrain (2017 – 2020) At A Glance
The Mercedes-Benz E-Class All-Terrain is a tougher version of the regular E-Class Estate, designed to compete with similarly 'lifestyle' semi-off-road machines like the Audi A6 Avant and the Volvo V90 Cross Country.
That the All-Terrain is actually quite capable off-road is something of a moot point; this is a car for people who want the look and the ability, but don't want an SUV and probably don't plan to go off-road a great deal either. Just as lovely as the standard car inside with a bit more visual muscle outside, the E-Class All-Terrain comes in a single model and engine guise with a large price tag to match, but it is a very capable and impressive machine.
The laziest way to introduce the E-Class All Terrain is to call it Mercedes-Benz's posh answer to the Volkswagen Passat Alltrack. There, we said it.
So what we're looking at here is an E-Class Estate that's raised a bit and has a four-wheel drive system of sorts – 4Matic simply directs the torque between front and rear axles depending on grip conditions – ergo giving it limited off-road capability and improved towing ability, although it's worth noting that in terms of physical mass it can't tow any greater loads than the standard E-Class wagon.
However, the four-wheel-drive system is a boon, and if you are the kind of person who doesn't want something as frightfully gauche as a full-sized SUV, the All-Terrain combines the extra sure-footedness of something like that but wrapped in the more acceptable bodyshape of an estate.
So if you want to tow a horsebox across an occasionally muddy and bumpy field, the All-Terrain can do so happily but still cruise comfortably and quietly on the motorway.
There's nothing on the inside to distinguish the All Terrain as anything other than a very well specced E-Class, though on the outside you'll notice the model-specific three-piece rear bumper, as well as, perhaps, the thicker sidewalls of the tyres – that's where a good half of the extra height comes from, as it happens. But the message is clear; this is an E-Class Estate with some kind of fancy hiking boots on.
Unfortunately this approach comes with some downside; 65,495 of them to be precise, which is what you'll have to shell out in pounds Sterling to get your own example.
Sure, it comes specced to the max as standard, and you get the pokiest diesel engine and four-wheel-drive as standard. There are effectively no options you can get for this car, other than choosing the exterior colour and interior trim schemes. But this is still a whole heap of money.
And that causes a few problems. For a start, the Audi A6 Allroad has a choice of two engines and two trim levels within the Allroad package, and you can get into one for close to £10,000 less than the Mercedes.
The Volvo V90 Cross Country offers a similar take, with a choice of two petrol and one diesel engines and three trim levels - all costing less much less than the Mercedes.
To match the All-Terrain spec for spec you may need to spend a bit more, but the fact that you don't have any choice means you really need to be sure this is exactly what you want; if you want to slum it (relatively speaking) the Volkswagen Passat Alltrack can tow 100kg more than the All-Terrain but will cost you £25,000 less...
What do owners think of the Mercedes-Benz E-Class All-Terrain (2017 – 2020)? Check out our
Owners' Reviews
from people who live with the car day in, day out.
Reviews for Mercedes-Benz E-Class All-Terrain (2017 – 2020)'s top 3 rivals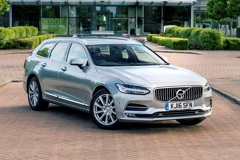 Volvo V90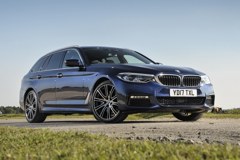 BMW 5 Series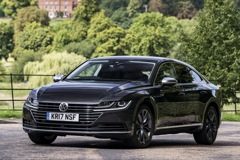 Volkswagen Arteon
Ask Honest John
Can you recommend a comfortable Estate?
"I'm looking at an Audi A6, Volvo V60, Mercedes-Benz C-Class and Skoda Superb to replace my 2015 Volvo XC70. I require 4x4 and it must have very comfortable front seats with good lumbar support. Is there another estate that I have missed? I have about £25,000 plus the trade in for the Volvo. Doesn't need to be new. What would you recommend?"
Your shortlist is pretty strong. A Volvo V90 could be a good option, particularly if you like your XC70. Perhaps even go for a V90 Cross Country for the ultimate in comfort. Or a Mercedes-Benz E-Class All-Terrain...
What is better for towing a caravan - an estate or an SUV?
"My wife and I have owned a succession of four-wheel drive estate cars as we do a lot of camping and live in remote countryside. We are considering the purchase of a caravan, we're not getting any younger. I would like a new Mercedes E-Class All Terrain but my caravan dealer says that a large SUV cuts a bigger hole in the air and that makes towing a caravan easier. Is she making sense and if so, how do you rate the Audi Q7?"
The aerodynamics argument makes sense but I don't think you'll notice a huge difference between a capable estate car and an SUV. SUVs are usually heavier which helps with towing. Having said that, the Mercedes-Benz E-Class All Terrain has a kerb weight of 2010kg - just as heavy as many SUVs. Generally, we advise that you tow no more than 85 per cent of the car's weight, so that'll leave you around 1700kg - enough for a small four-berth caravan. If that's enough, I think the E-Class All Terrain would be a superb choice - it's a really lovely car. The Q7 is very good but, surprisingly, not much heavier than the E-Class.
More Questions
What does a Mercedes-Benz E-Class All-Terrain (2017 – 2020) cost?