Skoda Octavia Estate (2013 – 2020) Review
Skoda Octavia Estate (2013 – 2020) At A Glance
The Skoda Octavia is the brand's most popular model with good reason. It is a credible alternative to compact estates like the Ford Focus, Volkswagen Golf and Renault Megane Sports Tourer but does so by offering more space than pretty much all of its rivals but without charging more for the privilege. It also ticks all the regular Skoda boxes; it's well-built, well-specified and comes with a wide range of efficient engines. It might not be the best car in the class in terms of the driving experience.
As an estate there's stacks of room with 1,740 litres of space with the seats down, fold flat seats and plenty of cubbyholes. This time though, Skoda has turned the practicality up a notch and thought about those small touches that make a difference to everyday life.
That means that the sill sits lower for easier access, a foldable front passenger seat to allow loading of long items (up to 2,920mm in length), an underfloor boot compartment and a one-touch seat-fold lever in the boot that eliminates the need for clambering over the seats to fold them down.
Talking of seats, there's plenty of space in the back for two fully grown adults and getting in and out of the car is easy thanks to big doors and the car sitting lower to the ground than before. There are plenty of thoughtful 'Simply Clever' touches throughout the Octavia too, like a built in ice-scraper, reversible rubber boot carpet and door-pocket waste bin add to the appeal and make it stand apart from rivals.
Inside, the car's dash is identical to the Octavia hatchback, which is very good news. It's stylish with an upmarket look and feel and represents a real step-change to the cabin of the old car. Of particular note are the materials that have been used.
Whereas in the old car it felt very workmanlike, there's more of a flair to the new Octavia, with a more interesting mix of colours and textures and a new steering wheel. There's better refinement on the move, too, thanks to better insulation from wind, road and engine noise.
It features a familiar range of engines, with 1.2 and 1.4-litre TSI petrols and 1.6-litre and 2.0-litre diesels.
The 2.0-litre TDI with 150PS is perceptibly more quiet and refined and at 1,600kg offers the best towing weight of any Octavia Estate. Both the 1.6-litre diesel and 2.0-litre can be specified with four-wheel drive, which combined with winter tyres make them a good choice if you live in a more remote area.
When it comes to suspension set-ups, petrol-engined cars with more than 140PS and TDI models with more than 150PS get a more sophisticated multi-link rear suspension rather than the torsion beam on lower powered cars. This means better handling in corners and a firmer ride but it's still supple.
Standard on all cars are alloy wheels, Bluetooth, DAB radio, a leather steering wheel, daytime running lights, hill hold, a touchscreen stereo system plus a USB port for connecting iPods. On the safety side there's ESC on all models and seven airbags.
The Octavia Estate is one of the most sensible cars you can buy - and that's meant as a complement, not an insult - because it does everything you could reasonable ask of it with ease, and without breaking the bank either.
What do owners think of the Skoda Octavia Estate (2013 – 2020)? Check out our
Owners' Reviews
from people who live with the car day in, day out.
Reviews for Skoda Octavia Estate (2013 – 2020)'s top 3 rivals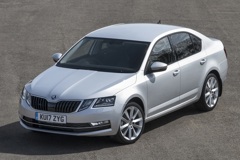 Skoda Octavia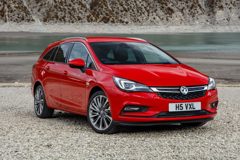 Vauxhall Astra
Volkswagen Golf
Ask Honest John
Which used automatic estate car should I buy?
"We bought a 2019 Astra Sport Tourer 1.0 with 12,000 miles on it for £10,000. It was a great car for the first three months - comfy, quick enough, economical. Then a plethora of issues manifested (all fixed under warranty) including a new engine and gearbox. The car has been in the garage for best part of four months. Once we get it back, we're thinking to get rid of it immediately but what to replace it with? The courtesy car we have been given is an automatic and now my wife would prefer an auto box. We might be lucky to offload the Astra for £9,000. A similarly specced Skoda Octavia estate auto would be around £16,000 which is another £7,000 on top of the Astra and so I'm not sure it represents value for money. We like the Hyundai i30 estate but petrol models seem to be like hen's teeth. We use the car for our dog walking business and mainly do short journeys. "
Prices on cars have soared since the first quarter of this year so your money won't go as far as it did at the start of the year. To get a car to your specification – a 2019 automatic estate – a budget of £15,000 is realistic. Nothing wrong with the Hyundai i30 or the Skoda Octavia. The Skoda has slightly more room, feels nicer inside and is better designed, however the Hyundai has a five-year warranty also take a look at the Kia Ceed or Optima both are around £15,000 and have a seven-year warranty. For a budget option, the Dacia Logan is well worth considering – you'll get a 2019 model for less than £10,000, although it isn't available with an auto. The Dacia is fairly basic but represents unbeatable value. We doubt the dogs will complain.
Answered by
Russell Campbell
Should I sell my used car, given that values are rising?
"I purchased an ex-demo Volvo V60 in March. It is now worth about £5,000 more than I paid for it and I am wondering whether to sell it. Of course, anything similar would be even more expensive from a dealer but I am wondering whether I need to have £30,000 locked up in a car or whether I could perhaps cash in and spend perhaps half the money on an older less expensive vehicle. I like estate cars so perhaps a Skoda Octavia Estate. Comfort and reliability are prime considerations, so I would be reluctant to compromise too far. What do you recommend? "
It's a difficult quandary and probably comes down to how happy you are having that kind of money 'invested' in a car and whether you'd rather have it in the bank or spent elsewhere. Anything half the value of your Volvo will represent a compromise – it's unlikely to be as well equipped, for example, and will be an older car that needs more maintenance. How would you feel about having to make an outlay every year to get it through the annual MOT test, for example? That said, a used Skoda Octavia Estate would be a very sensible purchase. A budget of £15,000 will get you a 2018 model in mid-spec SE Technology or SE L trim. One thing to bear in mind is that the majority of used estate cars will have diesel engines - assuming you're not covering a huge amount of motorway miles in your retirement, we'd recommend hunting out a petrol.
What is the best used estate car to buy?
"What is the best used estate to buy?"
Difficult to give you a recommendation without knowing your budget. But generally, I'd say the best estate cars are: Mercedes-Benz E-Class, Skoda Octavia, Skoda Superb, Honda Civic Tourer and the Toyota Corolla Touring Sports.
Can you suggest a reliable car to go off-road and carry around kayaking gear?
"It's time to replace my 2010 Volkswagen Polo 1.4 but there are so many options! I still make a few regular short trips to the shops, allotment and tip — with a weekly 100 mile trip on A roads to see family. But, in recent years, I have taken up kayaking which means motorway miles followed by very minor roads or dirt tracks. I would like more storage for gear and camping kit. Since the car still needs to be reliable and economical, and not too big given city parking, I think the sensible choice would be a Skoda Fabia Estate. What would you suggest as an alternative for my up to £15k (including trade-in) budget? The Dacia Duster seems to be style over substance, but even the unaffordable SEAT Ateca, Skoda Karoq or other upmarket small SUVs seem to focus on people transport not stuff. I'm tempted by the camping possibilities of a Citroen Berlingo or maybe a Skoda Yeti, but not sure how I would cope with driving and parking a bigger car or how much more it would cost to run."
A van-based people carrier like the Berlingo could be a great choice – it's very versatile and, ordinarily, they represent excellent value for money as most buyers want a trendy SUV instead. I say 'ordinarily'... a lot of people are looking for vehicles for staycations so prices are currently a little inflated. Still, your budget will get you a tidy 2018 model. Once you get used to it, it won't feel too big at all for parking around town. Alternatively, how about a Skoda Octavia Estate? It's very, very practical (much more so than a Fabia) and will be cheap to run. Again, you'll soon get used to its size. There's a rugged 4x4 model, too, badged the Scout – this'd be ideal for your off-piste activities.
More Questions
What does a Skoda Octavia Estate (2013 – 2020) cost?