Vauxhall Astra Sports Tourer (2016 – 2022) Review
Vauxhall Astra Sports Tourer (2016 – 2022) At A Glance
Vauxhall has managed to close the gap between the Astra and its main rivals. And in some cases, it's even overtaken them. But competition is fierce in this market and while Vauxhall might benchmark Ford and Volkswagen, smart buyers will be comparing it to the SEAT Leon and the Skoda Octavia. And those are both better options.
The Astra Sports Tourer costs from around £16,500. But is Vauxhall's new British-built model good enough to give rivals like the Volkswagen Golf Estate and the Ford Focus Estate a run for their money?
On paper, it certainly has a lot going for it. It might be almost the same size as the model it replaces, but Vauxhall has manged to increase interior space. In fact, this car can take three child seats across the back. It also has 540 litres of luggage space with the seats up and 1630 litres with the seats up down.
In fact, the Vauxhall Astra Sports Tourer seems to have been designed with young families in mind. For the first time on a Vauxhall, the boot can be opened by sweeping your foot under the rear bumper – ideal for those moments when you've got your hands full with shopping, sleeping children, or your priceless vinyl collection.
Even better, the estate's load area is devoid of any silliness. There are no wraparound lights that eat into the load space or trick rear suspension turrets that compromise the load bay. It's just a good, old-fashioned, fuss-free square space.
Making its 2015 debut in the Astra Sports Tourer was Vauxhall's new 1.6-litre BiTurbo diesel engine. With 160PS and 350Nm of torque, it's got plenty of poke. Even better, it can achieve up to a claimed 67.3mpg and emits 112g/km of CO2.
Like the rest of the car, it's competent – but it won't set your heart alight. Behind the wheel, this Astra lacks the sense of driving enjoyment offered by the Focus, or the sense of quality offered by the Golf (although in both departments it is well ahead of the outgoing Astra).
There's plenty of engine choices and also plenty of trim levels to choose from. Even driver's on a budget won't feel too hard done by. The basic Design model gets alloy wheels, Bluetooth, air-con, cruise control, a tyre-pressure monitoring system, LED daytime running lights and automatic lights.
What do owners think of the Vauxhall Astra Sports Tourer (2016 – 2022)? Check out our
Owners' Reviews
from people who live with the car day in, day out.
Reviews for Vauxhall Astra Sports Tourer (2016 – 2022)'s top 3 rivals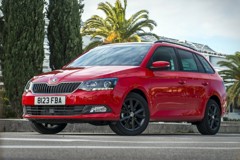 Skoda Fabia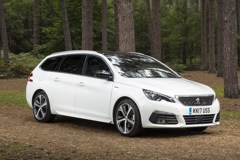 Peugeot 308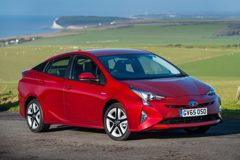 Toyota Prius
Ask Honest John
Which used automatic estate car should I buy?
"We bought a 2019 Astra Sport Tourer 1.0 with 12,000 miles on it for £10,000. It was a great car for the first three months - comfy, quick enough, economical. Then a plethora of issues manifested (all fixed under warranty) including a new engine and gearbox. The car has been in the garage for best part of four months. Once we get it back, we're thinking to get rid of it immediately but what to replace it with? The courtesy car we have been given is an automatic and now my wife would prefer an auto box. We might be lucky to offload the Astra for £9,000. A similarly specced Skoda Octavia estate auto would be around £16,000 which is another £7,000 on top of the Astra and so I'm not sure it represents value for money. We like the Hyundai i30 estate but petrol models seem to be like hen's teeth. We use the car for our dog walking business and mainly do short journeys. "
Prices on cars have soared since the first quarter of this year so your money won't go as far as it did at the start of the year. To get a car to your specification – a 2019 automatic estate – a budget of £15,000 is realistic. Nothing wrong with the Hyundai i30 or the Skoda Octavia. The Skoda has slightly more room, feels nicer inside and is better designed, however the Hyundai has a five-year warranty also take a look at the Kia Ceed or Optima both are around £15,000 and have a seven-year warranty. For a budget option, the Dacia Logan is well worth considering – you'll get a 2019 model for less than £10,000, although it isn't available with an auto. The Dacia is fairly basic but represents unbeatable value. We doubt the dogs will complain.
Answered by
Russell Campbell
Vauxhall Astra Tourer or Vauxhall Mokka?
"I have a choice of purchasing a Vauxhall Mokka 2015 Euro 6 1.6CTDi Tech Line or an Astra 2017 1.6CTDi Ecoflex Tourer, but not sure which car would be better to own. What's your advice? "
I personally think the Astra is a far superior car – it's nicer inside, has neater handling and is more comfortable. On the other hand, the Mokka's tall body shape means it has more usable interior space. It's worth taking both for a spin to work out which one suits you best.
Answered by
Russell Campbell
What's a good family car on a £10,000 budget?
"We need to buy our first family car. We have two small children, so need room for a buggy. It will be mostly used for short journeys, but with some longer trips. Our budget is up to £10,000. We'd prefer automatic and aren't keen on SUVs. And I am very short, so want something where I can easily have good visibility. "
We'd recommend a Honda Civic Estate. It's very practical and your budget will get a 2016 model with a reliable 1.8-litre petrol engine and automatic gearbox. Also consider a Peugeot 308 SW (estate) with the 1.2-litre PureTech petrol engine or Vauxhall Astra Estate with the 1.4-litre turbo.
Should I have to pay for a software update on my car?
"I bought a 2016 1.6 Astra ST last year, and on the whole have been very pleased with the performance. After a recent second recall for a brake issue, the radio and now dashboard power have intermittent failures. I was very surprised and annoyed that I would have to now pay £99 for a software diagnosis and probably a 'patch'. As the car is just out of warranty, it is my cost. It was described to me as similar to a fault you might accept with a TV at home after three years. I don't know where to go with this. £99 seems a lot for a quick diagnosis and software update. In my simple view, if a software update is needed to fix a fault, this is a manufacturing error. Should this be covered by Vauxhall"
Not your cost. Sale of Goods gives you a "reasonable expectation" of six years life from a high-cost consumer durable such as a car. The fault is evident. You no more have to pay for diagnostics than you do for someone to tell you that you have a nose on your face. Demand the dealer fixes it FoC, or take the matter to Small Claims: https://www.honestjohn.co.uk/faq/consumer-rights/
More Questions
What does a Vauxhall Astra Sports Tourer (2016 – 2022) cost?