Renault Megane Sport Tourer (2016 – 2022) Review
Renault Megane Sport Tourer (2016 – 2022) At A Glance
The Renault Megane Sport Tourer is the expected spin-off from the Megane hatch, designed to compete in the congested compact estate segment that is dominated by cars like the Volkswagen Golf Estate, Ford Focus Estate and Vauxhall Astra Sports Tourer. It builds on the stylish exterior of the original hatchback while adding useful extra space. It's looks are a big part of its appeal and the interior is also attractive, but the rest of the package is lacking make it hard to recommend over several of its rivals. It's not the most spacious or the best to drive, although it does represent good value for money.
In a world dominated by SUVs you'd be forgiven for thinking that smaller estates like the Megane Sport Tourer have had their day. And while it's true they're not as popular with UK buyers as they are in the rest of Europe, they're in demand enough that the likes of Volkswagen, Ford and Kia all sell an estate version of their family hatchbacks.
It's a neatly designed wagon that's easy on the eye, but what stands out is its value for money. Prices start from around £20,000 and even entry-level models at this price are well equipped, undercutting many of its key rivals and putting it in contention with brands that are considered more value propositions.
There were originally six engines in the range, starting with a 130PS 1.2 TCe petrol while the sporty GT version has 205PS from a 1.6-litre engine. This gets a four-wheel steering system called 4Control, designed to make the car feel more agile, whether on a twisting road or in tight urban traffic.
The cheapest diesel was the 1.5-litre dCi 110. The diesels make sense for big mileage drivers and the 1.5-litre unit is impressively quiet as well as economical and was also available with the EDC automatic gearbox.
In 2019, the Megane Sport Tourer range was simplified with just two engines now available - the TCe 140 or the dCi 115 - both with either a six-speed manual or six-speed EDC automatic. The TCe makes the most sense for the vast majority of drivers plus it is quiet and more than quick enough.
Boot space remains the same as the old Megane estate at 580 litres. That's not the biggest around, but it's very useable with no load lip and extra storage under the boot floor. The load length has been improved over the previous model however, and there is also a flip up section to prevent items falling over and rolling around in the back.
The quality of the interior is one of the Megane Sport Tourer's best features. It's true that there are some harder plastics lower down, but the dash and door tops have soft touch materials while the steering wheel and gear lever are a big step up in quality compared to the previous Megane.
Higher specification models also feature an attractive portrait-style touchscreen, and although it might not be the best in terms of functionality it feels like a classy addition to the cabin.
There are a few niggles, the infotainment system could be better while the high clutch pedal isn't great, but overall the Renault is a comfortable and easy to live with family hauler.
What do owners think of the Renault Megane Sport Tourer (2016 – 2022)? Check out our
Owners' Reviews
from people who live with the car day in, day out.
Reviews for Renault Megane Sport Tourer (2016 – 2022)'s top 3 rivals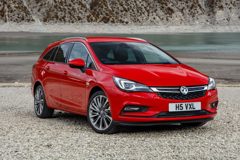 Vauxhall Astra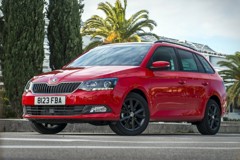 Skoda Fabia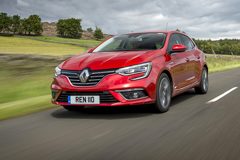 Renault Megane
Ask Honest John
Is turbo cool down necessary for modern cars?
"I've just acquired my first turbo car, a Renault Megane GT Sport and am somewhat unclear about the need for turbo cool down. My manual doesn't mention it and the dealer says its not necessary on modern cars. Am I correct in assuming that the turbo reacts to throttle demand, if so it feels like a 20 to 30 mph drive across town will hardly heat up the turbo enough to require a cool down. Similarly what about a steady motorway cruise at pretty much constant speed. It seems faintly ridiculous to sit with the engine at idle for two minutes after a gentle 10 minute drive at 30mph to the nearest Tesco. I'm really keen to look after my motor. Can you give me some meaningful advice?"
Assuming this is a petrol engine (you didn't say), the turbo is cooled both by engine coolant running through a water jacket and by engine oil running through the turbo bearings. But a turbo can still become extremely hot after racing, after running at constant speed on a motorway, after a long ascent, or after towing and if you switch off immediately the oil in the turbo bearing oil feed and oil return pipes and in the turbo itself can carbonise, contaminating the engine oil and restricting the oil flow through the turbo bearing. So best to let it idle for a minute or two in these circumstances. If the engine has stop/start and it switches off automatically, no need to worry. But if it continues to run, do not switch off. No need to worry about any of this after short, suburban journeys. The turbo won't get too hot.
More Questions
What does a Renault Megane Sport Tourer (2016 – 2022) cost?