Best small SUV 2022

We Brits love our small and city-friendly cars. Collectively, we are also showing an ever-growing desire to own an SUV. Combine the two and you have the booming small SUV sector, which is reshaping the UK best-sellers chart.
The best small SUVs are compact on the outside, but usefully more spacious than regular superminis on the inside. They have higher-set seating positions for a better view out, plus deeper boots that are more practical and flexible.
Because they're not too big or heavy, though, they can still use relatively small and fuel-efficient engines without compromising fuel economy or performance. It's easy to see why they make such great cars for young families.
The small SUV sector is a style-conscious one, and the models we've included here show a welcome variety of designs, from slick and sensible to curvaceous and charismatic. Both mainstream brands and more premium manufacturers are represented.
If you're in the market for a small car and fancy making the (literal) step up, read on to discover the best small SUVs you can buy.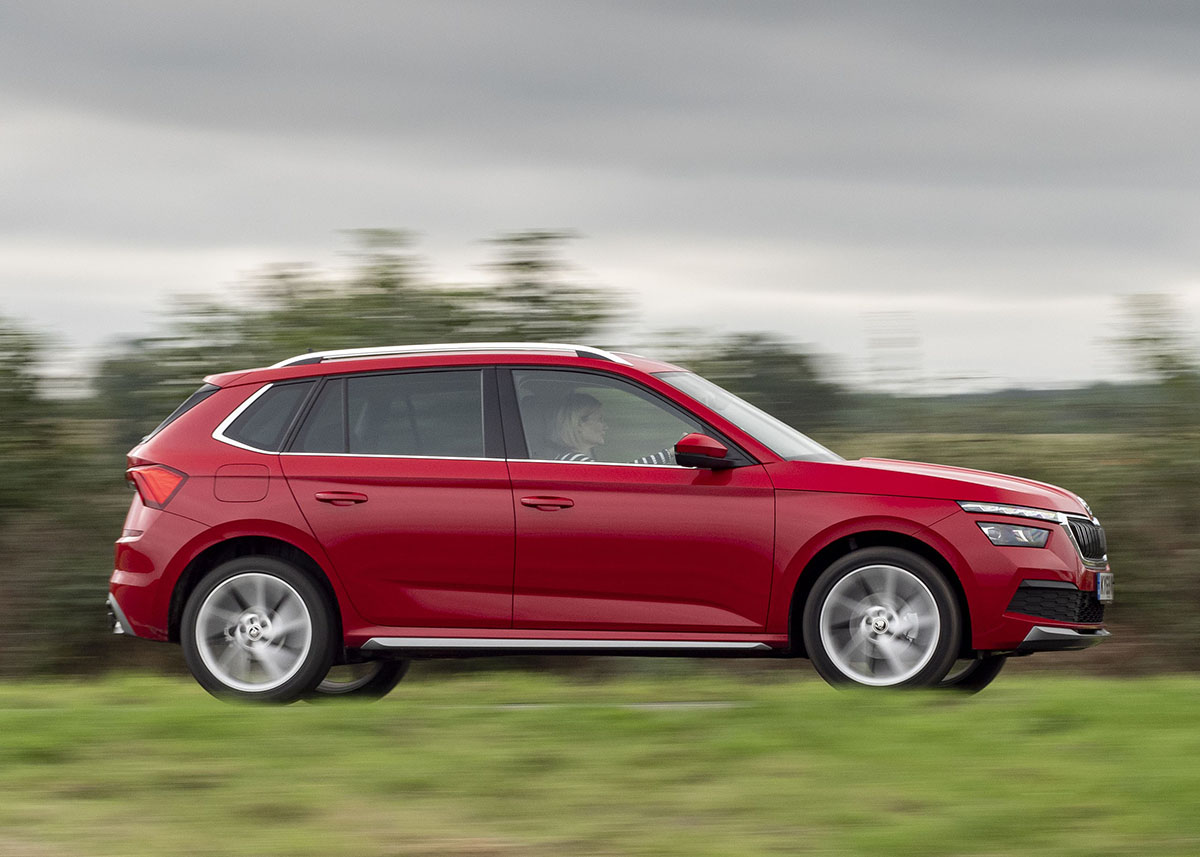 Skoda Kamiq
Like Skoda's other well-liked cars, the Kamiq is an extremely practical small SUV. It's perfect for growing families, with a good amount of interior space for passengers, plus a 400-litre boot. That's bigger than a Volkswagen Golf, and the load space itself is more than a metre wide, swallowing pushchairs without blinking an eyelid. The engine range is entirely petrol, with all of them turbocharged for good mid-range pulling power and impressive efficiency. Every Kamiq gets alloy wheels, a touchscreen infotainment system and front emergency assist (collision warning and automatic braking). They all enjoy styling that resembles a shrunken version of Skoda's popular large SUVs, too.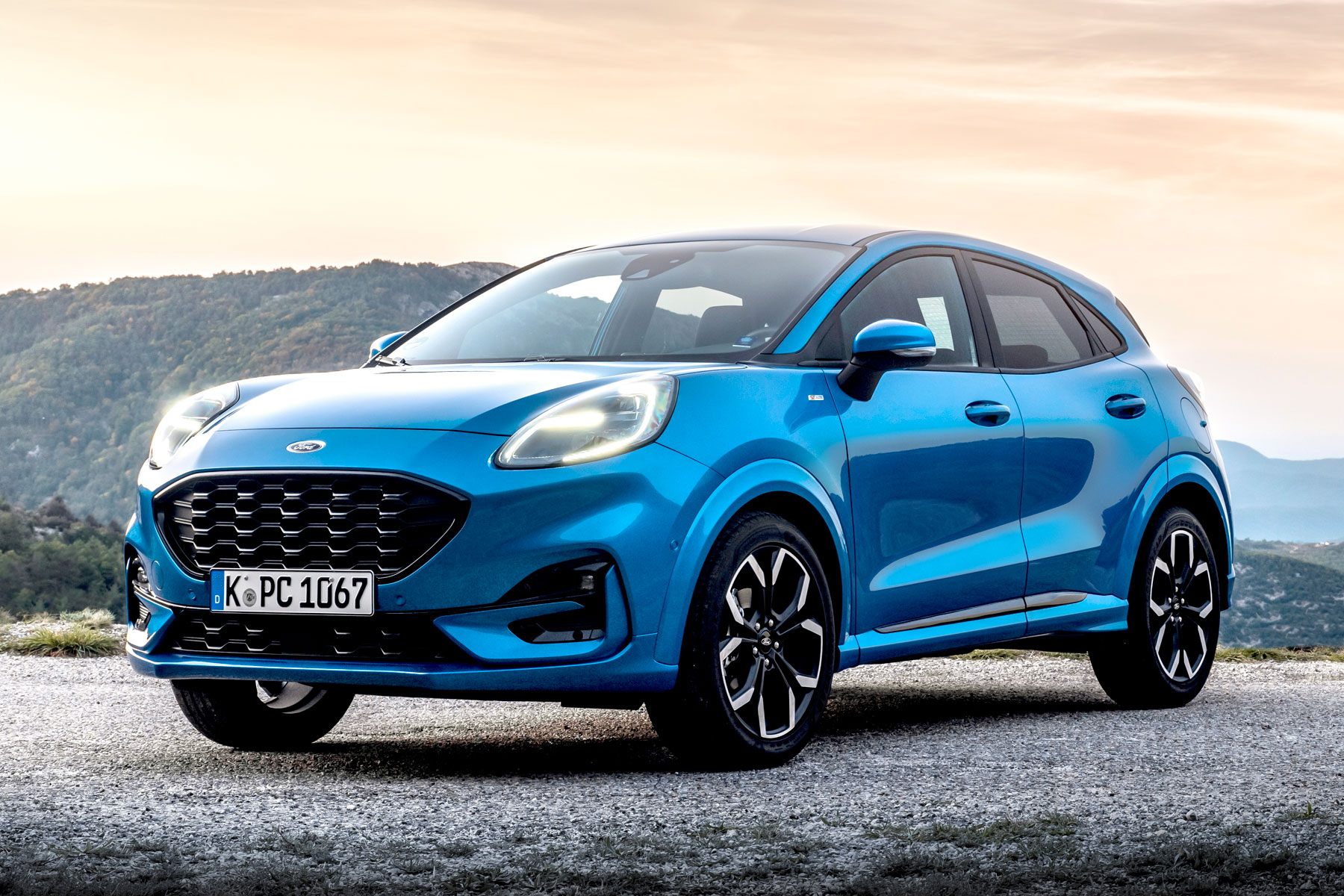 Ford Puma
The Ford Puma is proving to be a very fast-selling small SUV. Like the original Puma coupe from the late 1990s, this SUV reinvention boasts head-turning style, with curvaceous lines and a squat, sporty stance. Practicality hasn't been forgotten, though, with the Fiesta-based Puma offering a high-up seating position and ample legroom in the rear. The boot is an enormous 456 litres and we love the hose-clean underfloor stowage area, which Ford calls the Magic Box. Choose from regular petrol and mild-hybrid versions, along with a high-performance 200hp Puma ST. All are fantastic to drive, with nimble handling and grin-a-minute dynamism.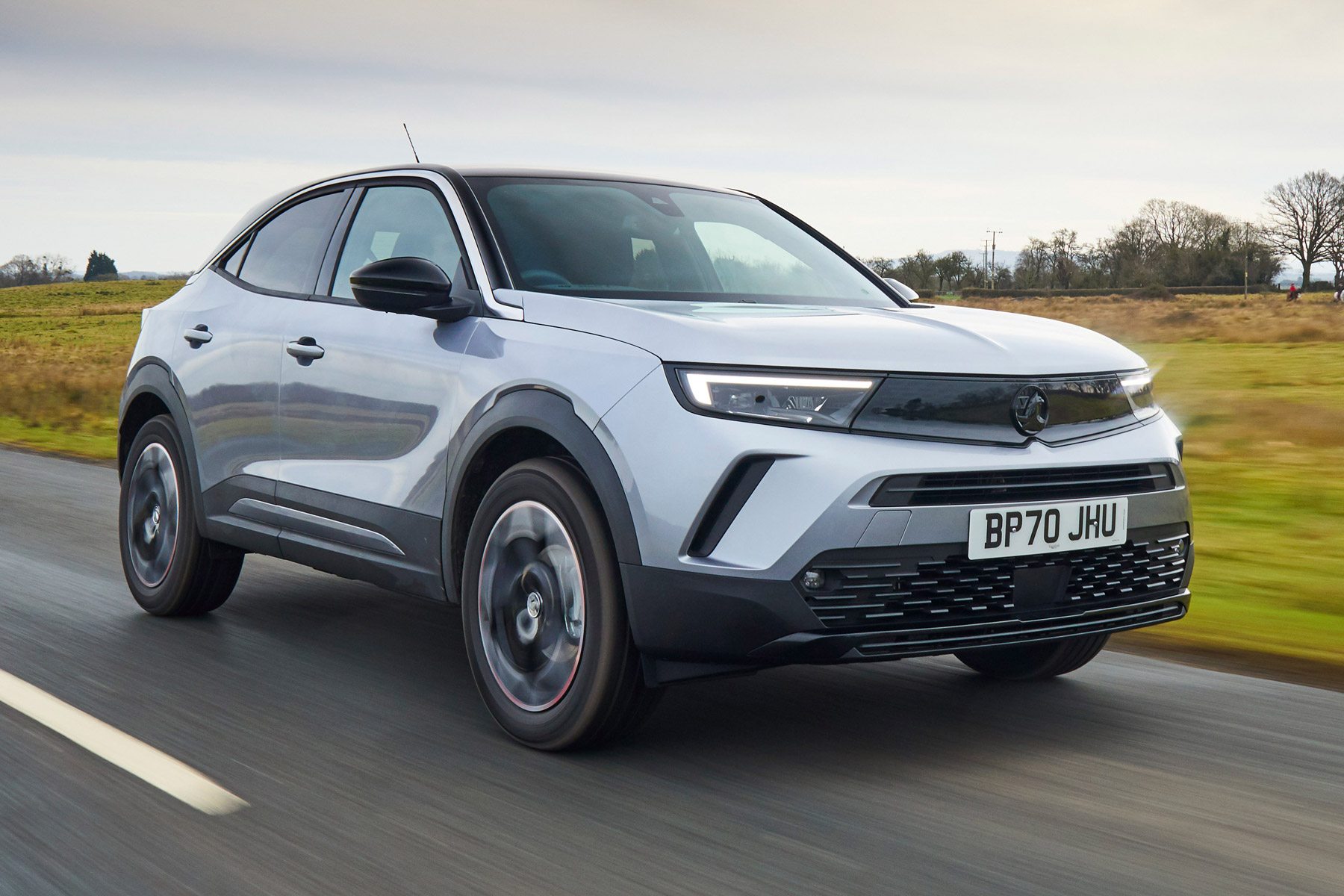 Vauxhall Mokka
The Vauxhall Mokka has been reinvented as a super-stylish and very distinctive SUV. It looks really modern, and owners can stand out even more if they choose one of the vivid metallic colour options. The interior also has a contemporary feel, with cool gloss-black surfaces and a dual-screen dashboard that wraps around the driver. High-set seats give a good view down the flat bonnet, which feels a bit like sitting in a Range Rover. The 1.2-litre turbo engines sound small on paper, but serve up decent pulling power. You can even choose an all-electric version, which Vauxhall calls the Mokka-e. Fully charged, it has a driving range of more than 200 miles.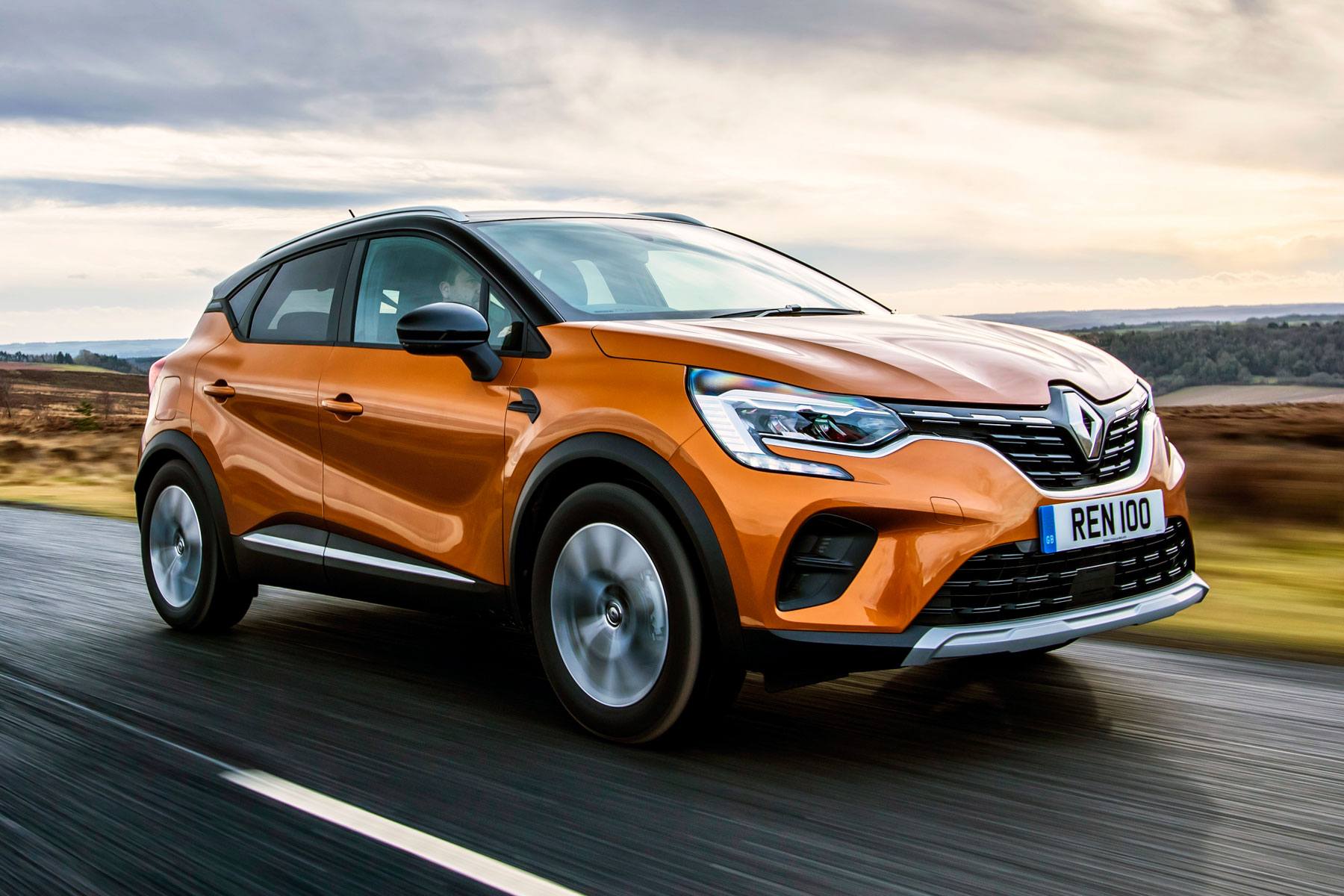 Renault Captur
A strong-selling small SUV across Europe, the Renault Captur is the crossover-style alternative to the popular Clio supermini. It's notably more practical, though: the boot measures an ample 444 litres. The Captur also has a sliding rear seat, so if you're willing to trade some legroom, luggage space expands to an impressive 536 litres. A pretty and elegant-looking car, the Captur is satisfying to drive, with a taut ride that benefits its agile handling. Buyers can choose regular petrol engines (Renault no longer offers a diesel Captur), plus E-Tech hybrid and plug-in hybrid variants. The latter has an EV driving range of up to 30 miles, but even the regular hybrid can travel short distances in pure electric mode.
Nissan Juke
The British-built Nissan Juke courted controversy when launched, thanks to its radical styling, but it's become one of the best-loved small SUVs here in the UK. Now into its second generation, the bold face remains, but the Juke is now larger, more practical and more refined. It has a 422-litre boot, much better space for rear-seat passengers and an appreciably more premium feel to its interior. We love gadgets such as the optional Bose 360-degree sound speakers, and style-seekers will like alloy wheels that measure up to 19 inches. Nissan keeps things simple with a single 114hp turbo petrol engine, available with a manual or automatic gearbox. The trim line-up is straightforward too, and all versions are well-equipped.
Peugeot 2008
The Peugeot 2008 is another small SUV that stands out from the crowd. It has a huge grille and very pronounced creases along its sides. There's also no missing it once on the move, thanks to bold LED running lights that expand from the headlights into deep strakes on either side of the bumper. The interior is unlike any other SUV, with a tiny steering wheel and driver-oriented dashboard. It's all tactile and well-formed, with extras including a highly distinctive 3D instrument display. Peugeot also offers a pure electric e-2008 alongside combustion-engined versions. The EV has an electric driving range of up to 214 miles.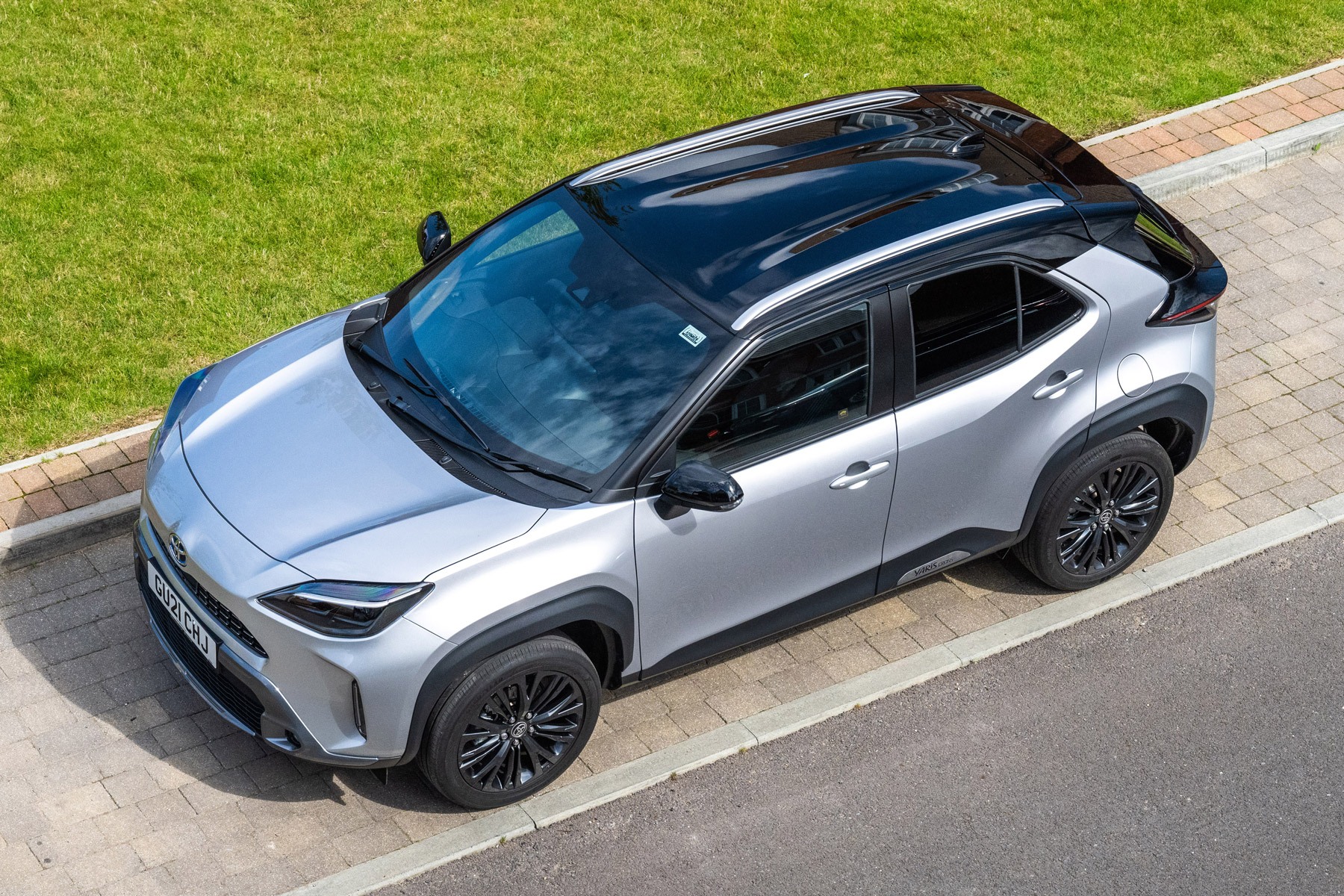 Toyota Yaris Cross
The new Toyota Yaris Cross is a high-riding sibling to the highly acclaimed Yaris supermini. Its rugged shape has more in common with the larger Toyota RAV4 SUV, while its interior is a raised-up interpretation of the smooth, well-built Yaris layout – including extra space for rear-seat passengers. Like the Yaris, it only comes with a petrol-electric hybrid drivetrain (also known as a 'self-charging hybrid'), which can travel as a pure EV for more than half the time in the city. In daily driving, it reduces exhaust emissions and delivers excellent fuel economy. The standard automatic gearbox makes the Yaris Cross a breeze to drive, while Toyota's reliability record is second-to-none.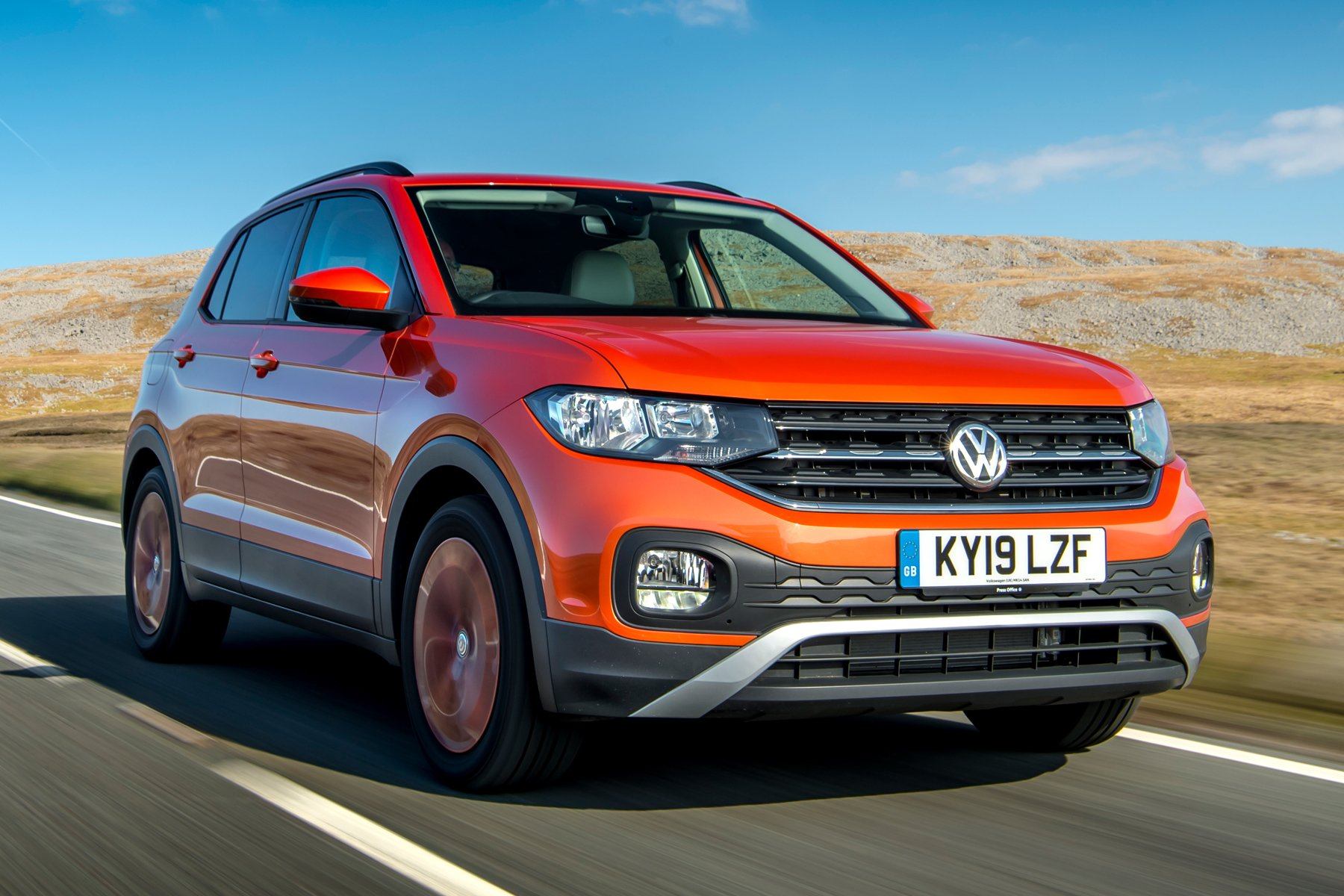 Volkswagen T-Cross
Volkswagen has a broad range of SUVs, all of them beginning with a 'T'. The T-Cross is the smallest, but has a tall, square shape that pays dividends in terms of interior space. Although derived from the Polo, it's much more practical, and has an ample 385-litre boot that grows to 455 litres if you slide the rear bench fully forward. The T-Cross inherits all the styling cues of larger VW models, including a distinctive LED-lit front end and grown-up dashboard with a high-set infotainment screen. There's also a range-topping R-Line model with large alloy wheels and sporty styling, plus some very unusual colour combinations.
Honda HR-V
The latest Honda HR-V is a bit of a design landmark for the Japanese brand. It trades the old model's awkward creases for a much purer and smoother style. In profile, the car has a coupe-like appearance, despite its SUV proportions. The upscale, premium-finish interior is appealing, and it offers a good amount of space both in the rear seats and the boot. This is helped by being derived from the practical Honda Jazz supermini, which also lends its clever 'twin-motor' hybrid drivetrain. This ingenious system doesn't have a gearbox; the engine drives one motor and the other turns the wheels, which means the engine can be shut down even at motorway speeds. It results in great refinement and very impressive fuel economy.
Audi Q2
The Audi Q2 is the fully premium competitor in our list of the best small SUVs. Measuring less than 4.2 metres long, it certainly looks the part, with bulging wheelarches that reference the original Audi Quattro. That car's spirit influences the oily bits, too: this is one of the few small SUVs available with all-wheel drive (the system is called 'Quattro', naturally). You can also buy a high-performance Audi SQ2, with a searing 300hp for 0-62mph in just 4.9 seconds. There is no faster small SUV on sale. Inside, the Q2 is roomy and well laid-out, and its classy dashboard feels a cut above other vehicles here. It costs more than other small SUVs, of course, but it's easy to see what the extra outlay buys you.
Which is the most reliable small SUV?
Honda, Toyota and Nissan are among the most reliable car brands, and their well-proven small crossovers rank among the most reliable small SUVs. Toyota in particular has a superb reputation for reliability – even its high-tech hybrid drive systems generally prove faultless. All those Prius taxi drivers can't be wrong… Saying that, any of the SUVs listed here should prove dependable, as they are derived from top-selling superminis that are sold in high numbers. As such, they will have generally had any faults ironed out in double-quick time.
Can you get a small SUV with all-wheel drive?
These days, the market doesn't demand that any size of SUV offers all-wheel drive. The era of the mud-plugging 4x4-style SUV is long gone. Indeed, it's only the Audi Q2 on our list of the best small SUVs that offers all-wheel drive as an option. Most buyers simply don't need it, as they don't take these vehicles off-road. Even in the Audi's case, all-wheel drive is really there to help variants such as the high-performance SQ2 transmit their power to the ground. It's not intended for climbing muddy hills or fording streams.
What is a good affordable small SUV?
You can spend large SUV money on a top-of-the-range small SUV, but you certainly don't need to. The Skoda Kamiq offers plenty of SUV style from just £20,000, for example, while cars such as the Vauxhall Mokka, Renault Captur and Peugeot 2008 are also very affordable. The idea behind a small SUV is to offer a more stylish, higher-riding alternative to a regular supermini, without breaking the bank, which is why car manufacturers work so hard to keep prices in check. And why these cars have proven so popular.
Ask HJ
What's the best small SUV?
Although I love my Nissan Qashqai my wife would prefer a slightly smaller SUV. The car must be an automatic and as comfortable as the Qashqai with similar performance. What do you recommend please?
I'd recommend the latest Nissan Juke. It's much better than the old model and available with a seven-speed dual-clutch automatic transmission. Alternatively, consider a Skoda Kamiq or Volkswagen T-Cross - both excellent crossover SUVs.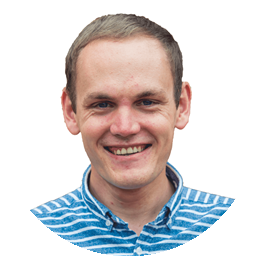 More Questions
More SUV guides