Volkswagen Transporter Sportline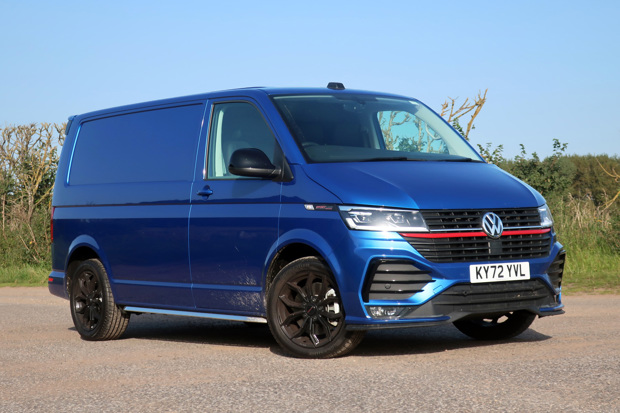 Specifications: Volkswagen Transporter Sportline
Run by: Andy Brady since August 2023
Price when new: £58,119 (£58,995 including options)
Engine: 2.0-litre turbodiesel
Power: 204PS
Torque: 450Nm
Claimed economy: 36.2mpg
CO2 emissions: 204g/km
Insurance group: TBC
Report 1: This Volkswagen Transporter Sportline is the GTI of the van world
With sporty looks and an extensive amount of standard equipment, we're excited to add this Volkswagen Transporter Sportline to the HJ fleet.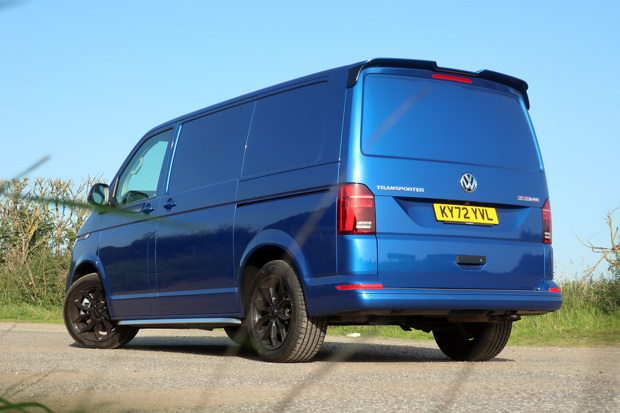 Date: 6 September 2023 | Current mileage: 2472 | Claimed economy: 36.2mpg | Actual economy: 29.5mpg
Look at that red stripe! Phwoar. Blingy 18-inch alloy wheels, too, not to mention illuminated (!) side bars and - yes - a spoiler on the back. This Volkswagen Transporter Sportline looks like it's an aftermarket special but, actually, it's the latest factory range-topper. And it's ours for the next six months.
The gaping air vents at the front hint at the power under the Transporter Sportline's bonnet. It's the usual 2.0-litre diesel, but with power boosted to 204PS and a considerable 450Nm of torque. Paired with the DSG automatic gearbox, it'll accelerate to 62mph in 8.9 seconds - which is pretty sprightly for a mid-sized panel van.
The Volkswagen Transporter already handles surprisingly well for its size, but Eibach suspension drops the Sportline's ride height by 30mm - good news for agility, if not for comfort on the rural Shropshire roads where we'll be doing most of our driving.
With a VAT-inclusive retail price of more than £58,000 (yup, you read that right), this mean load-lugger ought to be pretty comprehensively kitted out.
And it certainly is - spec highlights include part leather/Alcantara trim, a fancy Digital Cockpit display and a reversing camera. These are all features you'd expect to see in a Volkswagen family car... not a van.
We suspect a lot of Volkswagen Transporter Sportline buyers will be looking at one as an alternative to an SUV, rather than as a workhorse.
So that's the way we'll be using it - negotiating multi-storey car parks, weekend camping trips and generally embracing #vanlife (just like we did with our old Volkswagen Caddy). We'll be bringing updates every few weeks, so keep an eye on this page to find out how we're getting on with our Transporter Sportline.
Report 2: Is the Volkswagen Transporter a good motorway vehicle?
Our Volkswagen Transporter Sportline spends most of its time on the M40 motorway. Is it an efficient and comfortable long-distance vehicle?
Date: 20 September 2023 | Current mileage: 3298 | Claimed economy: 36.2mpg | Actual economy: 36.9mpg
If you cover a lot of motorway miles, a van probably isn't your first choice of transport. But, if you have a need to lug bulky items up and down the country, a Volkswagen Transporter's going to be a bit more practical than, say, a Volkswagen Golf.
I don't have a great need for shifting loads but, with our Volkswagen Transporter Sportline on my driveway and a calendar full of new car launches, it's been pressed into service as a motorway mile-muncher. Most of those journeys have been between home in Shropshire and Heathrow Airport for overseas events, or UK launches in the Cotswolds.
And, actually, the Volkswagen Transporter has fast become my favourite ever long-termer for the M40 run. I drop down both (yes, both) its driver's seat armrests and enjoy the upright driving position. Visibility is excellent, except to the rear... which means I even venture into the outside lane occasionally without being intimidated by other motorists.
Most of the time, though, the Volkswagen Transporter sits happily in the inside lane, cruise control on and returning late-30s MPG. In my experience, it'll quite easily beat its official 36.2mpg fuel economy figure. It's got a big 70-litre fuel tank, too, which means I can cover more than 500 miles between top-ups.
There's something else I really like about using the Volkswagen Transporter on motorway runs. Sometimes I like to pretend I'm doing something much cooler than I actually am - working as a roadie for a famous band, for example, or transporting organs (the bodily type, not the instrument). The time just flies by.
Report 3: Carrying bikes with the Volkswagen Transporter
How can you carry bikes in a Volkswagen Transporter without them falling over? We might have found the answer...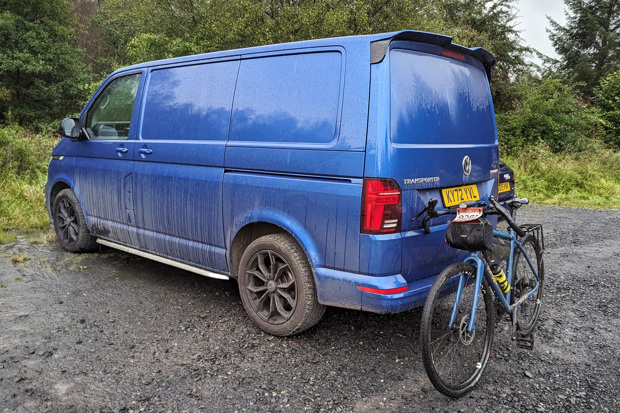 Date: 4 October 2023 | Current mileage: 4349 | Claimed economy: 36.2mpg | Actual economy: 44.3mpg
The Volkswagen Transporter is perhaps the most desirable lifestyle vehicle on the market, so I was very excited about the opportunity to load our Transporter Sportline with bikes and head away for weekend adventures.
It's not quite that simple, though. The Volkswagen Transporter's load space is so vast that, if you load a bike into it, it'll slide about (no doubt damaging both the bike and the inside of the van). There are tie-down points in the floor but, other than that, not a great deal else for securing loads.
If I was keeping the van longer than a few months, I might be inclined to install some more permanent tie-down points on the walls of the van, but that's not an option for those of us using the Transporter as a company vehicle.
I've found a solution, though. And it's brilliant. It's called the BikeStow, and it's a freestanding fold-up bike rack that quickly turns your van into a mobile bike carrier.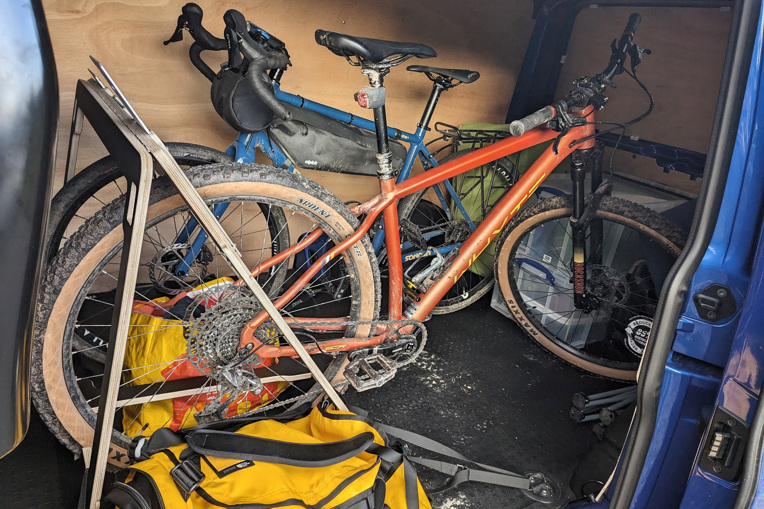 The BikeStow is made at the family firm's unit in Stourbridge, where I collected our three-bike rack (other sizes are available). We'll be covering the BikeStow as a full review on HonestJohn Kit in the near future, but within days of collecting it, I was off on a road trip to a bike event in the north of England.
Traffic wasn't on my side but, as I covered in my last update, the Volkswagen Transporter Sportline is an exceptional motorway cruiser. Slow-moving M6 traffic meant the trip computer was showing an incredible 44.3mpg when I arrived at my campsite - way above the official 36.2mpg fuel economy figure.
Over the weekend, the BikeStow kept two bikes safe and secure (it's good to have a spare...), even when negotiating fairly challenging rural roads around the Forest of Bowland. Having the ability to quickly load and unload bikes in rainy conditions (without having to faff about with an external bike carrier) was an absolute pleasure, too, as was having plenty of space for storing camping stuff and even a private changing room on wheels.
Report 4: Why is the Volkswagen Transporter so expensive?
There's no denying it: the Volkswagen Transporter Sportline is quite an expensive van. But don't dismiss it just yet...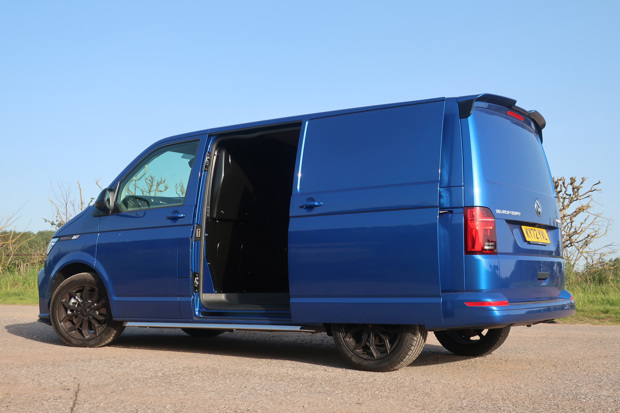 Date: 18 October 2023 | Current mileage: 4578 | Claimed economy: 36.2mpg | Actual economy: 38.3mpg
"What's stopping you buying a Volkswagen Transporter?"
A question asked by a friend when I'd be raving about how brilliant our Volkswagen Transporter Sportline is, and how much I'm enjoying having a van in my life. The answer? "It's nearly £60,000..."
There's no dressing it up: that's a huge amount of money for a van. Even in car terms, £60,000 is a lot. You can get a new Porsche Cayman for that, or a Range Rover Velar. So why exactly is the Volkswagen Transporter so expensive?
Well, let's put it into context by looking at its competitors. There's a new Ford Transit Custom on the scene and the cheapest version of that is more than £40,000 (including VAT). Spec one to a similar standard as our Transporter Sportline, and you'll be looking at more than £55,000. A high-spec Mercedes Sprinter is similarly pricey.
So, yes, the Volkswagen Transporter is expensive, but it's not outrageously more expensive than competitors. And I think, to an extent, you do get what you pay for. As well as sporty exterior styling which makes the Transporter Sportline look more at home in suburbia than on an industrial estate, standard equipment includes part-leather seats, an easy-to-use infotainment system and a rear-view camera.
If you're reading this hoping I'll help you justify the cost of a Volkswagen Transporter, though, the key to this is concentrating on its residual values. There's a huge demand for desirable Volkswagen Transporters, which means the value of a Sportline like ours won't plummet as soon as you drive it out of the showroom.
Indeed, residual value experts say that the Transporter has the strongest residuals of any panel van on sale in the UK - so, while you'll need to pay out a lot for a new one, you shouldn't lose a lot in the long run. A quick search in the classifieds revealed year-old examples of the Transporter Sportline advertised for around £55,000 - which is a pretty minimal drop in price compared to new.
And, of course, these residual values are the key to monthly payments. Look for a lease deal on a Volkswagen Transporter, and it might not be as expensive as you think...
Report 5: How efficient is the Volkswagen Transporter?
We're quite surprised by how efficient our Volkswagen Transporter Sportline is proving to be...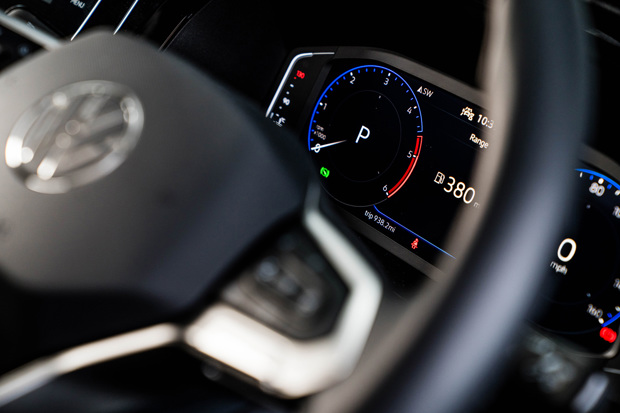 Date: 1 November 2023 | Current mileage: 5011 | Claimed economy: 36.2mpg | Actual economy: 37.3mpg
While vans aren't often associated with impressive fuel economy, it's arguably more important that a panel van like the Volkswagen Transporter sips on fuel - even more so than a little city car. Whether you're a fleet manager for a large corporation or a one-man band, running costs are likely to be one of the most important considerations in a new van.
It's a shame, then, that the Volkswagen Transporter isn't available with a modicum of hybrid power. But that's not necessary a bad thing - as our Transporter Sportline, with its 204PS 2.0-litre turbodiesel engine, is proving to be surprisingly efficient in the real world.
In our experience, its official 36.2mpg WLTP fuel economy is more than achievable in the real world. Indeed, on a longer journey on a relaxed 65mph-or-so cruise, it'll comfortably exceed the claimed figure.
Of course, if you're planning to use your van around town or want something even more efficient, you might be better looking at the pure-electric Volkswagen ID.Buzz instead.