Renault Zoe Electric Car Travels 1,005 Miles in 24 Hours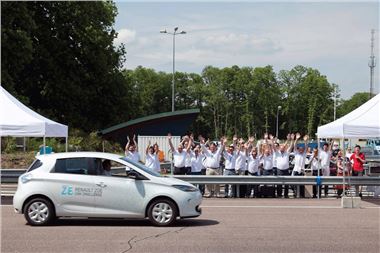 Despite being deisgned as a city and suburban car, the Renault ZOE has beaten the record for distance travelled by an electric car in 24 hours.
Not, of course, on a single charge.
Two Renault ZOEs set out on the speed ring at the Aubevoye technical centre (CTA) in Normandy, with fifteen drivers from Aubevoye, Cléon, Sandouville, Flins, Douai and Grand Couronne taking turns at the wheel, driving and charging as necessary. Twenty-four hours later, they crossed the finishing line, with mileages of 1,618 km and 1,506 km respectively. 
To achieve this result, ZOE benefited from a major technological breakthrough: the Chameleon charger. This makes ZOE compatible with any socket and any power level. ZOE was therefore able to be fast-charged at 43 kW, regaining 80% of battery capacity in under thirty minutes.
The distance record was also made possible by the best-in-class NEDC range of 130 miles (210 km, between 62 and 93 miles depending on conditions of use). Overall, the final ZOE was fast-charged 18 times in 24 hours.
The launch of Renault ZOE with UK prices on-the-road from £13,650, marks the start of a new era in which electric mobility becomes accessible to everyone. It is a major step forward for cars and for Renault. In its 110 years of history, the brand has shown its ability to innovate with the clear aim of bringing technology to the masses. ZOE embodies Renault's excellence in electric technology. It is compact, attractive and affordable, with monthly battery hire from £70, which equates to no more than a full tank of fuel for many similar sized cars..
ZOE will appear in showrooms later in 2012, however, customers can, er, currently reserve one on www.renault.co.uk/ze for £49 deposit, in order to be one of the VIP customers receiving exclusive content.
Comments