Skoda Greenline II Range of Models Put to the Test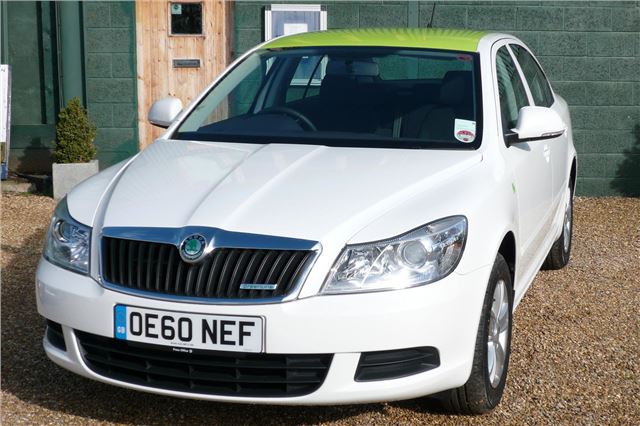 The 'Global Warming' issue is hotting up.
Or rather, heat is starting to be applied to the EC's misguided vehicle emissions legislation.
By 2013, large-scale manufacturers must be able to show that the average emissions of the cars they produce are less than 130g/km CO2.
Or they will get fined.
So the sudden proliferation of tax-free and Congestion Charge exempt models under 100g/km is not out of altruism by the manufacturers.
It's to avoid a fine.
And how do they suddenly manage to get their increasingly heavy cars, laden with ever more EC legislated 'safety' kit, down to under 100g/km?
Easy. They cheat.
There has recently been much debate about the glorious little FIAT 500 TwinAir which, in the prescribed EC tests, achieved an incredible 68.9mpg, and an even more astonishing 95g/km CO2.
But that was in a lab test 'simulation' drive with the 'Econ' button pressed. In real life conditions it will do 48.3mpg over 610 miles carefully measured brim to brim. Driven like an eco monk, it might achieve 60mpg. Ragged, with the Econ button off (when the TwinAir offers the most fun you can have with your clothes on), you might get no more than 30mpg.
So basically the TwinAir has cheated in its exams so it can earn a free scholarship into London where its owners are going to have a lot of fun whatever the fuel economy and the CO2 output. And if they are only getting 34mpg they are, of course, emitting 190g/km CO2, not the 95g/km that got them their honours degrees.
This gets worse, and is currently the subject of the most complaints I receive.
In their infinite wisdom, the EC commissioners have decreed that their EC Test CO2 and economy figures are the only figures that manufacturers and dealers are allowed to quote.
Which is why the salesman in the FIAT dealership is allowed to tell his customers that not only is the TwinAir annual tax exempt and London Congestion Charge exempt, but that "you'll get nearly 70mpg."
You won't. He's lying. But he is compelled by EC legislation to make this misleading statement. When customers complain that their cars are only achieving half the "advertised" fuel economy, manufacturers and dealers cannot be held liable because they have quoted the figures they are legally compelled to quote.
Today, Skoda was at it. And to emphasise the point had 'wrapped' the roofs of its Greenline II cars in a fetching shade of pistachio.
Like SEAT (with the same engine) they now quote 89g/m CO2 for their Greenline Fabia and a combined economy figure of 83.1mpg.
However, they were honest enough to put this to the test by setting up a competition over a 26-mile route involving real traffic, real roundabouts and real hills. The driver achieving the best economy could win an i-pad.
So off we set and, driving on tiptoes, my driver managed a creditable 71.1mpg. I didn't believe that anyone would better that. But they did. Vicky from Autocar managed an astonishing 80.9mpg. And another chap, whose name I didn't commit to memory, got 83.3mpg.
So it can be done. If you drive on motorways 3 feet behind HGVs to get a slipstream tow. If you don't slow down for roundabouts. If you hold up the traffic behind you on hills. Generally, if you drive in a manner you would never normally drive.
So my advice is to buy a low CO2 car by all means. Especially one under 100g/km if you have to regularly drive into London. You'll be saving £50 a week.
Do expect to get reasonable economy from it. Take the EC combined figure and subtract 25% for a fair estimate.
Just don't expect to get 932 miles of school runs, shopping trips, holiday journeys, traffic jams and otherwise everyday running out of a single tank of fuel.
Because you won't.
Skoda Fabia Greenline II hatchback £13,685, estate £14,300
These are fitted with 185/60 R15 low rolling resistance tyres.
Both EC combined CO2 89g/km. EC combined fuel 83.1mpg.
0-60 14 seconds. Top speed 107mph.
Performance and economy are pretty much the same as the SEAT Ibiza ECOmotiv. The 1,199cc 3-cylinder diesel will pull gamely from 1,500rpm even though peak torque is not delivered until 2,000rpm. Driving as economically as we could we got 71.1mpg.
Skoda Octavia Greenline II hatchback £17,705, estate £19,035
This comes on 195/65 R15 Michelin Pilot Primacy HP tyres.
Hatch EC combined CO2 99g/km. EC combined fuel 74.3mpg.
Estate EC combined CO2 109g/km. EC combined fuel 67.3mpg.
0-60 11.1 seconds. Top speed 119mph.
Again similar performance and economy to the SEAT Leon Ecomotiv, with the added bonus of Congestion Charge exemption for the hatchback. So this is a Focus/Golf sized car that can be driven into London free of charge saving a potential £50 a week.
Skoda Yeti Greenline II S £16,685, SE £18,235, Elegance £20,185
This was on 205/55 R16 tyres.
EC combined CO2 119g/km. EC combined fuel 61.4mpg.
0-60 11.8 seconds. Top speed 109mph.
All the charm and family appeal of a Yeti with just £30 annual tax. In truth, the 2WD does understeer fairly stolidly. It doesn't shame itself, but it is nothing like as much fun as the 1.8TSI 180 4WD petrol turbo. The advantage is it can potentially stretch a gallon twice as far. In real life, more likely to be around 70% more economical. We averaged about 44mpg from a cold start. Could do better.
Skoda Superb Greenline II
Saloon S £18,685, SE £20,525, Elegance £22,780
Estate S £19,790, £21,785, Elegance £24,040
This sat on 205/55 R16 Continental Premium Contacts
Both EC combined CO2 114g/km. EC combined fuel 64.2mpg.
0-60 12.2 seconds. Top speed 119mph.
Similar prices for the specs to the Peugeot 508 1.6 e-HDIs tested last week, though going up to a higher top spec level. Nice, friendly and above all obedient stop-start that, unlike automatics and semi automatics, leaves the engine off when you put the parking brake on and only restarts when you press the clutch. Impressive to drive. Does not feel underpowered. Nicer ride quality on the 205/55 R16s than on bigger wheels with lower profile tyres. We averaged about 44mpg, but that was from a cold start.
More at Skoda
Comments