Chris Evans CarFest Heads North to Cholmondeley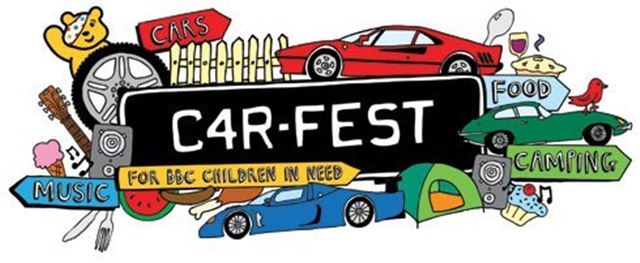 By popular local demand, Chris Evans CarFest South held at Laverstoke Park Farm is to be recreated next weekend at Cholmondeley Castle in Cheshire.
After the fantastic success of CarFest South, that raised more than £500,000 for BBC Children in Need, Northeners demanded their own festival and CarFest North is expected to raise at least a further £300,000 for the charity.
It all began as an idea on Evans Radio 2 Breakfast Show. The irrepresible star was already donating more than £250,000 a year by his 'Magnificent Seven' Ferrari drive and dine charity auction runs that culminated at The Goodwood Festival of Speed.
Why not another festival? he thought. And before long there were two.
CarFest snowballed into a huge weekend festival celebrating three of Evans greatest passions: cars, food and music, and simultaneously raising funds for BBC Children in Need.
CarFest South held at Jody Scheckter's Laverstoke Park Farm in Hampshire was an immediate sell-out with 20,000 visitors being treated to high-octane action, breath-taking aerial displays and sparkling live sets by top bands as well as a whole host of other superb family entertainment. And now Evans' glittering road show is all set for a repeat performance in the glorious grounds of Cholmondeley Castle near Malpas in Cheshire.
"CarFest is my dream of the perfect family festival starring cars, live music and scrumptious food," explained Evans who was overjoyed with the inaugural Laverstoke event. "CarFest South which took place a week and a bit ago was just utterly awesome and, from the moment it opened, took on a whole brand new personality of its own. The best news is, we now get to do it all over again at Cholmondeley Castle on the 8th and 9th of September – another groovy get-together, raising more funds for BBC Children in Need in the process. How will it differ to its southern cousin? I have no idea but I can't wait to find out and I wouldn't want to miss it for all the trophies in Michael Schumacher's cupboard."
As home to the annual Pageant of Power, Cholmondeley is already host to tremendous motorsport events and CarFest expects to cap that with a greater emphasis on family.
There will be Evans' very own famed 'Magnificent Seven' Ferraris and numerous other collections of seven including seven legendary F1 cars, seven of the latest supercars, seven Group B rally machines, seven vintage cars and Nick Mason's Celebrity Seven. Air displays are another crowd pleaser with the RAF Red Arrows and magnificent Vulcan bomber all set to turn heads skywards.
As Evans always intended, this is very much a huge party for all ages with something for all the family. The main Arena field will see displays from jousters and the JCB Dancing Diggers as well as a wide variety of other equally enthralling entertainments and sideshows. There's even a silent disco in the Big Top and a 'Pride and Joy' auction for those wanting to drive home in something special.
Putting the 'Fest' into CarFest are live music sets with Texas, Paloma Faith and The Proclaimers topping the bill on Saturday evening and then Razorlight plus The Magic Numbers bringing the curtain down on Sunday night.
It all adds up to one huge not-to-be-missed party which is set to raise over £800,000 for BBC Children in Need. Although the original 20,000 tickets were an immediate sell-out, an extended licence has enabled organisers to offer some additional day, weekend and VIP tickets. To buy tickets go to www.CarFest.org. 



Comments