Ma5da Championships to be Run by Castle Combe Racing Club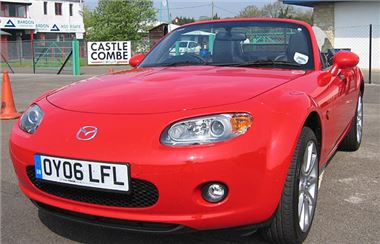 Ma5da Racing has popular championships catering for relatively standard Mazda MX5s. It regularly fields over 100 cars at a typical race meeting and has 130 drivers registered to take part, with races at most UK circuits.
It has now appointed  the Castle Combe Racing Club to run its championship in 2013 and beyond.
Britain's biggest 'single make' racing championship has taken the unprecedented step of appointing
After its last visit to Castle Combe in June, Ma5da Racing chose the Castle Combe Racing Club (a two time MSA award winning club) as its partner for 2013.
The CCRC will be responsible for arranging all Ma5da Racing meetings, going against the usual precedent of this task being given to a national club.
Jonathan Blake, the Ma5da championship Director said,"CCRC have everything to prove in this new venture and Ma5da Racing will not accept anything but improvement, so together with CCRC we can make a difference and re-shape the future of club motorsport in the UK."
Adrian Fawdington, CCRC's Chairman & Commercial Director said,"The club has already appointed a dedicated Administrator and a permanent 'Clerk of the Course', along with a state of the art, on-line race entry system."
Until the end of 2012, Ma5da Racing's activities will continue to be looked after by the British Racing and Sports Car Club.
More at Castle Combe
Comments