Local Drivers for Classic Racing at Combe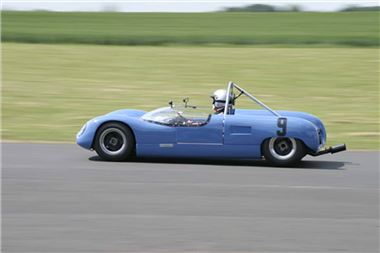 Classic sports cars from the '50's, '60's and '70's with pit stops  and driver changes are one of the highlights of the Castle Combe  Circuit's 'Championship Finals Race Day' on Saturday October 1.

Organised by the Corsham based Classic Sports Car Club, the Swinging 60s and Classic K Series race is a 40 minute 'enduro' with a number of local drivers taking part.

Cheltenham's Stephen Bond should have one of the quickest cars in the form of his Lotus Elan 26R, which he will be driving solo.

Frome's Andy Vowell usually performs well at his local track in his 1969 Triumph Spitfire but will face considerable opposition from Charles Marriott from Ampney Crucis in his rare 1960 Turner MKII, which has been showing the Austin Healeys the way home recently.

Mixed in is a sprinkling of Porsche, Alfa, Sunbeam, Marcos, Reliant and even NSU.

Staying with the classic them is the 'Gadget Helpline Classic Alfa v MG Challenge', whilst the rest of the programme is dominated by the final rounds of the circuit's home championships for saloons, sports and GT  cars and Formula Fords.

For further information, visit the Castle Combe Circuit website on www.castlecombecircuit.co.uk or follow on Facebook and Twitter, with results instantly available on www.tsl-timing.com . 
Comments