More Japanese High Jinks at Castle Combe on 30th May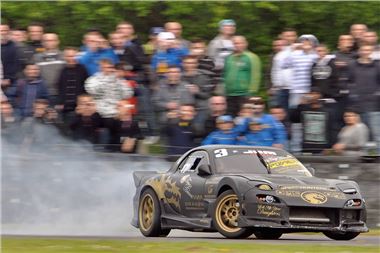 The month of May has a distinctly Japanese flavour to it at the Castle Combe circuit.
With the success of 'Japfest' two weeks ago, now Europe's biggest event of its kind, the month rounds off with the First Line Japanese Raceday on Bank Holiday Monday, May 30.
No less than ten of the races in the programme have an oriental theme, with the championships catering for Mazda MX5s and Toyota MR2s backed up by the diversity of the Nippon challenge.
With its strong street following, the Subara Impreza is always a feature in the car parks of Castle Combe and one of the cars to beat on the track in the Nippon races. Bringing his to victory at the last meeting at Brands Hatch was Adrian Howells, who was fourth at Castle Combe last year. Adding some variety though is the little Suzuki Swift of Andy McLennan who took race two spoils at Brands, with Kevin Middleton taking a pair of thirds with his Impreza.
The MR2s were also at the Wiltshire circuit last year. Aaron Pullan will be looking to improve on his fifth place after a pair of seconds at Brands Hatch last time out. The incredible Mazda MX5s manages to fill six grids, such is their popularity. Last year, former Eurocar racer Paul Sheard picked up two victories, but this season it's Tom Roche who leads the way, his best here last time being a second place. A number of local drivers feature in the MK1 cars, including Bath's Amy Barker, Calne's Paul James, Matthew and Ben Short from Mere, Swindon's Andrew Childs and Glastonbury's Martin Thomas. The Mk3s include Combe race school instructor, Ben Seyfried from Yeovil and Calne's Jim Edwars senior.
After one of the best race meetings ever seen at Castle Combe at the beginning of May, many of the contenders in the circuit's home championship events are riding high after their efforts were televised Europe-wide.
Feeling particularly happy is Saltford's Steven Jensen who took his first two victories in the Castle Combe Formula Ford 1600 Championship. His Spectrum 011 run by the Kevin Mills Racing team from Gloucester is now on top form and having broken his duck, Jensen goes into this round as the class A man to beat. Nevertheless, heading the points table overall is young Adam Higgins from Chippenham, son of former quadruple champion, Bob. His elderly RF90 Van Diemen is able to mix it with the newest A class cars, putting him firmly in contention for top honours this year.
Another son of a former Combe champion doing well this year is Roger Orgee from Langford. His namesake father was champion in 1974. This year junior heads the class A points and is second overall in his Van Diemen RF00, also run by the Kevin Mills team. Our third improver is Nathan Ward from Coventry, another B class driver making the newer class contenders work harder in his Swift SC95, run by the Castle Combe based Swift Cooper team. Some consistent performances by Bath's Chris Acton has him placed fourth overall in the standings in his Ray GRS 08.
Always spectacular is Wiltshire College driver, David Vivian from Bradford on Avon, needing a strong points finish this time in his B class Swift SC92. Not to be discounted are Castle Combe's Andy Jones and Melksham's Ed Moore, both Ray drivers yet to enjoy smooth outings this year. The second of the three drivers to score double victories in the home championships last time was Trowbridge's Andy Shanley in the Castle Combe Sports and GT championship races. After the elimination of Vernham Dean's Simon Tilling in the first race, Shanley was pretty much left to his own devices, propelling his Radical Prosport to a pair of unopposed wins.
Wrington's Darcy Smith did the double too, with runner up positions in both races courtesy of his Nemesis RME98 His son, Josh, also in a Radical, but in the invitation class PR6, due to its single seater style driving position, was the third podium finisher in race two. Bath's Guy Parr will be looking to build on his 3rd place in race one last time out in his Nemesis RME98 run by the Dursley based Wayne Poole Racing team. Des Andrews, also from Bath, has another ex Supersports car, the unique Megar Hart 001. Chippenham's Ian Hall is a B class contender capable of frightening the A class boys with his awesome 5.3 litre Darrian Wildcat.
The third double victor from the last meeting is Southampton's Adam Prebble who spent both races trying to lose the indefatigable Peugeot 106 of Nick Charles from Yate in the Saloon Car championship race. The Rover Turbo could never quite shake off the little B class car, providing some breathtaking racing which spectators will hope is repeated this time out. Keeping the symmetry was Bristol's David Kift who took two thirds in his 106 and will be a tough opponent for reigning champion Charles, who also leads this year's table. The other class A drivers to watch are Bristol's Mark Wyatt in the Astra, Tony Dolley from Bridgwater in the 206 and Calne's Tony Hutchings in the Audi TT. The latter pair had an unfortunate coming together at the last round so will be hoping their cars are back on form this time.
Weston Super Mare's Will Burns is joint leader of class C in his Fiesta, whilst Melksham's Simon Norris entertains himself in the top ten with his class D Honda Integra.
Bank Holiday Monday's action starts at 8.35 am with qualifying, racing getting under way from 12.00 mid-day. Admission prices are £15 for Adults, £7.50 for OAPs, £2.50 for Paddock Transfer, whilst accompanied children under 16 are admitted free. For further information, find the Castle Combe Circuit online at www.castlecombecircuit.co.uk, on Facebook or Twitter.
Comments