HAT Award Winning Historics Auction Tomorrow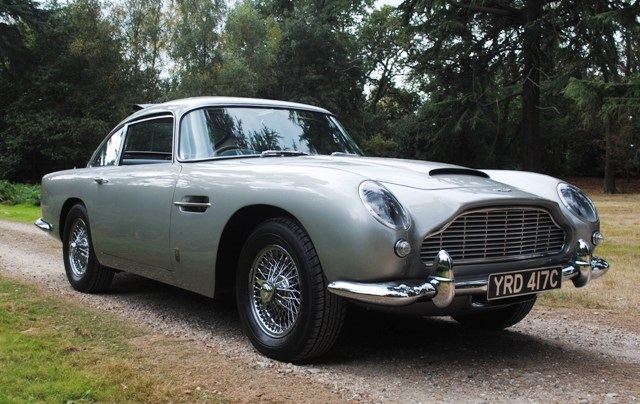 'Highly Approved Trader', Historics is holding a classic car auction at Brooklands Museum, Weybridge on Saturday 24th November.
I'll be there because it promises to be a very interesting sale.
After a 1965 Aston Martin DB5 made £300,000 + commission in Historics September auction, and the huge interest in the cars created by the latest James Bond movie, 'Skyfall', a second and third DB5 have been entered in the sale.
The September DB5 was estimated at £230,000 - £260,000. The silver 1965 DB5 in the November sale, with the main difference of a full length Webasto roof, is estimated at £240,000 - £265,000. The third 1965 DB5 in maroon is estimated at £200,000 - £235,000. And for Aston fans who can't quite stretch to £200k plus, there is also a Silver 1968 DB6 Mk 1, estimated at £110,000 - £145,000. All the cars are manual.
Another star lot is a 1933 Bugatti Type 35 described as a 'Reformation'. Though not 100% original, this car has been built from orginal parts and is estimated at £170,000 - £200,000, many hundreds of thousands of pounds short of what an original car would fetch. While, of course, over the passage of time, an 'original' car may have undergone so many replacements that in truth it is no more original than the Type 35 on offer here.
Also entered are some interesting American cars. In date order:
A 1951 Nash Statesman, one of the first cars in the World to be fitted with seatbelts. This has a 186 cubic inch 85hp OHV straight six and is estimated at £14,000 - £18,000.
A 1963 Studebaker Avanti. Styled by the great Raymond Loewy, this fibreglass bodied, disc braked sports coupe was offered with the option of a supercharger and thus equipped was timed at 196mph on Bonnevile Salt Flats. The car on offer has a 4-speed manual transmission and in road trim was originally rated as capable of 168mph. It is estimated at £15,000 - £19,000.
A 1969 Plymouth Road Runner. An iconic late '60s muscle car, this example comes with a 383 cubic inch, 335hp V8 and three speed TorqueFlite automatic. It has matching numbers and is in unrestored original condition. Estimated at £16,000 - £20,000.
A 1970 Plymouth Barracuda convertible. Another Mopar muscle car, this matching number Barracuda convertible is a bit special and number 44 or only 49 delivered to ist exact specification. Fitted with the 383ci 335hp V8 and TorqueFlite automatic is is orignal even down to the date coded wheels. From 2001 to 2011 it was a rarely driven 'trailer queen' attending many US car shows. It is estimated at £50,000 - £65,000.
And a 1978 Lincoln Continental Mk V. This monument of tastelessness was commonkly used as a pimpmobile and is truly hideous to behold. Under the flight deck sized 'hood' sits the optional 460 cubic inch engine, the largest production car engine available at the time. It's estimated at £7,000 - £10,000.
Finally a friend of mine has entered his 2001 Maserati 3200GT torque converter automatic which he has run reliably for the past 5 years, maintenance having been carried out by Meridien Modena, Maranello Concessionaires, Terry Keys Motorsport and Bill McGrath. That's estimated at £8,000 - £12,000.
For more information, and to view the catalogue online, please link to Historics, or click here for a gallery of some of the more interesting lots. 
Comments