Sponsored Content - Tyremen Launch Their New K.O.M Aluminium Space Saver Wheel and Tyre Kit
Thu, 10 Jan 2019
Tyremen believes all vehicles should have a spare wheel no matter their style or spec. We strongly think the space saver wheel which has been removed from a lot of vehicles by the manufacture is an essential safety feature and is a must have kit. Let's be honest the glue-based sealant just is not a good replacement!
We've never been content on just offering the first product that's gifted to us, so we thought we must look for our own market leading kit. This had us searching high and low to find the best quality kit to offer our rapidly growing customer base.
The search found Tyremen.co.uk in Italy with a premium aluminium wheel manufacture who gave us sole UK selling rights to this aluminium space saver wheel we have called K.O.M "Keep On Moving". Not happy with just having a Premium quality wheel we thought that the tyre needs to be a better brand than what is on the market right now. We found our place with Continental & Uniroyal tyres; all our kits are offered with Continental or Uniroyal depending on application.
The kit also includes: TUV approved 2-ton jack with all kits, the correct size wheel brace & and storage bag to keep all this together.
All the way through this project of finding these items and bringing them together. We have been very aware of costs and we need to bring the K.O.M into the market at a very competitive price against the steel and cheap tyre option, even if our product is a premium product price is still key.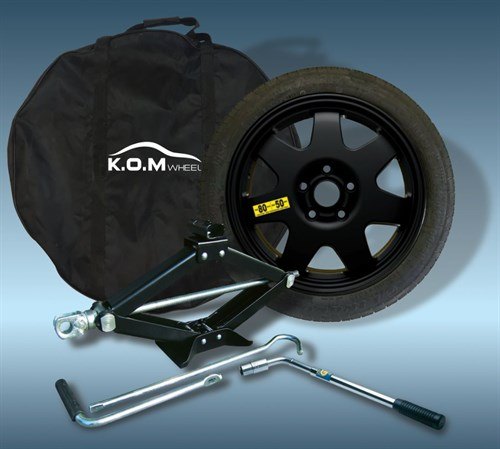 K.O.M alloy space saver kit VS steel space saver kit.
K.O.M aluminium & made in Italy VS Competitor steel wheel made in "PRC" China
K.O.M tyres fitted Continental & Uniroyal VS Competitor tyres fitted Economy
17" K.O.M kit price popular 2018 Nissan Juke £180 VS 17" Competitor steel wheel kit £184 - £229
As you can see our K.O.M space saver wheel and tyre kits are a fare better quality kit & cheaper.
Currently in the UK we are the only supplier who can offer a wheel only! Or build bespoke kits.
If you would like to become a supplier of the K.O.M space saver kit or just the wheel on its own, then please let us know by calling 01482 505526 or send us an email info@tyremen.co.uk