TomTom sat nav now available in BMWs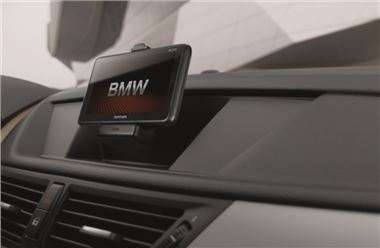 TomTom satellite navigation is now available in BMW 1 Series, 3 Series, X1 and X3 models. The Go Live Navigation system can be installed by BMW dealers and is designed to connect to the existing in-car entertainment system.
Although not as tidy as the integrated system, the nav still fits fairly neatly onto the dash top of the car while the Live Services include HD Traffic, TomTom's real time traffic information service which gives the quickest route through traffic. There is a Search & Go function which includes TripAdvisor, Expedia and Local Search with TomTom Places plus IQ routes which uses real travel information shared by millions of drivers, to give the best routes and arrival times at every time of day.
The touchscreen system, which features a five-inch screen, integrates with BMW's Car Entertainment System. Navigation directions and hands-free phone calls are given through the car's speakers and temporarily mute any other audio to ensure navigation instructions as well as phone conversations can be heard.
Comments