Coated Brake Discs Prevent Unsightly Rust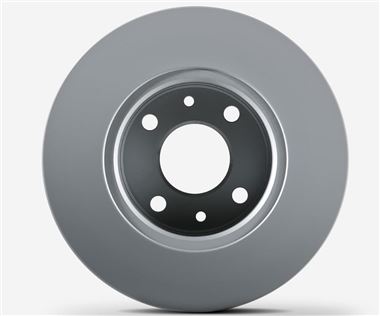 Federal-Mogul's Ferodo brakes product range now includes a range of premium coated brake discs engineered specifically for vehicles equipped with 'see-through' alloy wheels.
The new Ferodo COAT PLUS brake discs are available immediatelythrough distributors.
Ferodo COAT PLUS brake discs expand the brand's already broad range ofmarket-leading discs for virtually all vehicle models.
The introduction of these premium coated discs enables repair businesses to address the needs of the growing number of consumers who want a corrosion-free disc surface to be visible throughtheir alloy wheels. More significantly, it reduces the likelihood of an MoT failure for corroded rear brake discs which is a serious problem for owners of lightly used cars where the brake pads rarely take surface corrosion off the discs.
"The benefits of Ferodo COAT PLUS discs extend beyond an attractive appearance, each disc is engineered to provide superior braking performance, without noise or vibration," said Mario Garelli, Federal-Mogul braking products manager, EMEA.
"In addition, there is no need to remove the coating prior to installation, so the jobcan be completed faster and without the use of cleaning agents."
Federal-Mogul's advanced disc coating is applied through a sophisticated, computer controlled process that prevents thickness variation and helps ensure extended resistance to corrosion.
These new discs can be identified by a "C" suffix added to the existing Ferodo brakedisc part number.
For more information regarding new Ferodo COAT PLUS coated aluminum brake discs, please contact your Ferodo brakes supplier or Federal-Mogul representative.
The latest Ferodo product applications information is available 24/7 through the convenient www.FM-ecat.com electronic catalogue.
About Federal-Mogul
Federal-Mogul Corporation is a leading global supplier of powertrain, chassis andsafety technologies, serving the world's foremost original equipment manufacturersof automotive, light commercial, heavy-duty, agricultural, marine, rail, off-roadand industrial vehicles, as well as the worldwide aftermarket. The company's leading technology and innovation, lean manufacturing expertise, as well as marketing and distribution deliver world-class products, brands and services with qualityexcellence at a competitive cost.
Federal-Mogul is focused on its sustainable globalprofitable growth strategy, creating value and satisfaction for its customers,shareholders and employees. Federal-Mogul was founded in Detroit in 1899. Thecompany is headquartered in Southfield, Michigan, and employs 43,000 people in 34countries. Visit the company's Web site at www.federalmogul.com. Federal-Mogul's aftermarket products are sold under a variety of well-known brands,including: Abex®, AE®; ANCO®, Beral®, Carter®, Champion®, FP Diesel®, Fel-Pro®,Ferodo®, Glyco®, Goetze®, MOOG® , National®, Necto®, Nüral®, Payen®, Precision®,Sealed Power®, Speed-Pro® and Wagner®. Visit the company's website atwww.federalmogul.com.
Comments