Genuine Ford Parts Proven to be Better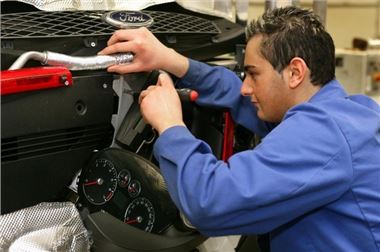 Ford genuine parts come with reliability and warranty assurances, as well as being environmentally and safety verified, research shows.

The independent Motor Industry Research Association (MIRA) tested genuine Ford replacement body panels against copies. Copy parts are rarely produced to the same specification and tolerances as Ford's genuine article, meaning they are unlikely to last as long, may not come with a warranty, and can even be unsafe and environmentally unsound.

MIRA found that genuine Ford replacement parts were more resistant to corrosion and fitted better as the result of installation in Ford dealerships. In the case of a bonnet, the chances of pedestrian injury were increased when an inferior panel was fitted.

Ford is also active in the fight against parts counterfeiters, helping to stamp out a racket which costs the industry £10 billion a year.

"It is very scary to think what could happen if, for example, your car's braking system was fitted with counterfeit parts," says Paul Muers, Ford Customer Service Division marketing manager. "It's a risk if work isn't entrusted to a franchised dealer. Going to a Ford dealer or Rapid Fit centre means only genuine parts are used.

"Genuine Ford Parts are made to the same standards as our vehicles and offer guaranteed Ford quality and serviceability. They are designed specifically for the vehicle, so fit better, work more effectively, are safer and last longer."

The warranty offered on Genuine Ford Parts is among the best available: any new or exchange Ford or Motorcraft part which becomes defective due to faulty manufacture or materials will be repaired or replaced free of charge by a Ford dealer. This warranty applies for 12 months for most parts and even longer for replacement items such as clutch assemblies (24 months), batteries and exhausts (36 months).

Fitting and installation are covered by Ford standards which dealers and authorised repairers must meet and adhere to. The RAC also carries out regular, unannounced compliance checks to monitor quality.
More at Ford
Comments