New EV fast chargers will boost batteries in just 10 minutes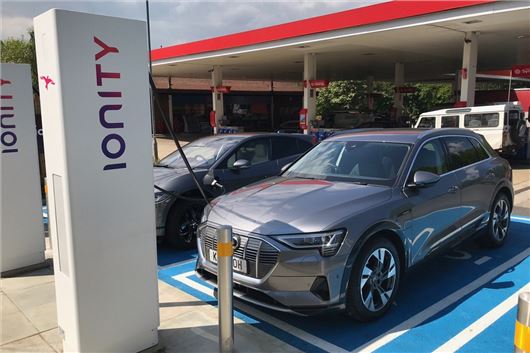 Published 22 May 2019
An Australian electric car charging firm has signed a deal to supply ultra-fast chargers to 120 sites across Europe.
The network - operated by Ionity and backed by car manufacturers including Volkswagen, BMW, Ford and Daimler - will see up to six fast chargers installed at each site across 23 countries in Europe.
>>>Car manufacturers develop high speed EV charging network
The 350kW units are the fastest electric car chargers available - but no EV on sale can handle the boost in power. Currently, the Nissan Leaf - Britain's most popular electric car - can take 50kW from a rapid charger (e.g. those used at motorway service stations), taking it to 80 per cent in around 40 minutes. Most home chargers are rated at just 3 or 7kW.
Porsche's upcoming Taycan is expected to be the first EV on sale capable of charging at 350kW when it arrives in early 2020, closely followed by the Audi e-tron GT and Aston Martin Rapide-E.
This means 10 minutes of charge will add around 220 miles - 'all but eliminating range anxiety', claims the company behind the chargers.
The fast chargers will also be able to slow down to a rate current electric cars can accept. Jaguar claims its i-Pace can charge at a rate of 100kW, for example, while the Audi e-tron can take 150kW, charging to 80 per cent in less than half an hour, and 100 per cent in around 50 minutes.
The upcoming Volkswagen ID.3 will be able to charge at a rate of up to 125kW, giving around 160 miles of range in half an hour.
Users of the Ionity charging network are expected to be billed a flat fee of £7 for each electric car charge.
Comments
Author

Andrew Brady
Latest