Volvo to replace batteries with nano powered body panels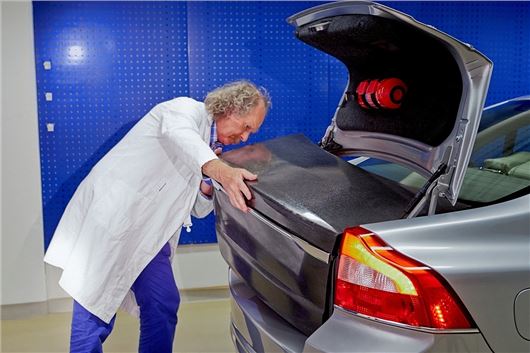 Published 17 October 2013
Volvo has unveiled ambitious plans to replace conventional batteries with energy storing body panels. The technology has already been installed on an S80 experimental car and could herald a revolution in the design of battery powered vehicles.
The lightweight nano technology has been developed over the last three years as part of an EU-funded research project to identify a solution to the weight and high costs associated with the batteries seen in hybrids and electric cars today.
The answer was found by combining carbon fibres and a polymer resin to create nanomaterial and structural super capacitors. The reinforced carbon fibres sandwich the new battery and are moulded and formed to fit around the car's frame, such as the door panels and boot lid. Once installed, the material can be used to store and charge energy.
It is claimed that the nano panels can be charged from a standard plug socket or energised by the use of brake regeneration. 
It is claimed that the nano panels can be charged from a standard plug socket or energised by the use of a brake regeneration system. It is also said that the new batteries not only charges and stores energy faster than lithium-ion units, but doesn't suffer from degradation as there is no chemical process involved in charging and discharging them.
Volvo is in the process of testing the technology in the body of an S80 and have already had two parts built from the new material: a boot lid and a plenum cover.
It's claimed that the boot lid already has the capacity to replace the batteries seen in today's cars and wouldn't add any additional weight. The intake plenum cover has also been formed from the material and is powerful enough to supply energy to the car's 12 Volt system and replace the need for a battery to power the S80's strop/start system.
What's more, Volvo believes the complete substitution of an electric car's existing components with the new material could cut the overall weight by more than 15 per cent. 
Although Volvo hasn't said when or if it will build nano powered cars, industry insiders believe the technology will form the template for all of the company's future green endeavours.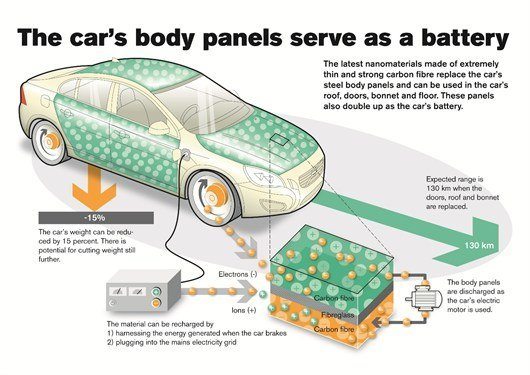 Comments
Author

Dan Powell
Latest