Ampera plug-in hybrid to demonstrate range on Budget Day.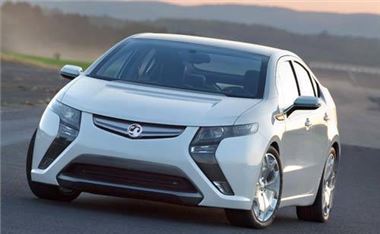 Budget Day, Tuesday June 22 will see a Vauxhall Ampera E-REV (Extended-Range Electric Vehicle) undertakes the longest single journey by an electric car on British roads.
Though powered by an electric motor, the Ampera carries a small petrol/E85 fuelled petrol engine to recharge its batteries.
The prototype Ampera, which goes on sale in the UK in early 2012, will appropriately be driven in relay by a selection of drivers from Vauxhall's home in Luton, Bedfordshire to its passenger car plant in Ellesmere Port, Cheshire - a journey of more than 170 miles.
Duncan Aldred, Vauxhall's MD, who will drive the Ampera on the first leg of its journey from the company's Heritage Centre in Luton, said: "It's quite poignant that Luton, our home for the last 105 years, should mark the starting point of not just this historic journey, but also the future of E-REV vehicles in the UK. In the last century, Vauxhall has pioneered innovation and technology for mainstream car buyers, and this commitment will continue with the Ampera. We're truly energising the future for British motorists."
With a real-world range of 350 miles, the Ampera will be using under half its available range as it travels north up the M1 and M6 motorways, calling in at Vauxhall's Brand Centre at Star City, Birmingham on the way.
Electricity drives the Ampera's wheels at all times and speeds, and for the first 40 miles of the trip power will be supplied by electricity stored in a cutting-edge, 16kWh lithium-ion battery, meaning the Ampera will emit zero tailpipe emissions.
When the battery's energy is depleted to a minimum state, a small petrol/E85-fuelled engine generator seamlessly provides electricity to power the electric drive unit, boosting range by a further 310 miles, but, of course, meaning the car is not entirely free of tailpipe emissions, though CO2 is actually less than using electricity from coal fired power stations.
Once at Ellesmere Port, the Ampera, which is built on the new Astra platform, will complete its journey at the end of the new Astra's production line, welcomed by plant director, Tony Francavilla.
Photography and video from the Ampera's road trip will be available from media.vauxhall.co.uk late on Tuesday afternoon. You can also follow the Ampera on its groundbreaking journey via facebook.com/vauxhallampera.
ENDS
Estimated itinerary for drive between Luton and Ellesmere Port:
0950
Depart Luton – Vauxhall Heritage Centre
1010
Driver swap Toddington, M1
1100
Driver swap Watford Gap, M1
12:00 -1300
Vauxhall -Lookers Star City Birmingham
13:50
Driver swap Keele, M6
14:40
Driver swap Cheshire Oaks Shopping Centre
15:00
Arrival at Vauxhall Manufacturing - Ellesmere Port
Comments