Big Historic Car Racing Event at Castle Combe This Weekend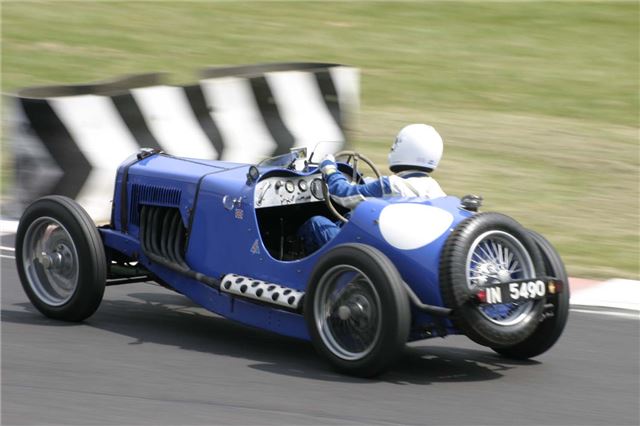 Castle Combe's penultimate event for 2012 on Saturday 6th October will be dedicated to historic car racing. Normal racing resumes on Sunday 7th to end the season.

Period dress is encouraged and prestigious and important vehicles and drivers from the circuit's history will line up to take part.

Entries include the ex-Ecurie Ecosse Jaguar XK120, raced at Castle Combe in 1952 by the late Jamie Scott-Douglas, a grandson of the 9th Duke of Beaufort and resident of nearby Sherston.  In the race on April 12 1952, sometime playboy Scott-Douglas brought the car home in 5th place in the unlimited sports car race. A varied season of races followed for the XK120 including a 3rd place at Reims, France, with Scot-Douglas's year ending with another sports car race at his local circuit on the 4 October 1952.

60 years later the car will return to Castle Combe along with the iconic Ecurie Ecosse race transporter. This Commer based truck became a world famous Corgi model and owes it's appearance at Castle Combe to the support of the Jaguar Enthusiasts' Club, based in Filton, Bristol. The club is running a 30 minute race for all Pre 1966 Jaguars and amongst the well known drivers taking part is Anthony Reid, the ex Touring Car and Le Mans star in an E Type.

In the Vintage Sports Car Club's race for pre war sports cars Hamish McNinich from Glastonbury will be driving a 1931 MG C-type Montlhery, Joanna Blakeney-Edwards from Bristol a Frazer Nash Shelsley, Fred Boothby from Somerton his 1933 MG J2, Crewkerne's Allen Clear his Riley TT Sprite and Tim Wadsworth from Minety his 1931 Lagonda 2 litre Tourer.

The Bristol Forklifts John Gott Memorial Trophy Invitation Race for Big Healeys brings back some of the wonderful 3000s and 100s. Bristol drivers Chris Clarkson and David Smithies, who often partner each other in various historic events, will be competing against each other this time as well as some of Europe's other top Healey pilots.

The Fiscar race for historic Sports and GT cars of the fifties has entries from Salisbury's David Reed in his Aston Martin DB2 and Mark Campbell from Stonehouse, Gloucestershire who brings his wonderfully original ex-works Le Mans example.

Those cars will also feature in the Historic Aston Martin race, with David Reed's wife, Anne taking over the wheel this time.

Gracing both days are races for 'Bernie's V8s', where more or less anything goes as long as it has a V8 engine!

Rounding off Saturday's historic event will be the 2 driver Inter-marque Twilight Challenge for pre 1970 cars, featuring many of the drivers from the other races. Thornbury's Tim Pearce brings his FIA specification Morgan Plus 8 and Bristol's Paul Crew his MGB.

Saturday's action starts with qualifying at 08:35. Racing gets under way from 13.00.

Sunday's Grand Finals day sees the culmination of a year's confrontation between a number of drivers, one of the most exciting being the decider for the Vadabar Sports and GT championship.

Equal on points are Southampton's Gary Prebble in the Mitsubishi Evo and Vernham Dean's Simon Tilling's in his Radical SR3.

Each has dominated his respective class this year, but if they do the same again this time, then Prebble will be champion by one point, due to the rule relating to dropped scores.

Tilling therefore has the more difficult challenge especially as Trowbridge's Andrew Shanley is back with his Radical Prosport. Whilst Tilling's car is ultimately faster, Shanley's simpler machine is much quicker off the line and its driver as determined as ever to win.

Prebble normally has little opposition, though there have been rumours of a return of Melksham's Simon Norris in his even more powerful Evo, which could give Prebble some work to do.

Bath driver Guy Parr has his Nemesis in class A run by the Dursley based Wayne Poole Racing team.

In the 'Invitation' class are four drivers from the Nissan Playstation GT Academy in their 370Zs, up against Josh Smith from Weston Super Mare in his Radical PR6.

The task facing Saltford's Steven Jensen to take the circuit's Formula Ford 1600 championship is a difficult but not impossible one. Bratton's Ben Norton already has an effective lead of 18 points after dropped scores are taken into account, so only needs to pick up 3 points should Jensen win the race.

Norton already has the 2009 championship title as experience to draw from, so is the overwhelming favourite in the Wiltshire College Spectrum. But rain is the car's Achilles heel and we are now closer to winter than summer.....

Jensen's Kevin Mills Racing team mates, Roger Orgee from Langport and Nathan Ward from Coventry are lying in wait to steal Jensen's second place, though to do that Ward would need to win with Jensen failing to score.

Similarly Yatton Keynell's Luke Cooper in the Swift SC10 could grab 4th in the standings from Ward if he took his first win at his neighbouring track.

Many of those drivers will be getting further exercise in the Carnival race, with Ben Norton so far the only man to have won both the championship and the Carnival in the same year.

Even more Formula Ford action comes from the final of the Keyline pre 1982 Classic championship. Malmesbury's Craig Heppell is 7th in the standings in his Crossle 35F.

Corsham's Will Di Claudio is already champion elect of the Castle Combe Saloon Car championship, but will still be out to beat everyone in his class B Peugeot 106.

Southampton's Adam Prebble has emulated his brother Gary by clinching the class A title in the family's Rover Turbo but second place is still to be decided between Calne's Tony Hutchings in the Audi TT and Bristol's Mark Wyatt in the Astra.

Bridgwater's Tony Dolley in the Peugeot 206 could potentially claim third in the championship from Wyatt, but could also have his current 4th place taken from him by Mark Funnell from Trowbridge in the MINI. Similarly, Funnell could be under threat from Melksham's Rob Ballard in the SEAT Leon.

Two drivers from Warminster, both with 2011 championship titles under their belts will be enjoying their local circuit in the Monoposto race. Geoff Fern has his JKS in the 1400 class where he lies 3rd this year and Adrian Heath his Formula Junior in the 1600s, where he is 5th.

The GT Academy Open Sports and Saloons race gives drivers such as Bath's Angus Gorringe in his BMW Z3 M coupe another opportunity to play, whilst the Gadgethelpline.com race for classic production saloons and sports cars has mainly BMC powered cars versus the Alfa Romeo GT of Chapmanslade's Crispin Thomas.

Sunday's events get under way with qualifying at 08-30, with the first race at 12.30.

Admission prices are on Saturday, £10 for Adults, £5.00 for OAPs, Paddock Transfer free and on Sunday, £15 for Adults, £7.50 for OAPs, £2-50 for Paddock Transfer, whilst accompanied children under 16 are admitted free on both days.

For further information, visit the Castle Combe Circuit online at www.castlecombecircuit.co.uk, or on Facebook or Twitter. 
Comments