This year's Goodwood Revival in pictures and video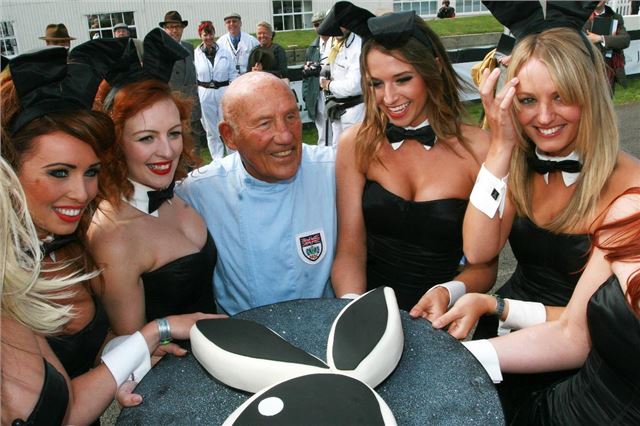 This year's Goodwood Revival in West Sussex has been dubbed 'the best yet' by many of the 138,000 motor sports and vintage fashion enthusiasts.
The sell-out crowd - many of whom were dressed in immaculate 1940s, 1950s and 1960s fashions - was treated to four seasons in a single weekend, with changeable conditions that switched between warm early autumn sunshine and heavy rain.
The motorsport action was as good as ever, with a wide variety of machines taking to the track. The 100th anniversary of Juan Manuel Fangio's birth was honoured with a grid of rare and significant cars from his career. It included three spectacular Mercedes-Benz racers, plus two Chevrolets brought over from Argentina specifically for the Revival. A handful of drivers that knew and raced with Fangio were also on hand.
Track highlights from the weekend included Saturday's Fordwater Trophy, which this year was a Jaguar E-type race to mark the 50th anniversary of this legendary sports car. The 1964 semi-lightweight E-type of Jon Minshaw and Martin Stretton took the chequered flag.
The thrilling St Mary's Trophy for 1960s saloon cars saw Richard Shaw anchor a brilliant overall win with track victory in Sunday's second installment of this two-part race in the 1965 BMW 1800 TiSA.  Tom Kristensen and Kenny Brack took an emphatic win in the rain in the Royal Automobile Club Tourist Trophy Celebration race for GT cars aboard Daniela Ellerbrock's Shelby Daytona Cobra.  Duncan Fitchett and Jeremy McWilliams may have finished only fourth in the second part of the Barry Sheene Memorial Trophy motorcycle race but they were always going to win overall on aggregate after a brilliant showing in the Part One Saturday race.
A daily parade of motocross riders from the golden 1950s-60s era of scrambling also delighted the Revival spectators, as did the dedicated motocross course built especially for the event at Lavant Corner.
Aviation has become as much a part of Goodwood Revival weekend as the motorsport and 2011 was no exception. The 75th anniversary of the Spitfire was marked with a fitting and emotional tribute as 10 of these iconic machines took to the skies over Goodwood, with others on the ground, as Lord March paid tribute and the RAF Choir sang. This is especially fitting as The origins of the Goodwood Motor Circuit are based around the perimeter road of former RAF Westhampnett, a key Battle of Britain airfield and the location of Sir Douglas Bader's final sortie. Both Hurricanes and Spitfires flew from this historic location during the Second World War.
The American World War II B-17 aircraft "Sally B" flew in on the Thursday before the event and was a static display across the weekend, as a striking Supermarine S.6.B – victor of the last pre-war Schneider Trophy 80 years ago, and predecessor to the Spitfire. The 1934 Hawker Fury Mk 1 was voted the Freddie March Spirit of Aviation pre-1966 aircraft concours d'elegance winner by a panel of distinguished judges.
Elsewhere, several car manufacturers were celebrating anniversaries, most notable of which was Ford, who was bringing to an end its Ford Centenary Tour – a celebration of 100 years of Ford of Britain. The celebration of the 100th anniversary of Ford of Britain was flagged-off by Ford's chief financial officer, Lewis Booth, with Ford of Britain chairman, Joe Greenwell, riding in the Ford Consul in the lead. 
Several of Ford's iconic Model T vehicles were in a line-up of classic cars that included the 1966 Le Mans 24-hour race-winning Ford GT Mk II; the 1970 London to Mexico World Cup rally-winning Ford Escort Mk I; and the 1912 all-Ford-race winner at Brooklands. 
Other vehicles included in the exciting line-up included a clutch of classic Transits, the "newest" vehicle in the fleet, a 1971 Ford GT70, and the famous Ford Anglia 105E, a star in the film "Harry Potter and the Chamber of Secrets".
As well as the Ford of Britain Centenary Parade, two Ford GT40 course cars were on show, while a retro-themed Ford exhibition in the 'Earls Court Motorshow' area highlighted Henry Ford's 1896 Quadricycle as well as the latest Ford Focus and Ford Grand C-MAX.
Jeep was celebrating its 70th Anniversary with a classic Jeep Diner, Jeep at the Earls Court Motor Show, featuring 50s and 60s Jeep vehicles and the all-new Jeep Grand Cherokee and Compass, Jeep at March Motor Works, displaying a Jeepster in a typical 1950s US garage, and the Jeep 4x4 Experience.
As ever, vintage fashion played a big part in the revival, with daily prizes being awarded to 'best dressed' male and female spectators, with finalists parading each afternoon on the Richmond Lawn car walk.  Ladies Day on Saturday saw a particularly high standard of period dress, and helped seal the unique, fun atmosphere of the 2011 Revival. 
The recreation of a typical early 1960s British street scene, with a bus depot and High Street with a Tesco supermarket, clothes shops, the DiLonghi 2i coffee bar and period Kenwood kitchens proved to be hugely popular, with Revival shoppers coming over 'all nostalgic' at the sight of period packaging, house hold brands, live music and fashions that had long been forgotten.  The 1950's-style Butlin's was also a huge hit as the famous British holiday camp celebrated its 75th anniversary.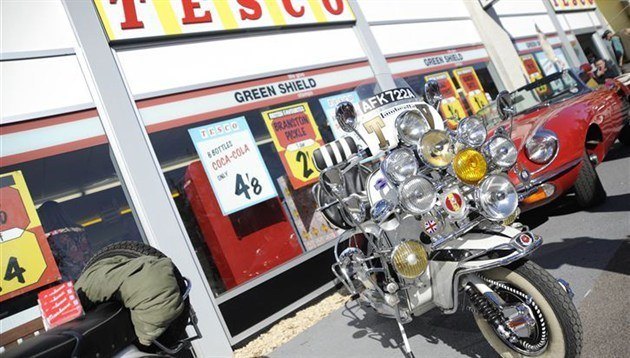 Comments