RAF Typhoon Display Team Dates For Your Diary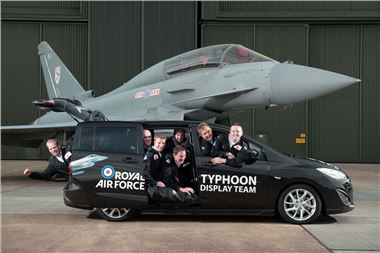 If you have yet to witness the awesome capabilities of the Typhoon Eurofighter, here are some dates for your diary.
The RAF Typhoon Display Team vehicle sponsor Mazda will be hosting a number of exclusive "fun and young at heart" days out and activities with the Not Forgotten Association during the air show season this summer to help the charity's aim to provide wounded and ex-service personnel with disabilities with adventurous activities that bring genuine happiness.
"The Typhoon Display Team carries out an important role in promoting the excellence of the Royal Air Force's equipment, personnel and ethos through air shows and events. The Team is proud to support the Not Forgotten Association's incredible work by helping put a smile on the faces of their beneficiaries through the fundraising and awareness that our role provides in engaging with the public," commented RAF Typhoon Display Pilot - Flight Lieutenant Tim Clement.
Colonel Piers Storie-Pugh, Chief Executive of the Not Forgotten Association, said: "We were delighted when the RAF Typhoon Display Team approached us to become one of their three chosen charities for 2011. Sergeant Liam Whelan, the team's Engineering Manager has personally experienced the work we do through one of his friends and is honoured to help promote our aim to bring genuine happiness through our activities".
In addition, for the first time in our 90 year history we are supported by a corporate organisation, through the Typhoon Display Team's vehicle sponsor Mazda who has provided us with the wonderful opportunity to attend a number of motorsport and air show events for our veterans. Our beneficiaries look forward to outings and events and it is wonderful to add these new activities to our 2011 calendar."
In 2011, the RAF Typhoon Display Team will attend 14 air show events in the UK as well as a number of community visits, which together will attract over two million spectators. Through their presence at these events the Team aims to promote the awareness of their three chosen charities and help with fundraising through merchandise sales and donations given generously by air show visitors.
Mazda will be hosting Not Forgotten Association beneficiaries at a number of motorsport events ranging from the Goodwood Festival of Speed and Britcar MSA 24 hour Endurance Race at Silverstone to smaller community events such as MX-5 Owner's Club Rallies and the Royal Norfolk County Show.
Colonel Piers Storie-Pugh added: "We are also delighted that we will be hosted at the Royal International Air Tattoo thanks to Mazda UK, Bournemouth Air Festival by Magna Mazda in Poole and the Royal Norfolk County Show by Wrights Mazda in Norwich. We hope that other events will be added to the calendar during the year as opportunities arise."
Jeremy Thomson, Managing Director for Mazda UK added: "Mazda is very proud to be associated with the RAF Typhoon Display Team in 2011 and to support the good work of the Not Forgotten Association by providing exclusive opportunities to host beneficiaries at air shows, motorsport events and dealership community activities. The Mazda team looks forward to engaging with the beneficiaries and hopefully putting a smile on their faces through the Not Forgotten Association Mazda events."
In 2010, the RAF Typhoon Display Team raised over £12,000 for its chosen charities. In 2011, the Team will be fundraising for the Not Forgotten Association, Make-A-Wish Foundation and the Forces Children Trust.
For all the latest news and images from the RAF Typhoon Display Team and for a list of air shows and public events please visit: www.raf.mod.uk/typhoondisplay/news
For more information on The Not Forgotten Association please visit www.nfassociation.org
The Royal Air Force Typhoon is a world-class multi-role jet. With the Typhoon, the RAF has a combat aircraft capable of being deployed in the full spectrum of air operations for the first time in its history. From air policing and peace support all the way through to high intensity conflict, the Typhoon can do it all. This exceptionally flexible and capable aircraft has, without a doubt, significantly increased the RAF's war fighting capability. The Typhoon protects the UK and Falkland Islands airspace 24 hours a day, 365 days a year. The latest tranche 2 jets are now fleet wide and in the last year Typhoon has participated in many national and international exercises. It is currently deployed in Libya, policing the UN no fly zone where once again it is showcasing its world-class status and established pedigree.
RAF Typhoon Display Team PR events
02 - 03 July: Waddington International Air Show, Static Typhoon at Show
09 July: RNAS Yeovilton International Air Day
16 - 17 July: Royal International Air Tattoo - Fairford
23 - 24 July: Southport Air Show
13 - 14 August: 2011 Eastbourne International Airshow
18 - 21 August: Bournemouth Air Festival
24 - 27 August: The Port Of Dartmouth 167th Royal Regatta 2011
10 - 11 September: RAF Leuchars Air Show
Comments