Mazda 787B Taking to the Hill at Goodwood Festival of Speed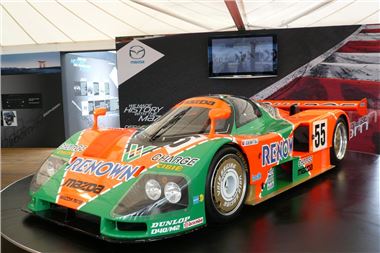 The rotary-powered Mazda 787B has returned to Goodwood to mark the 20th anniversary of its famous victory in the gruelling 1991 24-Hours of Le Mans.
Mazda is still the only Japanese car manufacturer to win Le Mans.
The 787B is joined by the giant-killing MX-5 GT racecar, iconic 1967 Cosmo Sport and Banzai Magazine's jaw-dropping MX-5 concept.
Visitors to this weekend's Goodwood Festival of Speed will be in for a unique treat when the Le Mans-winning Mazda 787B takes to the hill, filling the West Sussex venue with one of motorsport's most evocative and distinctive soundtracks.
In 1991 Mazda confounded its critics and rewrote motorsport history when its rotary-powered 787B won the 24-Hours of Le Mans, the world's most arduous and taxing endurance race. Mazda became the first - and to date the only - Japanese car manufacturer to win the race, and the only marque ever to do so with a rotary-engined car.
The 700PS carbonfibre-bodied racer, which has a 210mph top speed, completed 362 laps at an average speed of 127.62mph.
Under the seasoned eye of six-time Le Mans winner Jacky Ickx, the factory-backed team entered three cars into the 1991 race. The winning 787B, number 55, wore the iconic green and orange livery, and was driven by the crack team of Johnny Herbert, Volker Weidler and Bertrand Gachot.
It ran faultlessly - its only mishap being a blown headlight bulb - and 24 hours and 3065 miles later, Herbert took the chequered flag.
The two other 787Bs also finished in the top ten, underlining the strength and dependability of their rotary powerplants. Ex-Formula 1 driver and Le Mans veteran Mike Wilds and current Mazda works driver Mark Ticehurst will be driving the 787B up the hallowed Goodwood hill throughout the festival weekend.
The Mazda 787B arrived at Goodwood after a painstaking restoration and test programme to bring it back to driving condition for the first time since it took to the track in 1991. Last month saw the 787B participate in an evocative demonstration drive by Johnny Herbert in front of a huge audience before the start of the Le Mans race.
The 787B will be joined by Mazda UK's latest motorsport sensation, the MX-5 GT. Taking on top racing brands like Aston Martin, Porsche, Lotus and BMW in this year's Britcar Dunlop Production GTN Championship, the MX-5 GT racecar epitomises the MX-5's giant-slaying attributes of lightweight athleticism, wrist-flick agility and bullet-proof reliability, all at an affordable cost.
The MX-5 GT is powered by a tuned 275bhp 2.0-litre naturally-aspirated engine and features a six-speed sequential paddle-shift gearbox, carbonfibre doors and polycarbonate windows. With a kerb weight of just 850kg - the result of a painstaking 400-hour build by motorsport engineering specialist Jota Sport - the MX-5 GT accelerates from 0-to-60mph in just three seconds and has a top speed of 160mph.
With Mark Ticehurst and Auto Express journalist and former race title winner Owen Mildenhall behind the wheel, the MX-5 GT has already racked up two podium results and currently lies fifth in the championship.
As if one red-hot MX-5 wasn't enough, Banzai Magazine will also be displaying its jaw-dropping MX-5 conversion. Created by the UK's best-selling Japanese tuning magazine as an homage to the Mazda Furai concept car, the matte black and glossy red 2.0i Roadster Coupe is fitted with a raft of dynamic and visual upgrades.
The stunning 1967 Cosmo Sport, also on Mazda's show stand, will be the perfect foil for the Banzai MX-5. And coming right back to the 21st Century, Mazda will also have full details on its revolutionary SKYACTIV technology.
This technology will ensure driving remains fun while also addressing environmental concerns with fuel economy and CO2 emissions on a par with hybrids. Every new model from 2012 will embody SKYACTIV technology, this radical new efficiency and lightweight system saw Mazda's engineers go back to the drawing board for a radical rethink of how the car's chassis, body, engine and transmission could be redesigned to be inherently lighter and more efficient while still delivering Mazda's hallmark on-road dynamism.
"Exactly half a century ago, Mazda started development of the rotary engine. The line that can be drawn from that bold new initiative, through to our 1991 victory at Le Mans, and on to our exciting SKYACTIV technology development programme, is founded on our desire to never stop challenging and to defy convention," said Mazda PR director Graeme Fudge.
More at Mazda and www.goodwood.com
Comments