Celebrities in Cancer Charity Fundraiser Race at Silverstone Classic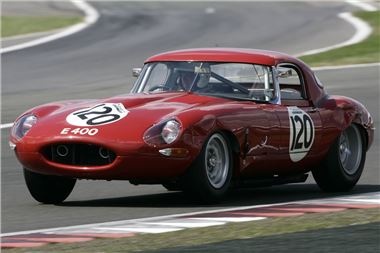 Heston Blumenthal, Brendan Cole and Charley Boorman launch 'all-star' race to raise funds for the Cancer Research UK 'Bobby Moore Fund'.
The Celebrity Challenge, which will take place on Saturday 23 July at the world's biggest classic car racing festival, will see an all-star line-up going head to head in 130mph Morgan V6 Roadster sports cars around the famous Silverstone Grand Prix circuit.
Celebrity drivers including Heston Blumenthal, Brendan Cole and Charley Boorman will be team managed by  legendary DJ 'Whispering' Bob Harris. The two top drivers from the 2010 Celebrity Challenge, musicians Rick Parfitt Jnr and Neil Primrose from rock group Travis, will also be on hand to renew their rivalry.
Other famous faces confirmed for the charity fundraising event include Comedy Dave, Jonny Saunders, Neil Fox, Luther Blissett, Lord Charles Brocket and Paul O'Duffy. Further names will be announced in the lead up to the race.
Speaking at the launch Heston Blumenthal said: "I made my racing debut at the Silverstone Classic last year and absolutely loved it… even if I did go sideways round most of the corners. My bravery rather outweighed my ability and I ended up hitting a kerb and puncturing the tyre so that was the end of my race. This year I'm determined to make it to the chequered flag in one piece."
"The Silverstone Classic is a phenomenal thing to be part of," added Brendan Cole. "It's a massive event and to be at Silverstone, the home of British motor racing, and actually take part in a race is one of the most exciting things that I have ever done. Seeing Heston go off was pretty exciting too. I'm very happy to be taking part again and raising money and awareness for the Bobby Moore Fund which is a great cause".
Last year's Silverstone Classic Celebrity Challenge raised over £25,000 for the charity and the celebrities are aiming to beat that target in 2011.
Charley Boorman is best known for his exploits on two wheels, but the actor and adventurer is looking forward to making his car racing debut at this year's event. "I am more into my bikes really and I can fall of those quite well so I am sure I can crash this!" Charley laughed. "As they say 'if you ain't crashing you ain't trying. Seriously, though, I had a brush with cancer last year so I know how important it is to look out for these things and that's why I'm so happy to be here and to be raising funds for such a good cause. I'd obviously like to beat all the other guys but I'm sure that will never happen. It's fantastic to be involved, though, and I'm sure it will be an incredible day."
Stephanie Moore MBE, Bobby's widow and founder of the Bobby Moore Fund for Cancer Research UK, was also at the launch and said: "The Silverstone Classic race is going to be a wonderful event with all the sounds and smells of bygone motor racing eras. The Morgan is an iconic British sports car and I am delighted that the celebrities will be racing them to raise money for the Booby Moore Fund for Cancer Research UK. The money raised by the Bobby Moore Fund has already made a huge difference to the lives of people diagnosed with bowel cancer. However, there's still a lot more work to do. My hope is that by increasing awareness and helping to fund vital research many more lives can be saved from this terrible disease in the future."
The Silverstone Classic (22-24 July, 2011) is firmly established as the world's biggest classic motor racing festival. The spectacular three-day event, which celebrates its 21st anniversary this summer at the famous Silverstone circuit, is much more than a glorious celebration of motor racing heritage. It is a complete event dedicated to providing a fabulous day or weekend out for everyone, and it is getting even bigger for 2011. Featuring in excess of 1,000 drivers racing more than 800 of the world's finest competition cars, this year's Silverstone Classic has also been chosen to host the official 50th birthday party for the legendary E-type Jaguar. 
Around 1,000 E-types are due to attend and set a Guinness world record for the greatest number of E-types in a parade.
Adding to the rich on-track entertainment, the Silverstone Classic also features a vast array of off-track attractions with festival catering by Jamie Oliver's Fabulous Feast, a period fun fair, air displays, parades, and 7000+ classic cars and bikes on display. Live music concerts featuring rock legends Suzi Quattro, 10CC and Wishbone Ash are included in the ticket price guaranteeing a memorable day – or weekend – out for all the family.
Tickets: Available in advance via the ticket hotline on 0871 231 0849 or from the official event website www.SilverstoneClassic.com. Adult entrance ticket prices if purchased in advance: £35 Friday; £45 Saturday; £45 Sunday, two-day weekend ticket £80 or three-day ticket £95. Children aged between 6 and 16: £5 per day. 5 and under: FREE. Ticket price includes car parking, grandstand seating, paddock access and live music. For more information: Visit the official event website  www.SilverstoneClassic.com
Comments