WORLD BEATING MARCOS AT CASTLE COMBE SEASON OPENER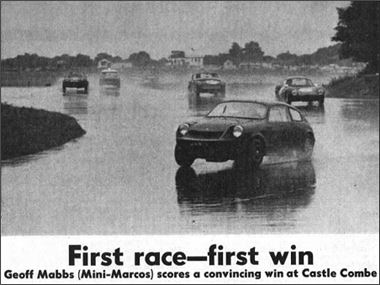 The Castle Combe Circuit's 2011 season gets under way on Easter Monday, April 25, with a special race to celebrate what was once Wiltshire's only car manufacturer, Marcos.
Whilst the famous marque is no more, having gone into liquidation in 2007, a loyal band of enthusiasts still revere the cars, none more so than on the racetrack, where they are still competitive in events world-wide, one Marcos in particular holding four land speed records.
The idea for the race came from the Trowbridge based Classic Sports Car Club, which recently appointed Marcos founder, Jem Marsh, it's President. Jem, who has lived for most of his life in Bradford on Avon, founded Marcos in 1959, the 'cos' part of the name coming from Frank Costin who went on to become half of the world famous Cosworth engineering company.
The 30 minute race at Castle Combe is open to every kind of Marcos from the nimble Mini based cars to the 3 litre V6 machines and it will be interesting to see which come out on top.
Castle Combe could be described as the home of the Mini Marcos as it was there it made its race debut in 1965, winning in the hands of local driver Geoff Mabbs (see photo), who lapped all but one of the field.
Likely to be at the front this time is a car which in 2004 was the fastest 'Mini' in the world, beating every other variant in a race at Silverstone. In the hands of former Castle Combe saloon car driver, Matthew Howell from Radstock, the 'ground effect' 1380cc machine has been little used since its world beating performance seven years ago.
Said Matthew, "My dream is to match the kind of performance the land speed record holding Trans XL Marcos achieved in the hands of Steve Roberts".
Roberts from Marshfield, the car's original builder, will be on hand himself to judge as he runs the circuit based Merlin Motorsport company.
At one time the Trans XL machine was thought to be the most successful race car ever built and it's hoped the current owner will bring it to Castle Combe to take part in the Marcos Cavalcade at Mid-day.
Some of the bigger V8 Marcos cars will be out in the pair of Charles Saunders Food Services Open Sports and GT encounters. These races welcome back ' big banger' unlimited capacity sports racing cars to the circuit, none bigger than the 7 litre Chevrolet engined Aquila of Salisbury's Nigel Mustill.
Bath drivers Guy Parr in the Nemesis and Des Andrews in a Radical will be up against the might of the works Jade. Parr and Andrews will also feature in the circuit's regular championship for Sports and GT cars, as their machines are within the 2 litre capacity limit.
Likely to be resuming their ongoing battle of the last two years are Trowbridge's Andrew Shanley, the reigning class champion, in the Radical Prosport amd Simon Tilling from Vernham Dean in his Radical SR3.
A new class for modestly modified cars up to 1800cc is added to the circuit's Saloon Car championship this year. Out front should be many of the usual protagonists, including double champion Tony Hutchings from Calne in his Audi TT and Bristol's Mark Wyatt, the reigning Class B champion in the Astra, sure to be challenged by his team mate, Kevin Bird from Ditcheat. 
Bird debuts a unique new car to the championship in the shape of a 3 litre BMW 130i built to M sport specification. Rear wheel drive should give it an 'off the line' advantage once sorted. Bird's SEAT Cupra Turbo is now in the hands of Atworth's Rob Ballard, run by 2008 champion, Will Di Claudio from Bromham. With Di Claudio's time taken up running other people's cars, life will be easier in Class B for the likes of reigning champion, Nick Charles from Yate, who defends his title with his quick 106 GTi from those such as Bristol's David Kift with a similar car. Bath's Guy Parr has acquired the 2009 championship winning Fiesta from Jason Cooper to supplement his outings in the Sports and GT championship.
Also back to defend his crown is Castle Combe Formula Ford 1600 champion, Marcus Allen, now run by the circuit based Wiltshire College team responsible for the 2009 championship domination of Ben Norton. Allen will use the same Spectrum as Norton, its sister car in the hands of debutant Harry Kightley.
Returning to the scene of his 2004 and 2007 championship titles is Melksham's Ed Moore, now in a Ray GR11, whilst 2008 champion, Josh Fisher from Bridgwater, adds to the quality in his Van Diemen. Staying with champions, Bath's Chris Acton, 2006 Class C title holder, is back in Class A with a Ray GRS08. Saltford's Steven Jensen stays with the Kevin Mills Racing team from Gloucestershire aboard his Spectrum 011C. Joining him in a similar car will be 2004 Class C champion, Nick Jones, from Chepstow. Class B favourite should be Bradford on Avon's David Vivian in his Wiltshire College Swift SC92.
The deceptively fast MG Midget championship cars return for a 15 lap race, with Shepton Mallet's Martin Hillard and Stone's Richard Homer, the local participants.
Completing the programme are two races for Production Golf GTis.
Spectators have an opportunity to get close to the drivers and cars from the Castle Combe Circuit based championships with a track walkabout from 12:15. Monday's action starts at 8.40 am with qualifying, racing getting under way from 1:00 pm.
Admission prices are again held from last year at £15 for Adults, £7.50 for OAPs, £2.50 for Paddock Transfer, whilst accompanied children under 16 are admitted free. For further information, visit the Castle Combe Circuit online at www.castlecombecircuit.co.uk, Facebook or Twitter.
Comments