Shelley Pearson To race at Flame and Thunder 2010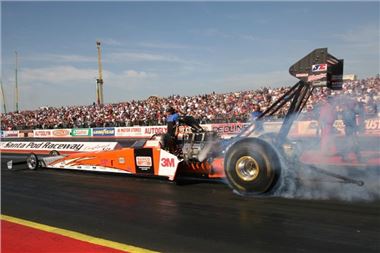 Santa Pod's local 'golden girl' Shelley Pearson has confirmed today that she will
race at the 'Flame and Thunder' event at the FIA venue on Saturday the 30th of
October, 2010. The 27 year-old Northamptonshire racer recently joined the ranks of
the Top Fuel elite, securing her licence with a show-stopping 4.98 second pass,
instantly catapulting her into the record books as the fastest female driver in the
UK and the second ever fastest licence run in Europe.
Clearly elated with her time, Shelley was quick to praise her supporting cast and
thank them all for their efforts. 'I'm delighted for everyone in the team that we
got such a great final run,' she said. 'Obviously drag racing is in the family DNA,
so I'm really pleased to return all the hard work that my Dad and our team have put
in to get us here. I'll try and back that performance up at Flame and Thunder - and
if it's at all possible, I'll try and run even quicker!'
Shelley's 8,000 horsepower Top Fuel dragster will also be joined by a Nitro-fuelled
Funny Car, and they will both be firing off exhibition passes throughout the day, as
well as the World's fastest Jet-powered race cars. These brave souls strap
themselves to over 10,000 horsepower of afterburning jet engine to cover the quarter
mile in just over 5 seconds, at a shade under 300mph. Not for the faint hearted!
It's not all drag racing however. An incredibly diverse range of acts and
attractions means that throughout the day, a non-stop mix of action and amusement
showcases some of the most prodigious talent and potent machinery ever to be
gathered in one place.
Equally impressive and almost as loud is the Live Action Arena where the
car-crushing talents of Santa Pod's resident Monster Truck, Podzilla vies for
attention alongside multiple Guinness World Record holder Terry Grant and his
incredible stunt show. Mix in UKFMX, Britain's best Freestyle Motocross team and
leading quad bike showman Jason Smythe - and you've got the ingredients for a superb
show.
Music fans will delight at the headline signing of 'Here Comes The Girls!'. This
superb tribute act tips its hat at acts like Lady Gaga, Cheryl Cole and The
Saturdays. As easy on the eye as they are on the ear, this is one superb show that
ticks all the boxes for fans of all ages. One for the ladies, James Sutton, better
known as Ryan from Emmerdale, will also be at the show, meeting his fans and signing
autographs.
From the sublime - to the ridiculous, ace car builder Perry Watkins will also be
showcasing 'The Flatmobile' the World's lowest car - and 'Wind Up' the World's
smallest vehicle. His 130 mph table and chairs, better known as 'Fast Food' will
also be gracing the strip. Titan, the amazing 8 foot tall interactive robot will be
walking amongst the crowd, delighting and terrifying in equal measure. The Black
Knights Parachute Display Team will also be quite literally 'dropping in' later in
the day with their unique display of skill and control, and if that wasn't enough,
Mark Jefferies will be putting on a stunning aerobatic display.
But there's still more!, Drifting demos, Kids Entertainers and even a full funfair.
Or why not take a pleasure flight in a helicopter and see the whole lot from the
air? Or strap yourself into a genuine 2 seater dragster and blast up the quarter
mile in a shade over 7 seconds!
But of course, it wouldn't be Flame and Thunder without a spectacular firework
display and huge bonfire - and this year, the Santa Pod team has really pulled out
the stops to create a memorable evening. As the light dims, a fully sequenced
firework display will delight the crowd.
With under 16s getting in for free, advance tickets starting at just £17 and more
acts and attractions in one day than most show goers see in a whole year, it's the
essential family day out of 2010! Just don't forget your hat and coat!
For more details please click to www.santapod.com or call the team on 01234 782828.
Comments