Caravan and Motorhome Auction at BCA Nottingham on 9th August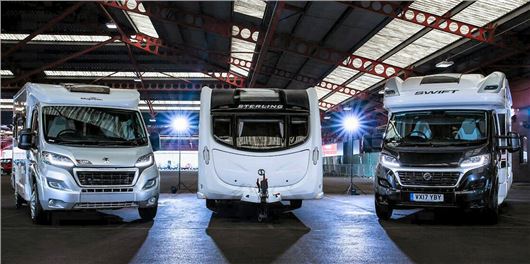 Published 02 August 2018
Caravanning and Motorhoming in Britain is booming this summer with many people questioning the need to travel overseas to find some sunshine, especially at the terrible Sterling to Euro exchange rate.
With fingers crossed that the weather holds, BCA has organised ists next Caravan & Motorhome sale at BCA Nottingham on 9th August. Around 150 will be on offer from low mileage luxury motorhomes to good value older caravans.
BCA runs the only regular programme of caravan and motorhome auctions anywhere in the UK, with two sales a month at the Nottingham centre on the second and fourth Thursday.
Top offerings for the 9th August event are a 2017 Swift Kon Tiki 665 Coachbuilt motorhome, in white with black trim. There is ample room for four people, air conditioning, a well-fitted compact kitchen with cooker, fridge and microwave and on-board washroom.
The Elddis Majestic 135  in white and silver is a compact, well-designed coachbuilt motorhome for two to three people, with a dinette, side kitchen, washroom, canopy and plenty of storage.
The Sterling Elite Explorer twin-axle Caravan was registered in 2014 and is in excellent condition. This four-berth caravan features a kitchen with fridge, cooker and microwave, a fixed double bed and a spacious end washroom.
The sale will also feature coachbuilt motorhomes by Bailey, Ace, Auto-Trail, Buccaneer, CI, Herald. Trigano and Rimor alongside a selection of caravans by Abbey, Avondale, Coachman, Compass, Bailey and Lunar.
BCA spokesman Tim Naylor commented "With the UK basking in one of the best summers on record, we are anticipating a lot of interest in this sale. Recent reports suggest that the hot and sunny weather has fuelled a rise in staycations, with 27 million Brits estimated to be choosing to stay in the UK this summer rather than travel abroad."
He added "This next sale offers a wide selection of vehicles to suit every budget and all are welcome to attend and bid. Log onto BCA's website to see a full catalogue of the entry, with many vehicles offered with a BCA Assured mechanical report carried out by the AA."
The sale begins at midday on Thursday 9 August at BCA Nottingham.  BCA stages two sales of caravans and motorhomes a month, with subsequent events taking place on 23rd August, 13th and 23rdSeptember.
BCA Nottingham offers ample on-site parking, undercover viewing and well lit seated auction halls.  There is a cafeteria on site serving a range of hot and cold food and beverages all day.  BCA provides a competitively valued delivery service to any location if required. 
Visit the BCA website at bca.co.uk for more details.
Comments
Author

Honest John
Latest