World's Biggest Classic Car Auction Live Stream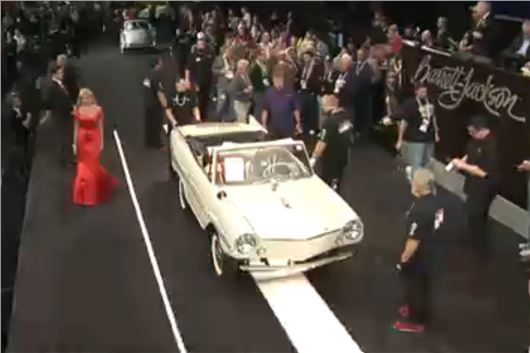 Published 14 January 2015
Mike Brewer gave a live link to Barett Jackson's Scotsdale Arizona Classic Car Auction - the biggest in the World.
It's: http://www.barrett-jackson.com/Account/Login?ReturnUrl=%2fLive%2fStreaming%2fVideo
You then have to enter your email and a password, then click the <Watch Live> box in the top LH corner.
The Auction takes place from 14th - 18th January.
Car sale times are from 10.00am to 10.00pm, which corresponds to 17.00 - 03.00 UK time (I think).
Just a few examples from today's Ron Pratte collection:
1953 Chevrolet Suburban station wagon: $50k
1948 Chevrolet Huckster Coca Cola wagon: $40k
1967 Amphicar: $72k
1956 Isetta convertible: $85k
1957 Isetta 300: $35k
1974 VW 181 'The Thing' surfer'c car: $35k
Warning: you can get boringly hooked. Unbelievable number of cars past the block.
Lots include the black Fast n' Loud Ferrari F40, rebuilt from a wreck, upgraded by Aaron, then snapped up by Dennis Connor. But he seems to have sold it to someone else who entered it.
Fast N Loud / Gas Monkey Garage lots come up as follows with approximate Arizona/UK timings:
1966 VW Splittie Shorty bus 14/1/2015  13.30 = 20.30 UK
1969 Ford F-100 pick-up 14/1/2015  16.00 = 23.00 UK (Made $39k)
1968 Chevrolet Impala 16/1/2015  14.30 = 21.30 UK
1968 Shelby Mustang convertible 16/1/2015  18.30 = 01.30 15/1 in UK
1986 Porsche 930 Turbo R69 Rinspeed  17/1/2015  12.30 = 19.30 UK
1976 Chevrolet C10 pick up slammed  17/1/2015 13.30 = 20.30 UK
1964 Chevrolet Corvette Stingray roadster 17/1/2015  13.30 = 20.20 UK
1971 Chevrolet Kingswood 'Ugly Kid' SW 18/1/2015  13.00 = 20.00 UK
Comments
Author

Honest John
Latest